British Cycling is delighted to introduce its inaugural BMX Freestyle Park world class programme, as attention turns to targeting podium success when the discipline makes its debut at the Tokyo 2020 Olympic Games.
Six talented British BMX Freestyle Park riders have been accepted onto the Great Britain Cycling Team's world class programme, while Richard King, who has 10 years of experience managing global BMX projects, has been appointed as the BMX Freestyle Park lead for the Great Britain Cycling Team.
World championship silver medalist Alex Coleborn, Declan Brooks, Jack Clark and James Jones join the men's programme, while Emma Finnegan and Charlotte Worthington will join the women's programme.
This follows a successful selection camp in the USA earlier this year at which two further riders, Ben Wallace and Mark Webb, were also identified and will be working proactively with British Cycling.
Performance director Stephen Park explains: "We have been progressing our BMX Freestyle Park plans at a rapid rate over the past few months and I'm really pleased that we are now quickly developing a structure to fulfil our Olympic ambitions.
"We have identified who we believe to be the most talented BMXers in the country and I'm pleased we are able to offer them support through the programme to help progress their development.
"It is important to note that, as with all our disciplines, programme membership is reviewed on a quarterly basis and we are always looking out for British riders with the potential to win an Olympic or Paralympic medal.
"Our new squad had a great start to the world cup season, with Alex Coleborn and Charlotte Worthington both finishing in the top six at the world cup in Hiroshima earlier this month, and I look forward to seeing this standard of performance develop as we move through the season."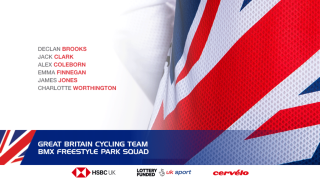 Great Britain Cycling Team's BMX Freestyle Park squad
Declan Brooks
Jack Clark
Alex Coleborn
Emma Finnegan
James Jones
Charlotte Worthington