Follow britishcycling.org.uk on
City Of Preston Grand Prix

Story posted August 6 | Video of the Elite Circuit Series in Colne in 2010 |
| Report from 2009 Preston GP | Elite Circuit Series Home Page |

Elite Circuit Series Finale in Preston
Town centre racing comes to Preston (Lancashire) on Sunday with a host of cycling events including the final round of the British Cycling Elite Circuit Series and the British Women's Circuit Race Championships.

With a series of Youth races kicking off the day's racing, the events held throughout the day are expected to be very exciting on the kilometre long course which will start and finish under the Victorian Covered Market. Not only will this historic building witness some nail biting finishes, there is also a full programme of activities planned throughout the day. These include the Trials Display Team, the UK's leading stunt team along with street theatre performers and shows to keep the family entertained.
Lancashire's own, Ian Wilkison, wins the Elite race in Abergavenny - can he do it in Preston on Sunday?

Two of the day's most important events will be the Women's Circuit Race Championship and the Elite Circuit Series event. The first of the two will be the Women's Circuit Race Championship at midday and the event will feature a number of favourites. Welsh rider, Kara Chesworth is down to ride and after her selection to represent Wales in the Commonwealth Games, the Dysynni CC rider will be very motivated to do well in this national championship.

Kara is also the winner of the season long Women's National Road Series but she will face stiff opposition from a number of quarters. Perhaps the odds on favourite is Hannah Barnes who is currently competing in Holland in a Junior stage race but with that finishing on August 7, there is some doubt as to whether she will make the start.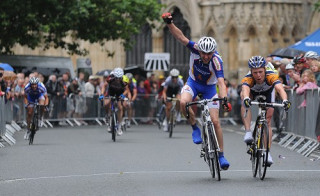 Nail biting finish in York a few weeks ago but winner, Bill Nickson is riding the Elite Circuit Race this time round.

If she doesn't, there are plenty of other riders capable of winning the race from a disappointing small field. Paralympic champion Sarah Storey may well be one of those pulling on the champion's jersey at the end as could Sarah King who showed so well in a circuit race in Dumfries earlier this year.

Claire Galloway put herself on the map earlier this year with a great performance in a circuit race while other riders to watch include Jessica Booth, Leanne Thompson, Corrine Hall, Nicole Juniper and Hannah Rich. Current champion Danni King is a notable non-starter. With so few riders having pre-entered, the organiser has said he will allow riders to sign on the line. Details for the event and organiser can be found here:
Expect some fireworks from this young lady, Corrine Hall pictured in Dumfries earlier this year.
Elite Circuit Series
While the Women's race is poorly supported in terms of numbers, the Elite Men's Circuit Race has a field of over 80 riders including the Series leader Ian Wilkinson (Endura Racing) and the rider who is threatening that lead, last year's series winner Dean Downing (Rapha Condor Sharp).

Wilkinson is the local rider and has a 32 point lead over Downing but with 60 points for the winner and two sprints each worth 5 points for the winner, victory in the series is far from a sure thing for the Endura rider. The rider third in the series, Motorpoint Marshal Pasta's Ed Clancy (British Men's Circuit Race Champion) is not expected to be riding as his team is in Spain for a stage race. Malcolm Elliott is expected to be their only rider.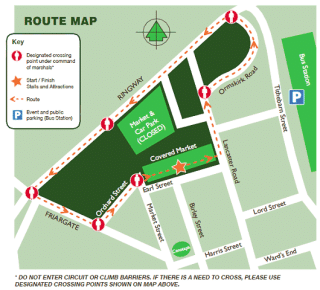 Both Rapha Condor Sharp and Endura however have entered extremely strong squads and the victory may fall to one of their riders but there are plenty of other possible winners in the 80 strong line-up. For example, any one of the Rapha squad could win the race which twists and turns through the covered market but then has a long straight for the riders to get the power down.

Endura too has some notable winners such as Jack Bauer and Alexandre Blain but the key to the race will be who actually rides as teams are well known for swapping their squads around from what is on the start sheet.

Other teams to look out for are Sigma Sport - Specialized, Cyclepremier.com - Metaltek, Kuota - Road CC and individuals such as John Tanner (Sportscover), Will Bjergfelt ()Wilier/Big Maggies/Prendas) and if he's fit enough after a crash into a car a few days ago, Dave Clarke of Pendragon Le Col Colnago.

Raced Programme
Date: Sunday 8th August 2010
Time of Events:
* 10:00 - Youth D / E Circuit Race
* 10:20 - Youth C Circuit Race
* 10:45 - Youth B (Boys & Girls) Circuit Race
* 11:15 - Youth A (Boys & Girls) Circuit Race
* 11:50 - Women's Race Warm-up
* 12:00 - Women's National Circuit Race Championships
* 12:45 - Women's and Youth Presentations
* 12:45 - Families' Circuit Ride
* 13:15 - Elite Men Warm-up
* 13:30 - The Final Round of the British Cycling Elite Men's Circuit Race Series
* 14:40 - Elite Men's Presentation
* 14:45 - Regional B Race Warm-up
* 15:00 - The CDNW 'Preston Flyer' Reg. B Circuit Race

Race Headquarters: CDNW Compound, Covered Market, Earl Street, Preston
Rider Info (click here for race manual)
Signing on will be at the CDNW Gazebo situated under one the main covered market area in Earl Street. Licences will be held until the conclusion of each event and can be collected when returning your number. Signing on will close for each event 15 minutes before the start.

The Course:
There will be two courses used during the day; the main course, measuring approximately 950 mts and a shorter course for the some of the Youth events so that riders can be in sight of the officials forall of the circuit.

Riders are recommended to park on any of the open car parks surrounding the City. The multi storey car park at the market will be closed for the duration of the day's events.
Recommended Car Parks:
• Hill Street
• Fishergate Centre
• Lawson street
• 'Bus Station – multi storey (Height barrier)

All are only a short walk from the City Centre.
RIDERS (Elite Circuit Series and Women's Championship)
Elite Circuit Series - Men
1 Graham Briggs Rapha Condor Sharp E
2 Dean Downing Rapha Condor Sharp E
3 Dean Windsor Rapha Condor Sharp E
4 Chris Newton Rapha Condor Sharp E
5 Kristian House Rapha Condor Sharp E
6 Dan Craven Rapha Condor Sharp E
7 Matthew Cronshaw Rapha Condor Sharp E
8 Ben Greenwood Rapha Condor Sharp E
9 Ian Bibby Motorpoint Marshalls Pasta E
10 Steven Burke Motorpoint Marshalls Pasta E
11 Ed Clancy Motorpoint Marshalls Pasta E
12 Malcolm Elliott Motorpoint Marshalls Pasta E
13 Johnny McEvoy Motorpoint Marshalls Pasta 1
14 James Sampson Motorpoint Marshalls Pasta 1
15 Peter Williams Motorpoint Marshalls Pasta E
16 Andrew Tennant Motorpoint Marshalls Pasta E
17 Stephen Adams Sigma Sport - Specialized Cycling Team E
18 Dan Duguid Sigma Sport - Specialized Cycling Team E
19 Tom Last Sigma Sport - Specialized Cycling Team 1
20 Tom Murray Sigma Sport - Specialized Cycling Team E
21 Kit Gilham Sigma Sport - Specialized Cycling Team E
22 James Williamson Sigma Sport - Specialized Cycling Team E
23 Tony Gibb Cyclepremier.com - Metaltek E
24 Andrew Magnier Cyclepremier.com - Metaltek E
25 Simon Wilson Cyclepremier.com - Metaltek E
26 Richard Hepworth Cyclepremier.com - Metaltek E
27 Ash Finn Cyclepremier.com - Metaltek E
28 Robert Smail Cyclepremier.com - Metaltek E
29 Ian Wilkinson Endura Racing E
30 Scott Thwaites Endura Racing E
31 James Moss Endura Racing E
32 Robert Partridge Endura Racing E
33 James McCallum Endura Racing 1
34 David Lines Endura Racing E
35 Alex Blain Endura Racing E
36 Jack Bauer Endura Racing E
37 Jeroen Janssen Kuota - Road C.C. E
38 Jefte de Bruin Kuota - Road C.C. E
39 Jon Mozley Kuota - Road C.C. E
40 Andy Tinsley Kuota - Road C.C. E
41 Martin Smith Kuota - Road C.C. E
42 Dan Davies Kuota - Road C.C. 1
43 David Macgowan Kuota - Road C.C. 2
44 Matthew Bailey Kuota - Road C.C. J1
45 Alistair Rutherford Science in Sport 1
46 Tim Lawson Science in Sport 1
47 Ian Field Science in Sport 2
48 Andrew Guy Science in Sport 1
49 Ashley Brown Team Sportscover 1
50 John Tanner Team Sportscover 1
51 Jake Tanner Team Sportscover 1
52 Ian Taylor Team Bglobal 2
53 Mark Dziobon Team Bglobal 2
54 Nick Shaughnessy Team Bglobal 2
55 Stephen Leigh Team Bglobal 2
56 Lewis Balyckyi Teamwallis CHH J2
57 Andy Coupe Teamwallis CHH 1
58 James Gullen Teamwallis CHH 1
59 Stuart Reid Herbalife / Wheelbase 1
60 Lewis Craven Herbalife / Wheelbase 2
61 Stuart Henry Herbalife / Wheelbase 1
62 Will Bjergfelt Big Maggies/Wilier/Prendas E
63 David Saunders Climb On Bikes 2
64 Richard Lambert Cottingham Coureurs 1 U23
65 Thomas Gregory Halesowen A & C.C. J2
66 Jacob Tipper Halesowen A & C.C. 1 U23
67 Adam Duggleby i-ride.co.uk 1
68 Matthew Fostun Langdale Lightweights R.T. 2
69 Matthew Kipling MTS Cyclesport E
70 Pete Middlehurst Octagon C.C. 2
71 Steve Lampier Pendragon - le col - Colnago E
72 David Clarke Pendragon - le col - Colnago E
73 Junior Heffernan Revo Racing 2
74 Martin Woffindin Sportcity Velo J2
75 Jordan Hargreaves Team Chevin - Bang & Olufsen J2
76 Russell Falder Velo Club Montpelier 1 U23
77 Greg Newton Wills Wheels C.C. 2
78 Michael Lawton Born to Bike 2
79 Bill Nickson Bill Nickson Cycles 2
80 Paul Oldham Hope Factory Racing 1
81 Paul Fostun Langdale Lightweights R.T. J2
82 David McLean Frezza Pasta Montegrappa E
83 Matthew Gee Raleigh 1 U23

Women's Circuit Race Championship
1 Marianne Britten Maxgear R.T. E
2 Sarah Murray M. Steels Cycles J4
3 Sarah King Langdale Lightweights R.T. J3
4 Ceri Dipple Twenty3C 3
5 Gabriella Shaw Bang & Olufsen / Chevin cycles J2
6 Sarah Byrne Motorpoint / Marshalls Pasta 3
7 Jessica Booth Halesowen A & C.C.
8 Hanna Barnes Motorpoint / Marshalls Pasta J
9 Kara Chesworth Dysynni C.C. 2
10 Leanne Thompson Vanillabikes.com 1
11 Sarah Storey Horizon Fitness R.T. E
12 Miriam Freemantle Team Tor 2000
13 Eleanor Jones Halesowen A & C.C. 4
14 Hannah Walker G.S. Surosa J2
15 Claire Galloway Team Zappi's 2
16 Charlotte Colclough CT M. Pinte 1
17 Corrine Hall Team Corridori 2
18 Claire-Jane Beaumont Rapha Condor 2
19 Nicola Juniper PCA Ciclos Uno 1
20 Hanna Rich Horizon Fitness R.T. 1
21 Katie Fearnehough Rapha Condor 1
22 Ciara Horne Team Zappi's 3