Briggs Wins Elite Circuit Series Finale
Graham Briggs (Candi TV-Marshalls Pasta) rode to an emphatic victory in the City of Preston GP circuit race, the final leg of the Elite Circuit Series. So strong was Briggs, who had just completed the Tour Of Britain one day earlier, that he spent all but four laps of the 900 metre circuit out in front and apart from Halfords Bikehut's Rob Partridge, who secured the second step of the podium, he lapped the whole field on a day that you could say was his.
The field line up, largely smiling, for the start of the race

Simon Wilson (Artic Premier RT) made the first move on lap 3 along with Candi TV's Peter Williams but their efforts were short lived and by lap five Briggs had made what proved to be his race winning move with the remainder of the field hanging off his back wheel and then losing touch.

Briggs took the first sprint of the day from Rapha Condor's Matt Cronshaw and Rob Partridge with Pendragon Kalas's David Clarke taking fourth and bringing the main field across the line

With fifteen minutes of the race gone, Briggs had pulled out a twenty second lead over an elite group of chasers which included Halford's Rob Hayles and series leader Dean Downing (Rapha Condor) who had been rested by the team in order to help secure victory in the circuit series. Hayles and Downing pulled a five second gap over the field and were later joined by Partridge and Cronshaw but Briggs held his leading gap on the narrow streets and the chasing four could not make inroads.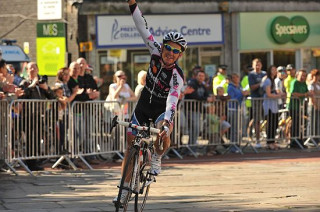 Candi TV-Marshalls Pasta's Graham Briggs is able to enjoy the win in spectacular solitude
With forrty minutes and 30 laps of the race gone the race leader still held a fifteen second lead over the chasers and the race was as good as won at that point. The second sprint of the day again was taken by Briggs with Cronshaw taking second and Rob Hayles coming over the line in third spot still chasing the two riders out in front.

With forty five minutes of the race gone Briggs had all but caught the main bunch but was still been chased hard by Partridge, Downing and Hayles. The race leader then caught and stormed through the main field and with four laps of the circuit left to race had lapped every rider apart from second placed Rob Partridge.

It was a fine win on the day by Graham Briggs. Dean Downing's fourth spot, secured after being out-sprinted by Rob Hayles, was enough to secure him the overall series victory for his Rapha Condor team.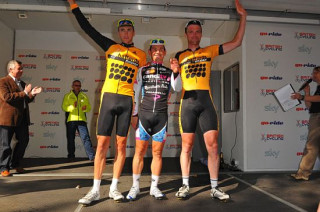 Graham Briggs on the podium, flanked by Rob Partridge (left) and Rob Hayles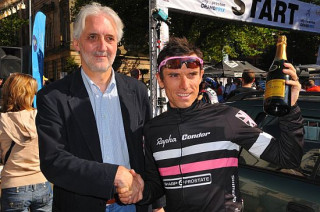 Series winner Dean Downing (Rapha Condor) is congratulated by British Cycling President Brian Cookson
Results City of Preston G.P. Circuit Races
Elite Circuit Series
1 Graham Briggs Candi TV- Marshalls Pasta
2 Rob Partridge Halfords Bikehut
3 Rob Hayles Halfords Bikehut
4 Dean Downing Rapha Condor
5 Peter Williams Candi TV- Marshalls Pasta
6 Ian Bibby Halfords Bikehut
7 James Stewart KUK Kinesis
8 Martin Ford Team Gold Tech
9 Andy Tinsley Scienceinsport.com
10 Jeroen Janssen Madison.co.uk
11 Simon Wilson Arctic Premier Racing Team
12 David Clarke Pendragon Kalas
13 Matthew Cronshaw Rapha Condor
14 Richard Hepworth Arctic Premier Racing Team
15 Mark McNally Halfords Bikehut
16 Ben Greenwood Rapha Condor
17 Lewis Craven Herbalife/Wheelbase
18 James Millard Madison.co.uk
Sprint 1
1 Graham Briggs Candi TV- Marshalls Pasta
2 Matthew Cronshaw Rapha Condor
3 Rob Partridge Halfords Bikehut
4 David Clarke Pendragon Kalas
Sprint 2
1 Graham Briggs Candi TV- Marshalls Pasta
2 Matthew Cronshaw Rapha Condor
3 Rob Hayles Halfords Bikehut
4 Rob Partridge Halfords Bikehut
Final Series Standings (Full Breakdown - 150kb xls spreadsheet)

1 Dean Downing Rapha Condor 322 points
2 Graham Briggs Candi TV - Marshalls Pasta RT 247
3 Ian Wilkinson Team Halfords Bikehut 234
4 Matt Cronshaw *** Rapha Condor 225
5 Jeroen Janssen Madison.co.uk Cycling Team 192
6 Russell Downing Candi TV - Marshalls Pasta RT 179
Ed Clancy Team Halfords Bikehut 179
8 Malcolm Elliott Candi TV - Marshalls Pasta RT 158
9 Rob Hayles Team Halfords Bikehut 143
Rob Partridge Team Halfords Bikehut 143
---
Other Results
Youth D & E Race
1 Thomas Mein Hetton Hawks
2 Lewis Hartley Eastlands Velo
3 Daniel Gibson Liverpool Century
4 Lewis Middleton Blackpool
5 Annalie Beach Wakefield Tri Club
6 Kit Nolan-Barnes Salt Ayre Cog Set
7 Megan Abra Salt Ayre Cog Set
8 India Brennan Salt Ayre Cog Set
9 Tyla Coch Astley and Tyldsley
10 Xavier Brennan Salt Ayre Cog Set
11 Grace Nolan-Barnes Salt Ayre Cog Set
Youth C Race
1 Fabian Brennan Salt Ayre Cog Set
2 Reece Wood Aire Valley R.T.
3 Adam Hartley Eastlands Velo
4 John Didsbury Salt Ayre Cog Set
5 Jake Beach Wakefield Tri Club
6 Martha Gill Bolton Hot Wheels
7 David Pullar Leeds Mercury
8 Emma Brady Hetton Hawks
9 Robert Harper Wakefield Tri Club
10 Thomas Rotherham Eastlands Velo
11 Ross Sharp Eastlands Velo
12 Joseph Baldwin Salt Ayre Cog Set
13 Ellen Layzell Salt Ayre Cog Set
14 Alexander Atherton Blackpool Junior
15 Fionnuala Hart Ribble Valley Juniors
16 Bethan Abra Salt Ayre Cog Set

Youth A/B Race
1 Jack Sadler Wheelbase / Gore
2 Chris Lawless Eastlands Velo
3 Jacob Scott Holme Valley Wheelers
4 Oliver Wood Aire Valley R.T.
5 Callum Fletcher Eastlands Velo
6 Matt Galland Ribble Valley Juniors
7 Sean Fletcher Eastlands Velo
8 William Thomas Sportcity Velo
9 Matthew T. Holmes Salt Ayre Cog Set
10 Robert Richardson Bolton Hot Wheels
11 Mark McGavock Ribble Valley Juniors
12 Sam Turton Liverpool Mercury
13 Mitchell Cross Mossley CRT
14 Ethan Greenhalgh Salt Ayre Cog Set
15 Rebecca Womersley Sowerby Brothers
16 Clare Gore Sportcity Velo
17 Melissa Lowther Wakefield Tri
18 Sam Baldwin Salt Ayre Cog Set
3/4 Race
1 Mark Davies Barnsley RC
2 Stephen Stoneman FP Mailing
3 Sam Boast Sports City Velo
4 Ian Sharp Derian House / MK Cycles
5 Matthew Holmes Teamwallis-CHH
6 Gordon Plendereith East Kilbride R.C.
7 Samuel Jackson Cleveleys R.C.
8 Adam Mitchell Cherry Valley R.T.
9 Daniel Shoreman Yorkshire Velo
10 Daniel Whelan Team Probikekit
11 Scott Newburn Border City Wheelers
12 Tony Parkinson Onimpex Bioracer
13 Craig Eden Cover your Car/Coverzone
14 Jack Cousins Chorlton Velo
15 Ella Sadler-Andrews Teamwallis-CHH
More Elite Circuit Race Images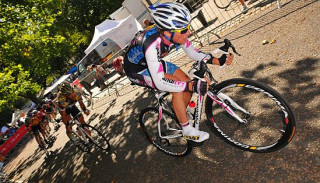 Conditions were spot-on for circuit racing - dry and warm and sunny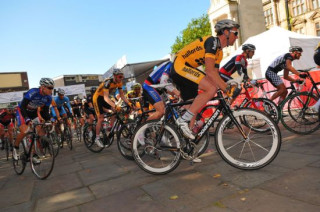 The field roll out from the start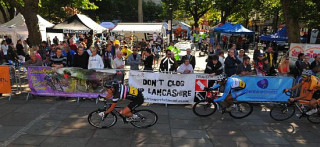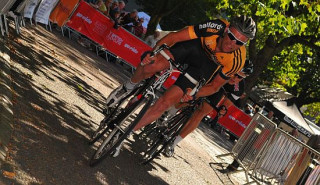 Rob Hayles, above, was in good form, but he couldn't stop the runaway Graham Briggs, below