Follow britishcycling.org.uk on
2010 National Circuit Race Championships
Posted July 17, 2010; by Larry Hickmott
The 2010 National Circuit Race Championship saw the best British riders come together to go into battle for some stripes on a jersey which is going to be worth quite a bit to the rider who is wearing it. That rider is Ed Clancy who won a strange race in Beverley where good luck and even better form were needed in equal measure to come out on top.
Click here to read the race report and see the full results.
The top three in the Elite Circuit Race Championship; L-R, Jonny McEvoy, Ed Clancy and Ian Wilkinson. Read how the race was won by going to the report (click here).
Post race interviews -- Following the slideshows down the page, is what many of the key riders had to say afterwards as we talk to Ed Clancy, Ian Wilkinson, Jonny McEvoy, Dean Downing, James McCallum, Andy Tennant and Malcolm Elliott.
Photo slideshow of the Elite Championship

Photo slideshow of the Support events
Post Race Interviews
Ed Clancy (Motorpoint Marshals Pasta): "Before I came here, I had a flashback to last year and it was horrible and I didn't even finish. So it was quite tame racing where it was pretty easy to sit in and bide your time. After Wednesday, I'd felt I'd let myself down (Colne GP report), I was over eager to get out the front and try and take the race on and it cost me in the end. I'm not that sort of rider."

"Today, I felt okay, not as good as Wednesday and but I tried hard to sit back and be patient and take a gamble because we have loads of guys who can take it on. Tennant could have won it from a group like that so there was no real need for me to sort of bust my balls to get up the front."

"In the last 10 laps, I followed Malcolm (Elliott) like a loyal dog and you can see how much experience he has because he made my life so easy and I owe this win to Malcolm really. There was a lot of pressure and he's a guy we all look up to in the team and I didn't want to let the team down but especially Malcolm."

"So over the last few laps, I felt like I really needed to win it and it was good. I felt a bit bad for James (McCallum) who's a nice guy, to catch him on the line like that is a bad way for him to lose the race but it was all good for our team to get Jonny on the podium as well."

"We're not the biggest squad in the UK in terms of riders and budget and we have already had a pretty good year. We've won the Tour Series, the Team Time Trial as well as a fair few races all with five or six riders plus a few part timers who drop in now and again."

"So this is a bonus."

Asked to describe the last lap, Ed says "thinking back, I never thought we'd come back to them. Looking at Keith for the time checks and he'd say 30 seconds, 30 seconds, 25 seconds, 30 seconds and so as far as I was concerned it was gone and wasn't coming back and we were going to be sprinting for fifth or sixth."

"Then, into the last lap, I could see them and on the last right hander, I saw sparks and a bike spinning on the floor and Andy Tennant standing up. I was like oh no, this is bad. Then I looked up and McCallum was in the distance and I thought, no, this is really bad!".

"Fortunately, there were various guys from different teams leading out for different people and I just happened to pick the right wheels. I jumped off Wilko pretty early because he was sort of stalling because he didn't want to catch James being the classy teammate he is. I took advantage of that and I felt bad for the Endura boys but we have a job to do out there. You win some and lose some and I lost one on Wednesday."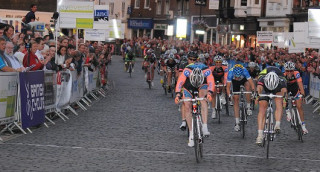 The moment the title was decided -- Ed Clancy gets his front wheel across the line in front of Ian Wilkinson's. And look at that crowd! Thank you Beverley!
Ian Wilkinson (Endura Racing): "Worst possible place is that. I did spend a fair bit of time at the start at the back of the group getting warmed up. It was pearl and the plan was for the lads to keep it all together and I was quite happy to sit their easy riding in the group. There was no panic and I slid my way to the front to see a small group slide away with Jimmy in it who is one of the best sprinters on the scene, a past champion, so we were well happy with him up there."

"There was no pressure but then at the end, we come round the corner and I hit the front but Jimmy was still off the front so I stalled and got on Ed's wheel and then kicked but didn't have time to get round. It was a complicated last few laps."

"Rob Partridge took me round for a few laps but then I was feeding off Rapha and Motorpoint a little bit. I took my time all race and had good legs at the end but I was beaten by Ed. It was quite fast but nothing happened and I guess that is the nature of the nationals. Everyone is riding for a team but everyone also wants to win it."

On how the break was defended by all the teams, Ian explained "Rapha were definitely questioning because Kristian isn't a brilliant sprinter and Andy isn't either and they were umming and arring. Tony (Gibb) was doing a lot of work for his team and then Raleigh did a bit and all of a sudden, there it was – gutted but pleased as well."

"I think I'll go out for five hours tomorrow and smash myself and same on Sunday!"

Jonny McEvoy: The Motorpoint Marshals Pasta rider has tasted success in cyclo-cross and also ridden with the GB Academy in Italy, but this year has been right up there in the crits and so it was again on Friday night. "My job was to sit on Ed's wheel to stop some one else getting his wheel. I was blocked going into the last corner when Tennant crashed when it was on even more then."

"I did a good sprint though, I was coming back at them but then Ed kicked and he drops everyone when he does that so it was good to get first and third. I am starting to go alright on the road. I'd come pretty tired straight out of the Irish RAS into the Tour Series and all the crits though. So I've been forced to have a rest and hopefully I'm going to come good again now for the second part of the season."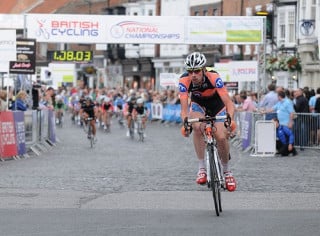 Andy Tennant was very active from the word go in the championship but his race ended with a high speed crash into the barriers.

Andy Tennant (Motorpoint Marshals Pasta): "I crashed quite spectacularly! I went past Tom Murray and I'd been taking this corner quite fast and dropping them every time so I knew I could go quick round it. I got round the bend but as soon as I straightened up, the front wheel went and I was in the barriers and that was it. Whether I would have stayed away or not, I don't know. I think I might have just managed it. I was cruising out there."

"I could see the bunch coming at us so I knew I had to do something. It shows I'm going really well though and hopefully that will progress and I'm hoping to have a good season on the track during the winter."

James McCallum: The Endura Racing rider was caught metres from the line and said after the race, "I am gutted, really disappointed. The break was perfect, everything was going alright and everyone was working really really well. Kristian was a bit hesitant at the start but then was riding as much as anyone. Minty (Tom Murray) was probably going the strongest and was doing the big turns."

"With one lap to go, Minty attacked on the back stretch and I looked at Andy and he chased him and he caught him at the zebra crossing but the motorbike got in the way and Andy got past it and I got past it as well and then Andy took the corner and hit the deck. I got past Andy but Kristian was caught behind him and as I looked round, I thought I cannot believe this."

"I thought, at last I have a chance to win this back. All I could think when I hit the cobbles, was I have the stripes back, but as I hit the cobbles, all my momentum went because I was already flat out and I'd been flat out for a quite a lot of the race. I'm not ashamed to say it but I was in tears going down the back straight because I'd been so close and it has been so long since I have had a big result like that."

"I feel like I was walking up to a pot of gold and some one has opened up a trap door."

Heartbreak for James McCallum (on the left of the peloton) who is caught only metres from the line by a charging Ed Clancy and Ian WIlkinson.

Dean Downing (Rapha Condor Sharp): "What a time for the electronic gears to go wrong with a quarter of a lap to go. I was getting the perfect lead out from a World Champion Points rider (Chris Newton) which could not have been more perfect. I was in brilliant position."

"Andy Tennant had just crashed and it was at that point when I hit the button to go down and nothing happened. I hit the button to go up and it went straight up. I'd been in the 15 and when I hit the up button, it went straight to the top (23) in one go."

"I shouted to Chris to go go go as I was going backwards."

"We rode great as a team tonight and we were all going really well and we're all disappointed. If it had gone to form, and I hear Jimmy Mac nearly held on, Kristian would have given Jimmy a run for his money. It's all ifs and buts now though and fair play to Ed. He has great form and I'm pleased he has the stripes."

"It was a hell of fast race and one long line until that break of four went and then Tony Gibb was on the front lap after lap."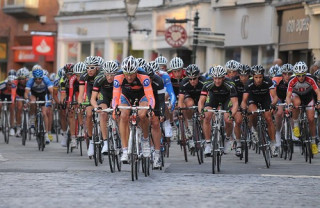 Above: Malcolm Elliott at the front of the peloton keeping control of the race for his teammate in the break.
Malcolm Elliott: The Motorpoint Marshals Pasta rider who looks like he may retire after more years in the pro peloton than any other British rider, if not the world, helped his teammate Ed Clancy to the victory in Beverley and he too felt the race was a bit strange.

"Fortunately, we had Andy in the move off the front but they weren't going that hard so we were trying to hinder the chase behind but they weren't going away enough and it was all a bit slow motion."

"Chris Newton and I were controlling the bunch and keeping the pace high enough to deter attacks but keeping the gap on the break. Once we got into the last lap, the speed shot up and their days were numbered. Ed followed me and he said it was really quite calm there and I was quite calm as well."

Calm indeed but then here's a rider who has been on the podium in a Grand Tour (Tour of Spain Points) and also in Continental Classics and has so much experience to pass on and where better than on the road in the heat of battle. It is no wonder the Sheffield rider is so popular with fans because not only is he a talented rider, he's also very nice with it off the bike. If only all riders were like Malc.

Asked if a decision has been made on 2011, he replied "it's not exactly been made, no."

When it was put to him that he must be pleased especially after a victory in probably the hardest crit all year in Durham (Halfords Tour Series), he replied "for me it's about getting those planets aligned really!"

"All the conditions have to be right and I have not had that often this year for various reasons and at the moment, I have probably had two weeks off since the Tour Series ended. I can count on one hand the number of training rides I've done so I don't have very good form at the moment and I'm just trying to rally round now for the end of season push".

Malcolm then said that the Tour of Britain was probably unlikely. "We're going to do some training camps in August and I will more than likely join them for that and enjoy that too. As it stands right now, I'm not looking at being part of that six man squad. The buzz is still there and I still enjoy it when everything comes together, it's fantastic, but it's the struggle to get those conditions to all coincide really."

Malcolm then said it was quite easy for him to forget just how valuable his experience is in a race like the nationals. "I have known in the last few races how poor my form is and yet the results haven't reflected that and it's surprising how well I can get by with my experience but it's not enough. The race on Sunday, East Yorkshire Classic, is going to be hard and there are some horrible horrible climbs on there."
RELATED LINK