Follow britishcycling.org.uk on
Halfords Tour Series: Round 9 (Chester)

Story posted June 21, 2010; by Larry Hickmott

Jack Bauer was one happy boy on the podium in Chester with a smile as wide as his celebratory salute.
The Tour Series round in Chester saw the very first 1-2-3 by a team when Jack Bauer soloed to a glorious victory in this most historic city and then Ian Wilkinson backed that up with second and Rob Hayles third. This perfect score gave Team Endura the win on the night and enabled them to close the gap on overall leaders Motorpoint Marshals Pasta. The other main challengers however, Rapha Condor Sharp, had a disastrous end to the night when two of their riders, Zak Dempster and Darren Lapthorne fell on the final bend which resulted in the team finishing fifth.

The crash had many victims and saw the race finish with riders running up the cobbled climb to the finish line on foot whilst some like Zak Dempster and Casey Munroe were not even able to do that as they lay on the ground to be attended to by the medics. Another, Tony Gibb, did manage to get across the line but promptly sat down holding his shoulder and waited for teammates, with one, Andrew Magnier coming across the line with blood dripping down his face from a cut.
It was a sad ending to a very attacking race in front of a huge crowd and leaves the competition for the overall win to be fought out between two teams, Motorpoint Marshals Pasta and Endura. Rapha meanwhile have dropped too many points to have a realistic chance of making up the ground they need in the one round left. The men in black certainly didn't look like dropping points early on when they got two men in a five up break and Kristian House then spent a lot of time off the front alone taking the first two sprints.

When the break was caught by large chase group though, the big teams all had three riders at least in there and it was looking like being a sprint to decide the race but Jack Bauer's scintillating attack changed all that. No-one could touch him and he rode away to a fantastic victory but better was to come when Hayles and Wilkinson controlled the group behind and made it a 1-2-3 and their second team victory of the series.
Team winners on the night and now second overall, Endura racing are finishing the series with a real bang. L-R, Lauren, Scott Thwaites, Ian Wilkinson, Rob Hayles, Jack Bauer, Rob Partridge, Alice plus the team mascot and a VIP from Chester.

Results (Full results follow down the page)
1. Jack Bauer, Endura Racing
2. Ian Wilkinson, Endura Racing
3. Rob Hayles, Endura Racing

Boardman Bikes Sprints
1. Kristian House

Team
1. Endura Racing

Team Overall
1. Motorpoint Marshals Pasta
Photo Report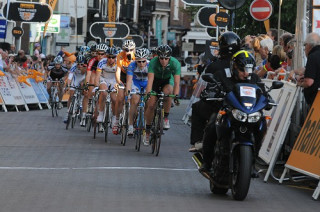 As always, the race began with an easy five laps for the peloton as they got a good look at the circuit and warmed up before resuming hostilities.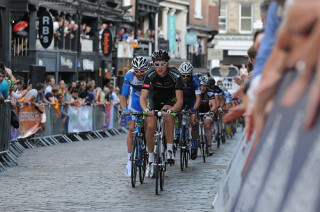 The crowd were using every place they could get into to watch the race over the cobbles where bottles were bouncing out of the cages up the climb to the finish. Rob Partridge leads the race in the early stages.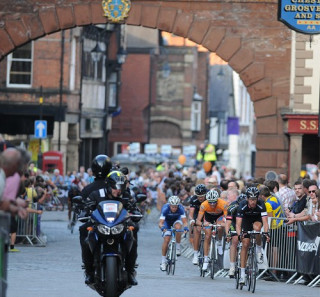 Early on a break formed with two Rapha Condor Sharp riders Kristian House and last years winner, Darren Lapthorne, Casey Munro (Pendragon-Le Col-Colnago), Ian Bibby (Motorpoint Marshals Pasta) and Ian Wilkinson (Endura).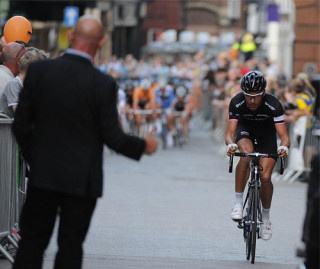 Kristian House then attacked on his own and gets the thumbs up from his manager, John Herety.
Ed Clancy leads another break in the first half of the race.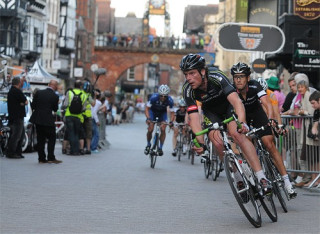 After a large chase group caught the break, the group leading the race grew to well over a dozen lead here by Rob Hayles (Endura) from Darren Lapthorne.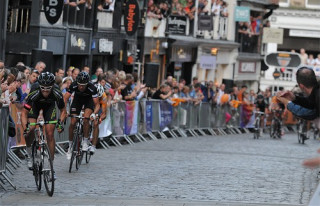 Into the final stages of the race and Jack Bauer attacks up the cobbled rise towards the finish with Kristian House and a Motorpoint rider doing all they can to go with him but no-one did.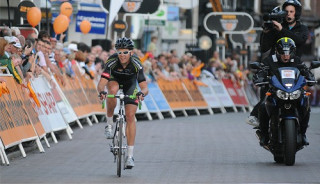 Bauer soon had a big lead and appeared quite comfortable at the front of the race.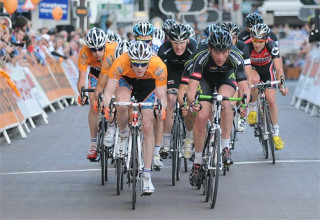 Ed Clancy and Rob Hayles fight over who is going to lead the bunch out for the finish -- Hayles won that battle in more ways than one. Zak Dempster, centre of picture, fell heavily on the last corner and while early thoughts were of broken bones, he was okay to return to the team car and head home.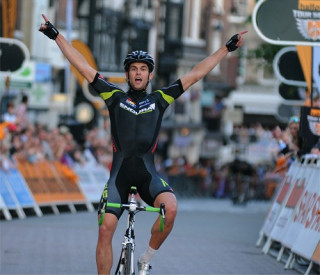 Jack Bauer started his celebration 100 metres before the line and kept on celebrating as he went past the finish.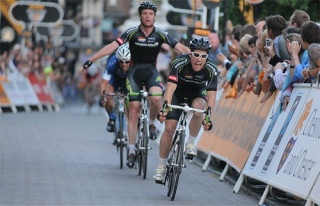 Ian Wilkinson wins the sprint for second while Rob Hayles starts to raise his arms behind knowing his team has done the perfect 1-2-3 for the first time in the series.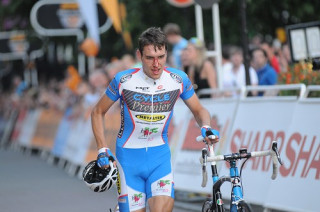 The crash saw many riders hit the ground including Andrew Magnier.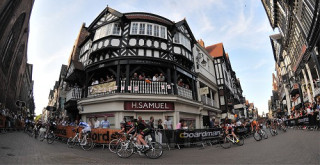 Backdrops don't get any better than Chester -- one of, if not the most character filled cities in the UK.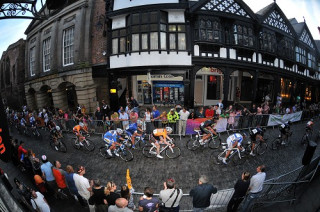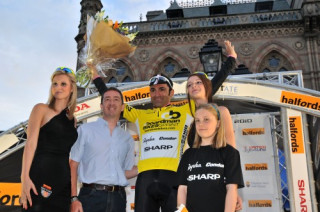 Chris Boardman presents Kristian House with the Boardman Bikes jersey for the Sprint winner on the night.
Post race reactions
Jack Bauer: "Going alone was exactly what we wanted to do today. With 15 or 20 minutes to go, let me do my own thing and attack having done nothing in the race beforehand. I had good legs and I just never looked behind. This was an important victory for me. It is that time of the year that as a team, we've been needing a win and it hasn't been happening. We have been digging deep during the whole Tour Series and not really getting the results we were hoping for so to get the team win comfortably and take the individual win, it was perfect."

"This has been my dream. As a Kiwi kid, it takes a lot to get over here, it's taken my whole life up to this point, so to have a job with Endura this year has been a massive opportunity for me and I'm looking to go forward with this and climbing the ladder! I have been riding and racing mountain bikes since I was 13 and I'm 25 now so that's a long time and I started racing the road in 2006. Not that long but I'm hungry!"

Rob Hayles "We've been talking about this the whole series and after the first few races, we thought, it's not going to happen but we're all starting to feel good now, nine races in unfortunately. Tonight's circuit was as good as any for a 1-2-3 because of the finish. It makes it easier as well when you already have a rider clear. Myself and Wilko then worked it perfectly for the finish. When we went past the pits, Jimmy Mac was beside himself and Winny (Julian Winn) and Brendan were all jumping up and down."

"It must have looked good and I'll see tomorrow when I record it on tele (ITV4)! It was a completely different race this year being dry to last year in the wet. I think we covered all the breaks although I think at one point there was a group with two of each except us with one but it was dangling off the front and coming back."

"I spent the first laps of the race on the back grinning really with Ed (Clancy) because I knew that was I on fire tonight. I felt good in the warm-up and I haven't felt this good the whole series. I was starting to get excited and it wasn't until a move went that I thought was dangerous that I started to move up. And then once I got there, I couldn't help myself and I did a two lap turn at one point and took a group away with me."

"It was all about holding myself back when I feel this good and the same with Jack, because he too gets excited and it was up to the rest of us to set up the racing ready for Jack to go and it was absolutely perfect, we could not have done it any better. Six to go was just the right moment for some one like Jack and that was it, he was gone".

Asked to talk us through the last lap, Rob explained "Jack was 20 seconds up the road and I was battling a bit with Ed for the leadout and I stamped my authority on that" he said with that knowing cheeky grin. "They (Motorpoint) seemed happy to settle in behind me and fortunately Wilko came up and took me down the descent past last years pits, and as we went past this years pits, I let him get a bit of a gap and watched behind so I could sweep."

"Up to the finish, I let him continue to gap me and I knew the chances of some one pipping him for second were remote even though I knew some one may get past me. As it was there was a bit of commotion behind and when I crossed the line and looked back, there weren't many behind me so I presume the crash was fairly well up in the bunch."

Rob, who is one of the country's best, if not the best at going round corners, especially on fast descents, then said he was enjoying himself out there in historic Chester. "I was having fun pushing the motorbike and getting the sparks especially in that early break and down the bottom, he was sending sparks all over!"

Asked how this win felt, the team's second individual but first team victory with a podium appearance with the perfect score. "It was great when Alex won even though there was a little disappointment we didn't win the team (they did but it wasn't until later they found out) so this was the first time on the podium for us and it was nice and brought back memories from last year. To get a 1-2-3 is something that hasn't been done up until now and unless we do it again, it won't be done for a while!".
Round Nine Results

Team
1. Endura Racing
2. Motorpoint – Marshalls Pasta
3. Team Raleigh
4. Kuota – road.cc
5. Rapha – Condor - Sharp
6. Pendragon Le Col Colnago
7. Team Corley Cycles
8. Sigma Sport - Specialized
9. CyclePremier.com - Metaltek
10. Team Ireland

Individual
1. Jack Bauer Endura Racing
2. Ian Wilkinson Endura Racing
3. Rob Hayles Endura Racing
4. Yanto Barker Pendragon Le Col Colnago
5. Kristian House Rapha – Condor – Sharp

The Halfords Tour Series Standings (after nine rounds)
1. Motorpoint – Marshalls Pasta 79pts
2. Endura Racing 77pts
3. Rapha – Condor - Sharp 73pts
4. Sigma Sport – Specialized 53pts
5. Pendragon Le Col Colnago 52pts
6. Team Raleigh 49pts
7. CyclePremier.com – Metaltek 43pts
8. Team Corley Cycles 33pts
9. Kuota – road.cc 25pts
10. Team Ireland 8pts

Boardman Bikes Sprints Competition Results
1. Kristian House Rapha – Condor – Sharp 11pts
2. Rob Hayles Endura Racing 9pts
3. Darren Lapthorne Rapha – Condor – Sharp 6pts

Boardman Bikes Sprints Competition Standings (after nine rounds)
1. Graham Briggs Rapha – Condor – Sharp 55pts
2. Kristian House Rapha – Condor – Sharp 43pts
3. Liam Holohan Team Raleigh 41pts
Related Links
Report: Round 1: London
Report: Round 2: Durham
Report: Round 3: Portsmouth
Report: Round 4: Exeter
Report: Round 5: Southport
Report: Round 6: Tour Series Kettering
Tour Series Round 7: Peterborough