Halfords Tour Series: Round 4 (Exeter)
Please take time out to back our "Keep Racing on the Roads" campaign to save Road racing by becoming a fan of our dedicated facebook page
Story posted June 3, 2010; Event Press Release
The men in black, Rapha – Condor – Sharp bounce back in Exeter
Rapha – Condor – Sharp bounced back from their Portsmouth disappointment to take victory in Exeter, with Dean Downing leading the way to take victory in Devon for the second year running.
A very different celebration in 2010 for Dean Downing winning for the second year in Exeter.

The win lifts Rapha – Condor – Sharp back into second in The Halfords Tour Series standings, four points behind leading team Motorpoint – Marshalls Pasta. Exeter proved to be a happy hunting ground for the team of John Herety, with Zak Dempster and Dean Windsor joining Downing in the top five positions to secure the team win, while Graham Briggs added the nights Boardman Bikes Sprint competition to Rapha's haul.

In the end, Round Four of The Halfords Tour Series boiled down to a battle between Rapha – Condor – Sharp and Endura Racing, with both teams fired up in the thick of the action from the off, keen to stamp their mark on proceedings. Under clear blue skies and in front of the largest crowds seen yet in The Halfords Tour Series, the ten professional teams put on an excellent race, with several riders and teams taking the opportunity to put riders up the road early on.

Eventual winner Downing was twice away in moves, whilst Sigma Sport – Specialized's Simon Richardson enjoyed two laps of freedom as he countered a move to escape the peloton's clutches. As each attack was reeled in, the final sprint drew ever closer, with Endura Racing setting a ferocious pace with the whole team lined up on the front of the peloton, like a five man team pursuit squad.

First James McCallum peeled off and then Rob Hayles, setting up Ian Wilkinson for the sprint to the line, but Downing held his wheel through the final corner to come past on the run to the line, bringing teammate Dempster with him. Endura pair Wilkinson and Jack Bauer followed them across the line, but Rapha – Condor – Sharp's crucial third man Windsor came in fifth, while Endura could only place Alexandre Blain back in 12th.

An excellent third were CyclePremier.com – Metaltek, with Tony Gibb and Jason White inside the top ten, while seventh placed Ed Clancy was Motorpoint – Marshalls Pasta's top finisher, but Malcolm Elliott (13th) and Andy Tennant (14th) ensured the team did enough to keep the team in orange. Further down the field, Team Corley Cycles recorded their best finish of the Series so far with a fifth position, while Team Ireland moved up off the back of the field by finishing ahead of Kuota – road.cc.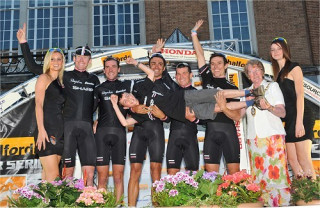 Number 1 on the night, Rapha Condor Sharp celebrate their performance so far in the Tour Series.

Liam Holohan took lead of the Boardman Bikes Sprint competition, taking third at each of the first two primes, before winning the third and final Boardman Bikes Sprint. Exeter winner Graham Briggs is his nearest challenger, six points back, with Kristian House a further two behind. To see all the action from Exeter, tune in to ITV4 on Friday evening at 7pm for an hour's highlights show.

The Halfords Tour Series is back in action on Tuesday in Southport for Round Five of the 2010 Series. For more information visit www.tourseries.co.uk or follow the action via Twitter at www.twitter.com/TourSeries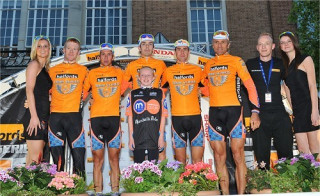 Leaders overall are Motorpoint/Marshalls Pasta

Round Four Results
Team
1) Rapha – Condor – Sharp
2) Endura Racing
3) CyclePremier.com – Metaltek
4) Motorpoint – Marshalls Pasta
5) Team Corley Cycles
6) Sigma Sport - Specialized
7) Pendragon – Le Col - Colnago
8) Team Raleigh
9) Team Ireland
10) Kuota – road.cc

Individual
1) Dean Downing Rapha – Condor – Sharp
2) Zak Dempster Rapha – Condor – Sharp
3) Ian Wilkinson Endura Racing
4) Jack Bauer Endura Racing
5) Dean Windsor Rapha – Condor – Sharp

The Halfords Tour Series Standings (after four rounds)
1) Motorpoint – Marshalls Pasta 35pts
2) Rapha – Condor – Sharp 31pts
3) Endura Racing 31pts
4) Pendragon – Le Col – Colnago 26pts
5) Sigma Sport – Specialized 24pts
6) Team Raleigh 23pts
7) CyclePremier.com – Metaltek 21pts
8) Team Corley Cycles 14pts
9) Kuota – road.cc 10pts
10) Team Ireland 5pts

Boardman Bikes Sprints Competition Results
1) Graham Briggs Rapha – Condor – Sharp 14pts
2) Liam Holohan Team Raleigh 9pts
3) Dean Downing Rapha – Condor – Sharp 7pts

Boardman Bikes Sprints Competition Overall Standings
1) Liam Holohan Team Raleigh 30pts
2) Graham Briggs Rapha – Condor –Sharp 24pts
3) Kristian House Rapha – Condor – Sharp 22pts
Related links
Report for Round 1: Canary Wharf
Report for Round 2: Durham