Follow britishcycling.org.uk on
Report: Somerset Junior Road Race
Please take time out to back our "Keep Racing on the Roads" campaign to save Road racing by becoming a fan of our dedicated facebook page
Sunday, April 18, 2010, by Larry Hickmott | Somerton | Round 1 Report | Series Standings |
Round 2 of the British Cycling Junior RR Series
Slideshow -- over a 100 photos from the day's racing
Report
In bright sunshine, Simon Yates (Maxgear RT) was the winner of the Somerset Junior Road Race after a really hard fought battle between four riders over the last 12 miles. Second was Lewis Balyckyi Team Wallis CHH) and third Sam Harrison (Planet X). These two finished a mere 13 seconds behind the winner into the village of Somerton. Winner of round 1, Tom Moses (Glendene CC) was fourth at just over a minute.
Simon Yates celebrates a solo victory in the second round of the Junior RR series in Somerset.

The Race
With three riders from the top 10 in the Junior Paris Roubaix the week before, the Somerset Junior Road Race had plenty of potential winners on a course which was anything than easy. Add to that equation, a hot sunny day with not a cloud in the sky and the 77 mile race was going to be a tough one for the under 19 riders. So tough, one of the favourites, Sam Harrison (Planet-X), who is known for his aggressive riding said that he may have to be more careful with his efforts as it was going to be especially tough at the end.

The course for this race was rolling with plenty of hills each lap and the riders had plenty of time to find their racing legs during the long neutralized section which had its fare share of climbing. In that neutralized section, despite his earlier statement, Sam Harrison was near the front with Dan McLay not far behind and they may not have been racing but there were already few stragglers, with one, Chris Nicholson of the Isle of Man, having to make a big effort to get on the bunch.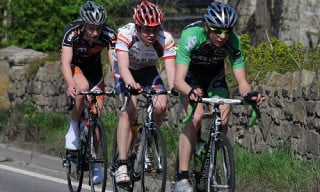 The three early leaders climbing on lap 1 of the race.

The first lap saw the race stopped by the commissiare to remind riders not to cross the white lines and when the action resumed, three riders managed to give the bunch the slip; Laurie Brooking (Herballife/Wheelbase), Joshua Edmondson of Motorpoint\Marshalls Pasta and Matthew Hamilton (Leslie Bike Shop). Behind them, it was the team of Glendene on the front of the bunch chasing the break down.

Within 10 miles though, a new break had formed and this one looked very solid indeed with the riders including Adam Yates, Sam Harrison, Robert Crampton, Simon Yates, Matthew Holmes, Chris Nicholson, Lewis Balyckyi and Conor Dunne. Whilst the break worked well together early on, it was Sam Harrison who was going clear on the climbs to dominate the king of the mountains competition before settling back with the break. Chase groups came and went but it wasn't until 10 miles to go that the race really lit up.

It started with Harrison again going clear for the KOM sprint and then four riders slipped clear, both the Yates brothers Simon and Adam, Lewis Balyckyi and Sam Harrison. These four soon started to attack each other and after an attack by Balyckyi failed to stick a few miles out, Simon Yates countered and he went onto win the race by 13 seconds from Balyckyi and Harrison who sprinted it out for second.

In fourth was Tom Moses who did a super ride to first go clear of the bunch with Dan McLay on the KOM climb with half a lap to go and they crossed to what was left of the break. Moses than attacked again to chase the four leaders and caught all but three of them, finishing just over a minute down on the winner.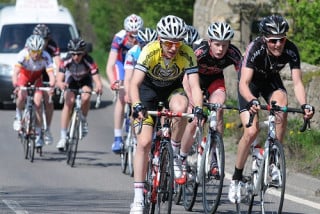 The winning break on lap 3 lead by Adam Yates, Sam Harrison and Robert Crampton.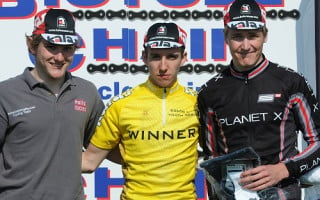 Top 3 in the race, Lewis Balyckyi, Simon Yates and Sam Harrison.
Talking to winner Simon Yates
We'll have more reactions from the riders in this race in the coming days as well as a feature on the Junior heros of Roubaix.
Result
1. Simon Yates Maxgear RT 3.26.29
2. Lewis Balyckyi Team Wallis - CHH @13 seconds
3. Sam Harrison Planet X Road CC @st
4. Tom Moses Glendene CC @1.08
5. Daniel McLay Hargroves Cycles / Trant / Next / Scott / GSi @1.30
6. Chris Nicholson Team Isle of Man @1.31
7. Matthew Holmes Team Wallis - CHH @st
8. Adam Yates Maxgear RT @2.17
9. Conor Dunne Glendene CC @2.45
10. Josh Papworth Cult Racing
11. Alex Murison Glendene CC @3.15
12. Jack Penrice Maxgear RT
13. James Dunlop Herbalife/Wheelbase
14. Jake Martin One Life Development Squad
15. Alistair Slater Bourne Wheelers
16. Hugo Humphreys Mosquito Bikes RT
17. Matthew Hamilton Team Leslie Bike Shop / Right Move Windows
18. Robert Crampton Wills Wheels CC @3.35
19. Jonny Knox Herbalife/Wheelbase @4.06
20. Paul Fostun Langdale Lightweights RT
21. Ewen McDonald Epic Cycles RC
22. Felix English Team Pearson Cycles
23. Chris Sherriffs Team Wallis - CHH
24. Jack Cousins Wills Wheels
25. Nicholas Avery Mid Devon CC
26. Tom Neale Inverse Racing / Bikefood
27. Jim Lewis Glendene CC
28. James Lowsley-Williams AgiscoViner
29. Declan Byrne Brookes Cycles
30. Owen Lake Cambridge CC
31. Joshua Edmondson Motorpoint/Mashalls Pasta
32. Henry Newbury Fareham Wheelers
33. Rupert Denny Team Nemesis GB
34. Alec Briggs Artic Premier RT
35. Paul Young Glendene CC
36. Ben Kellett VS Cycles
37. Rob Yeatman Team Zappi's @4.11
38. George Moore CC Giro @4.13
39. Andrew Brind-Surch VC St Raphael @4.17
40. Perry Bowater CC Giro @4.19
41. Matthew Myers Twickenham CC @7.01
42. Laurie Brooking Herbalife/Wheelbase @7.19
43. Brennan Townshend Mid Devon CC @14.02
44. Jack Barrett Stirling Bike Club @14.03
45. Freddie Lewton Giant CC @16.03
46. Lawrence Carpenter Team Quest - The Bike Shop @16.04
47. Joe Charley Wolverhampton Wheelers @17.45
48. Alex Pantelides Twickenham CC
49. Taylor Johnstone Team De Ver
50. James Wagner Sportscover
51. Sam Anstice Cwmcarn Paragon RC
52. Matthew Griffin Chippenham Wheelers
53. Luke Cornish Cwmcarn Paragon RC
54. Nicholas Smith VC Jubilee
KOM: Sam Harrison
Sprints: Robert Crampton
Latest National Series Standings after Round 2 (Click for full table)
1. Lewis Balyckyi, Teamwallis CHH Racing Team 104
2. Tom Moses, Glendene A & CC 100
Simon Yates, Maxgear RT 100
4. Adam Yates, Maxgear RT 68
5. Chris Nicholson, Team Manx Telecom 54
6. Sam Harrison, Planet X Road CC 52
7. Matthew Holmes, Teamwallis CHH Racing Team 47
8. Daniel McLay, Hargroves Cycles/Trant/Next/Scott/GSI 38
9. George Moore, CC Giro 35
10. Conor Dunne, Glendene A & CC 33
More photos from the race.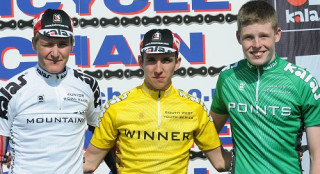 The jersey winners, Sam Harrison (KOM), winner Simon Yates and Sprints Robert Crampton.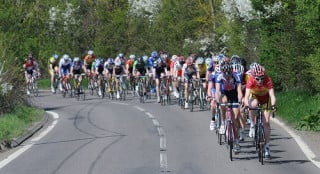 Chase is led by Dan McLay who was second in Paris Roubaix last weekend.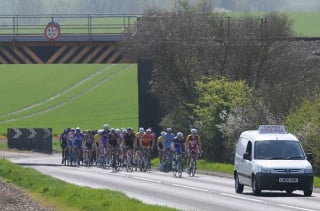 The riders settle in during the neutralised section after leaving Somerton.
RELATED LINKS
| Round 1 Report | More Photos by Charles Whitton |