---
On Saturday 23rd February, 40 riders braved the freezing cold Manchester conditions to take part in the rescheduled round one of the Manchester Go-Ride Race League held at Platt Fields BMX Park.
The day was organised and ran by British Cycling's Go-Ride Coach Joe Malik with support from local North West clubs, Manchester City Council and the National Cycling Centre.
The day started with a briefing from Joe followed by two hours of specific BMX coaching from qualified British Cycling coaches. All riders were split into two groups and took turns to work on different sections of the track. Within the two hours, all riders had learnt advanced pumping techniques, racing lines, cornering, group riding and gate starts. Most riders were even able to balance on the gate unassisted!
Race one was an individual time trial, with each rider needing to race as fast as possible to set the fastest time overall. A rider was set off every 15 seconds with the timings from this race being used to place riders in the correct motos.
The second block of racing would consist of three races known as motos. Each rider would get three races against at least five other riders to put into practice all the coaching they had learnt and of course to try and win their race. There was some excellent display of skilled racing on hand with some of the more advanced riders evening manualing sections of the track.
Results for the racing are as follows:
Individual Time Trial:
Joseph Cotton
Kieran Brocitn
Paddy Peet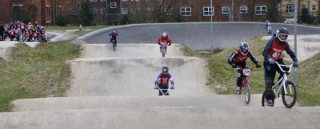 Moto Races
Race 1
1 Thomas Hall
2 Harrison Kelly
3 Tayeshaun Ward-Earl
Race 2
1 Amy Hodnett
2 Rowan Cookie
3 Molly Shapley
Race 3
1 Arees Talib
2 Jaish Talib
3 Sam Hodnett
Race 4
1 Ethan Jackson
2 Reuben Sanyal
3 Jean Crawford
Race 5
Paddy Peet
Joseph Cotton
Adam Crawford
Joe Malik, Manchester Go-Ride Coach was impressed with everyone involved in the day, saying: "Round 1 of the league was a great display of what clubs and schools can do when working together to promote the race league.
"It is fantastic to see the progress Go-Ride clubs from across Manchester and the North West are having on young riders and it is a credit to all the hard work volunteers and coaches put in".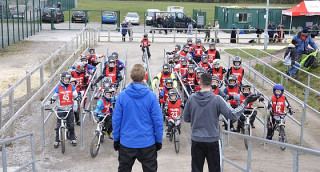 A special thanks goes to, James Kelly, Rob Hawker, Sian Williams and Andy Adkin for all the hard work they put in on the day.
If you are interested in coming to the next event in the league, please get in contact with your local Go-Ride club or Go-Ride Coach Joe Malik 07908 407 317 and sign up through them.
Round 2 of the Go-Ride Race League is Mountain Bike taking place at Debdale Park on Saturday 30th March, more information can be found here - www.mgrrl.com/
---