---
Club members and friends at Go-Ride Club Blackpool Youth Cycle Association ended the glorious summer of sport with their own haul of medals and trophies at the recently opened closed road circuit at Palatine Sports Centre.
Following on from the successful Go-Ride Games events which encouraged new entrants into cycle sport after the Olympics, the Go-Ride Club ran their first Annual Time Trials on the 1km circuit. Older age cats did 10km while those aged U12 did 5km. The best members in each age category having the honour of being the Record holders until next year's event.
"Since the Tour De France and the Olympics, our membership has gone up by about 40%," said Club Coach and Secretary Carley Brieley. "We still have potential new members coming to our club sessions every week. We are very fortunate that the circuit is now floodlit so we can run training and coaching sessions throughout the year."
For the Time Trial event, the club mirrored the type of event the young riders would have seen their heroes compete in during the summer. After signing on and being allocated a number, riders were counted down and set off at timed intervals with the more confident having held starts. For many this was there first bike race and any lack of experience was more than made up for with enthusiasm. Ages ranged form 6 to 17 with all aiming to be the next Elinor Barker or Bradley Wiggins.
As well as Volunteers from the club, the event was supported by local Go-Ride Coach Tom Leivers and some of the clubs CAYV volunteers who assisted with signing on, lap scoring and officiating.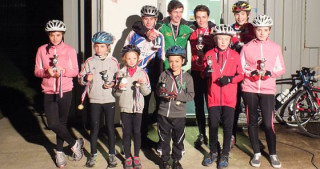 All riders who took part were rewarded for their efforts with a gold club medal with their time on and trophies for the best in each age cat at a club presentation the following.
"This has been a great event for the club," said BYCA Chair Chris Smith. "We've had 34 young riders take part and although we have the U12 NW Circuit Champion in the club, most have never competed before. We are definitely going to have to order some more club kit to keep up with demand."
The club is now planning a series of events at the circuit for the spring.
BYCA Annual TT Records 2012
Junior Boy 10km: Tom Pritchard in 15 mins 57 seconds.
Junior Girl 10 Km: No record set
Under 16 Boy 10 km: Alex Bamber in 17 mins 29 seconds
Under 16 Girl 10 km: No Record set
Under 14 boy 10 km: Harry Lynagh in 18mins 51 seconds
Under 14 Girl 10 km: Kayleigh Mountford in 19 mins 26 seconds
Under 12 Boy 10 km: Alistair Leivers in 17 mins 5 seconds
Under 12 Girl 10 km: No Record set
Under 12 Girl 5km: Holly Stayner in 11 mins 41 seconds
Under 10 Boy 5km: Tom McCurrie in 11 mins 20 seconds
Under 10 Girl 5km: Charlotte Barnes in 11 mins 39 seconds
Under 8 Boy 5km: Deetray Jarrett in 13 mins 44 seconds
Under 8 Girl 5km: Felicity Barnes in 12 mins 25 seconds
---