---
Witney Mountain Bike Club, with the assistance of Central Region's Go-Ride Coach Graeme MacNamee and Go-Ride Development Manager Josie Heffernan, held their Go-Ride Games event at Blenheim Palace on Sunday 19th August 2012 as part of the Blenheim Cycle Sportive weekend.
The preparation for the event began the night before, with gazebos being put up and a race course set out, with the expectation of many participants the next day. The club were not disappointed with a steady stream of cyclists taking advantage of the continuing good weather, to sample the Go-Ride skills course and race course.
The race events were run as individual time trials with many young ones visiting up to 10 times to try bettering their times throughout the day. Parents to, had many attempts to better their times.
There were a number of age-based events, with prizes presented to all participants by British Cycling at the end of the day. The event was inclusive to all, with two youngsters with disabilities taking part on modified bikes, while there was also five young balance bike riders attempting the ramps and other obstacles on the skills course.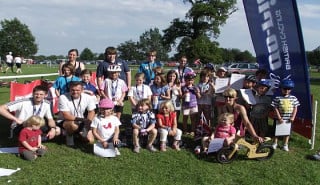 In total 116 people attended the event and many were interested in joining the club for the monthly Go-Ride sessions, in fact the next day the club received four e-mails asking for more details.
Go-Ride monthly events continue throughout the year with 30 attendees on average, even in the winter. The Saturday sessions start at 10:30 for the small riders with the balance bikes and a session at 13:00 for the older riders, who are split into two groups, one to go out on a MTB ride and one to practice skills and games in Queens Dyke Primary school grounds. All our leaders are qualified Trail Cycle Leaders by the MBLA to facilitate this. Please visit the club's website for more information.
Thanks must also go to those Witney MTB club members who helped on both Saturday and all day Sunday, Tim, Michael, Dot, Bridgette, Catherine and our young volunteer Euan, who is trying to complete his platinum award and Lewis about to start his BC young volunteer award scheme.
---
For more information on all available Go-Ride activities, please visit the Go-Ride homepage.