---
Braunton BMX Club held its first big event on 15th August 2012 in the form of the Go-Ride Games. The morning was a huge success and all riders thoroughly enjoyed themselves.
In total, 29 riders participated, 10 of which were non-members but all have now gone onto join the club, taking the club's ever growing membership to 78. The club welcomes any new members regardless of experience, age, gender or ability.
Following a safety check on bikes and equipment, and lending out some bikes and kit, the club ran a 'back to basics' training session for the first part of the morning. This covered core cycling skills, as most of the riders were at beginner level.
Following a short break, the Mini-Games began and consisted of a series of races, based on age groups, with two 'motos' each. All riders tried their hardest and the quality of riding was really high. There were bronze, silver and gold medals for the top three times in each category. These were presented by Jodi Vickery, who had provided coaching that morning, and has been a huge support to the club since it first opened its doors.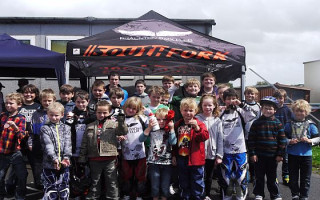 The day concluded with a raffle, with some fantastic prizes that had been donated by local businesses up for grabs. The main prize for the raffle was donated by club sponsor, Southfork Racing, who very generously gave a full kids Fox Race Kit to the first prize raffle winner.
The club was also joined by Will Newton (British Cycling Development Manager for the South West), who has supported the club from the beginning, providing invaluable advice and encouragement to 'the BMX club without a Track'!
The club would like to say a huge thank you to everyone who attended and the Coaches, Committee and Volunteers who organised a successful and enjoyable event. There will hopefully be many more to come. A special mention too, to Harry Capner, Photography Student, for giving up his time to take photos of the event.'
For further details on the club's activities. click here.
---