---
On Saturday 18th of August, Mid Shropshire Wheelers hosted their first Go Ride Games event in the wake of the Olympics in London.
A staggering 75 young riders of varying ages turned up to try club cycling with a competitive element (for perhaps the first time). Events throughout the day were inspired by the success of Team GB, for example the "Chris Hoy sprint."
We started the day with an opening ceremony where all the children rode an honorary lap of the track lead by a Bradley Wiggins lookalike clutching the Olympic flame. The top three riders in every event were treated to the national anthem as they stood proudly upon the podium to receive their medals. The Go-Ride Games event resource pack provided by British Cycling was extremely effective, during the closing ceremony wrist bands, t-shirts, certificates, bottles and medals were handed out to everyone who had taken part and it was lovely to see everyone who took part so happy.
"To inspire a generation" is a straightforward, passionate message instilled by the Olympics; and this was exactly what our club set out to achieve from the day. We wanted the day's events to reflect activities from the clubs weekly sessions to ensure that despite the relevance of the Olympics, we did not lose sight of the main goal; to encourage more children to get into cycling and hopefully return for future club sessions.
Fifteen volunteers contributed to making the day such a success which included a mix of experienced coaches and young riders. Those in the junior team helped out and it was brilliant to have a representative from British Cycling there on the day as they were able to talk to someone knowledgeable about pursuing the young volunteer scheme.
Fourteen year old Beth helped out all day, handing out medals, signing in and being a useful source of information. "It's been hard work but it's good to see more children trying the sport I love", she said.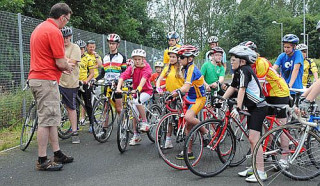 Beth and the other volunteers were great to have around throughout the day as role models for new comers; to see the progression of how attending the Go-Ride club session on a Saturday morning leads to competing as a junior rider. Also as our junior riders in the club get older, the age gap widens so it was nice to advertise the work that goes on within Mid Shropshire Wheelers and what we offer. As a result we hope to attract new members and get children of all ages excited about cycling and enthusiastic to try something new.
Joe, aged 12, said: "I've really enjoyed today and it was nice to have a go on the BMX ramps as I don't have a BMX bike at home. The races were really good, even though I've never competed before but I enjoyed the different races - it was just good to have a go."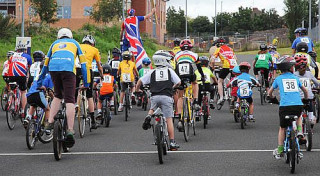 Joe's Dad said: "We just would like to see more of these events, it's a good introduction to the sport and everyone has been so helpful and approachable."
As with any large event a lot of hours of preparation were needed prior, planning was underway in early April but all the hard work was worthwhile as the following week five children who had never been to a club session before returned.
---
For more information on all available Go-Ride activities, please visit the Go-Ride homepage.