Event Dates: 23 & 30 December 2012
---
Yorkshire Cyclo-Cross serves up a contrasting double-header of events over the 2012 Christmas period.
Charity Fancy Dress Cyclo-Cross - 23rd Dec
On Sunday 23rd December, there's the hugely popular and resolutely non-serious charity fancy-dress 'Cross race, which is held at Heptonstall Bowling Club (Heptonstall Bowls and Social Club Heptonstall, HX7 7LT), high on the hill above the town of Hebden Bridge.
The event has, in the past, attracted entries from far and wide and, truth to tell, some of them from riders planning a serious outing. Well, the message from the event's organisers is that everyone is welcome, but with Christmas spirit in the air and fancy dress the clothing of choice, this is not a serious race, but instead a fun event to be enjoyed by all.
There are actually two races – under-12s at 11.30 and all other categories at 12.30 – with the latter expected to last no longer than 30 minutes.
Post event there's hot food available in the Bowling Club, some great prizes for the best outfits and a charity raffle, the proceeds of which go to the local Manorlands hospice.
It's all great fun and makes for a complete pre-Christmas day out for all the family, especially if combined with a bit of last minute gift shopping in nearby Hebden Bridge, a town which is famous for its range and quality of shops. Event Listing & Full Details
Singletrack Yorkshire Points Round 9 - 30th Dec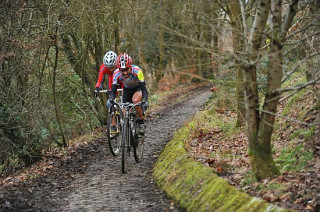 The second event, a week later on Sunday 30th December, is the ninth and final round of the Yorkshire Points Cyclo-Cross Series, held in Centre Vale Park, Todmorden, just up the valley from Hebden Bridge.
This is a much more serious affair, with the series titles to be settled. It's also an event that attracts lots of entries from outside the series' usual catchment area and especially from the North West – the Lancashire border is just up the road from the venue.
The event is run by Chipps Chippendale and his cohorts of helpers from the Singletrack magazine offices, which are also in the town. Chipps brings his own unique organising flavour to the event, which has been known to feature free beer for riders and brass band playing along as the riders compete.
The course itself is also something a bit special, featuring a super-tough cobbled climb (pictured above) which forms something of a focal point for spectators. Tactically, it's vital you arrive at the foot of the climb near the front of the race, otherwise you will be forced to dismount and push as riders scrabble for grip and grind to a halt around you! For all but the best, one successful climb up the cobbles during the race is the height of ambition.
A sweeping descent through the woods before a cloying loop over the park's grass playing fields, completes the lap.
With riders keen to keep their form together ahead of the national championships, you can expect a high quality entry and, even if you don't fancy riding it, the event is one of the best in the calendar for spectators. Event Listing & Full Details