British Cycling welcomes today's announcement that the Bikeability programme will be extended to every child in England – but has urged the Government to back it up with a bold and sustained investment strategy at next month's Budget.
The announcement, which was made by Cycling and Walking Minister Chris Heaton-Harris at a visit to a primary school in Daventry this morning, means that the expected spend on cycling and walking from 2016 to 2021 will reach £2.4 billion.
Former world and European champion Andy Tennant, who joined the Minister at the announcement, said:
"If we want our children to continue cycling into adulthood it is absolutely vital that we equip them with the skills and knowledge to ride at a young age.
"Learning to cycle is a brilliant way to help children live happy, healthy and independent lives, and we're absolutely thrilled that so many more children are now going to benefit from the programme in the coming years."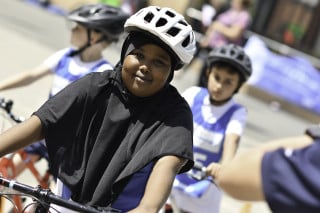 While investment in cycling and walking for 2020/21 will be double that of the annual average from 2016 – 2020, the figure still falls below the ask of the Walking and Cycling Alliance (Bicycle Association, British Cycling, Cycling UK, Living Streets, Ramblers and Sustrans). The Alliance believes that spending on walking and cycling must be raised to at least 10% of the total transport budget if the Government is to meet the targets set in its own Cycling and Walking Investment Strategy.
Responding to today's announcement, British Cycling Policy Manager Nick Chamberlin said:
"Today's announcement is great news for schoolchildren all over England and recognises the fantastic work that Bikeability providers do to get kids feeling more confident on two wheels.
"Giving children the skills to ride is one piece of the jigsaw, but making our streets safe enough for them to ride to school or for fun with friends will require a truly transformational shift in the way we allocate our transport budget and road space.
"We are encouraged to see that the Government is heading in the right direction, and hope to see this backed up with a bold, long-term funding plan for cycling and walking in next month's budget."