The fearsome Antur Stiniog hosted the fourth and final round of the 2021 HSBC UK | National Downhill Series at the weekend.
The North Wales track has a reputation for being one of the most brutal uplift centres in the UK, with the course carving its way through a former slate quarry, the riders not only have to watch out for steep, technical chutes but also for slate and rocks just waiting to bring a premature end to race runs with a flat tyre or a trip over the bars.
Practice day showed why Antur Stiniog is so infamous, with a large number of crashes keeping the excellent medical team on their toes. This was only made worse by an afternoon rain shower which turned the previously dry track into a slick, muddy beast.
In stark contrast to this, race day was greeted by unseasonably warm weather and clear blue skies, creating a tricky combination of drying surfaces and loose, slick patches of slate.
There were some outstanding saves throughout all the fields, with riders doing battle with the drying track across their race runs. Stand out save goes to Dom Platt who, on his rerun, overcooked the final corner and managed to claw it back at the last minute to take the round win and the overall series title.
The other stand out performances from the weekend had to be in the Elite Women's race, with the series coming down to the wire at the final round. Stacey Fisher and Katherine Sharp were separated by only 20 points at the start of the weekend. After some tight racing, Stacey Fisher came out on top taking both the race win and the series win.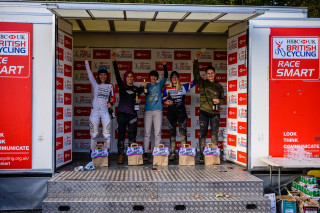 In the Elite Men's race, Roger Vieira's fairy tale perfect season was thwarted by fellow World Cup rider Dan Slack, who took his first ever HSBC UK | National Downhill Series win.
In the Junior races, Aimi Kenyon stormed to victory showing everybody just why she is the Junior Women's National Champion, taking the race win by just under 12 seconds and claiming overall series victory.
In the Junior Men's race, Jordan Williams backed up his win at the World Cup in Snowshoe by taking the win by just under a second and securing the overall National Series win in the process.