A new evaluation report published today has highlighted the nationwide impact of the 2019 UCI Road World Championships in Yorkshire, with 45% of those surveyed saying that the event had inspired them to take up cycling or cycle more.
Commissioned jointly by British Cycling, Sport England and UK Sport and compiled by researchers at the Sport Industry Research Centre at Sheffield Hallam University, the report covers awareness of the event, its perceived impacts, and the extent to which it influenced changes in physical wellbeing, mental wellbeing, individual and community development.
You can read the full report here, however key figures from the study show that:
57% of those who interacted with the event felt prouder of Yorkshire and the UK.
45% were inspired to take up cycling or cycle more.
49% felt the event had brought their local community closer together.
A key component of the legacy planning for the championships was the £15 million Places to Ride fund, applications to which closed in November 2020. Delivered through a partnership of British Cycling, Sport England and the Department for Digital, Culture, Media and Sport (DCMS), the fund has supported projects ranging from large-scale facilities to smaller equipment grants for clubs and groups.
While a number of the schemes supported by the fund – including the Doncaster Cycle Track – are now operational, their full impact will only become fully clear in the years to come. However, the early indications are very encouraging, with cycling participation amongst adults in Doncaster increasing from 9.9% in 2018 to 18.1% in 2019, following the opening of the facility.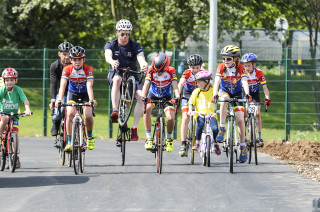 British Cycling's Business Services Director, Rod Findlay, said:
"The 2019 UCI Road World Championships in Yorkshire was a truly momentous celebration of cycling, and from the report published today it's clear that the legacy of those nine days of racing will be felt for many years to come.
"At British Cycling we've always worked incredibly hard to ensure that we harness the inspiration and profile of our sport's showpiece events to inspire more people of all ages and abilities to ride. Through the investment in community clubs and facilities made possible by the Places to Ride fund we're now better equipped to do that than ever before, and we're incredibly thankful for the support of the UK Government to make that possible."
Find out more about the Places to Ride fund here.