British Cycling can today announce the first cohort of teams to be awarded Elite Development Team status, in recognition of their work to support Britain's best aspiring road riders on their journey to success on the world stage.
The new status was announced in November 2020 with the ambition of bridging the gap to UCI Continental level teams, and following an application and review process in the early part of 2021 seven men's and five women's teams have been successfully awarded. They are:
Men's teams: Bikestrong-KTM, Crimson Orientation Marketing, Cycling Sheffield, Richardson Trek,
Spirit Bontrager BSS Rotor, Team PB Performance, Wales Racing Academy.
Women's teams: Bianchi Dama Cycling Team, Brother UK Cycle Team OnForm, Loughborough Lightning – TRG, Team Boompods, Team LDN – Brother UK.
British Cycling's Head of Sport and Major Events, Jonathan Day, said:
"We wanted our Elite Development Team status to be a real badge of recognition for domestic road teams which offer first-class support and development opportunities to their riders and provide them with a real springboard to success, and I'm thrilled with the calibre of the teams which we are announcing today.
"Competition for places on UCI Continental, ProTeams and WorldTeam squads is more competitive than ever, and we know that having access to a comprehensive race programme, coaching and guidance and financial support can be the difference between a rider not making the grade and fulfilling their dreams. The road teams selected all play a pivotal role in developing future talent and provide an excellent environment for the British pros of tomorrow.
"The pandemic has been particularly tough for our road teams and riders, and this is just one of a number of ways in which we are working to support the community and ensure that we are able to both recover and thrive in the future. Like everybody we're incredibly excited for the return of national-level racing at the CiCLE Classic later this month, and though the calendar is shorter than we envisaged it will be great to see our Elite Development Teams on the start line."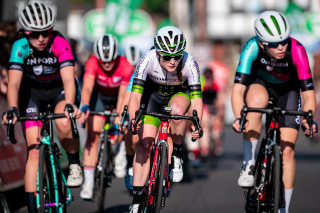 The criteria for attaining Elite Development Team status included the number of young, British riders on the team; supporting riders' expenses for national and international races; provision of equipment and dedicated support; and attendance at national road and circuit series events.
The successful teams will benefit from guaranteed entry into national series events, additional exposure through British Cycling digital and social media channels, and access to education courses and workshops for team riders and staff.
David Walters, Manager of the Bianchi Dama Cycling Team, said:
"Having competed at elite level for over five years and building on our successes on the road and with sponsors, becoming an Elite Development Team recognises that we're indeed doing things to the highest standard we can. We hope that our future aspirations can build from this point too, with successes this year as we restart our racing programme with an amazing squad and broad portfolio of hugely supportive sponsors."
Brett Fabian Smith, Director and Team Owner of Bikestrong-KTM, said:
"Bikestrong-KTM are delighted to have been accepted to be one of the first British Cycling Elite Development Teams. We see this as a fantastic opportunity to provide a springboard to the next level of racing to match our ambitions and to fulfil the potential of our blossoming set of young riders.
"We also see this as an opportunity to help shape and improve the relationships between teams, race organisers and British Cycling. We have already seen a much greater level of engagement with the new EDT team at British Cycling and can see this being a major boost to all the teams involved."
Find out more about British Cycling's long-term plan for road racing in our plan for the discipline here, which was published earlier this month as part of the organisation's new Everyone Wins campaign.