We've seen millions more people get on their bikes, clubs supporting their local communities and some creative new ways to stay active from home – while at the same time British riders have continued to do us proud on the highest stages.
At the end of a year of unprecedented challenges, we've pulled together five of our favourite heart-warming moments which have kept us all smiling and supported some fantastic causes in the process.
For a more comprehensive look back at 2020, why not take a look at our Annual Review?
Working (out) from home: Great Britain Cycling Team's Pete Mitchell gets a helping hand with his workouts
As families around the world adapted to the Covid-19 lockdown work and home life blurred into one, and during those early weeks athletes across all sports were forced to seek out unconventional ways to keep themselves in shape.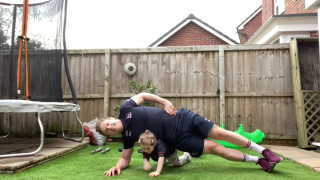 With three young children at home, Great Britain Cycling Team rider Pete Mitchell found an innovative way to keep a toddler entertained while getting his daily workout done.
While dumbbells and barbells are normally the weapons of choice when it comes to strength training, Pete instead used his giggling daughter as a substitute, and with playgrounds closed at the time, a perfectly executed plank was the perfect opportunity to crawl under or climb over her stationary dad!
Cycling helps: Delivering prescriptions with Banbury Star Cyclists' Club
When the call for health volunteers was made at the start of the Covid-19 pandemic, Banbury Star CC was one of the many thousands of who responded to the call.
After seeing how well a prescription delivery service worked at another cycling club, Banbury Star CC President, Paul Dean, got to work to set up their own service for 'shielded' and vulnerable people in Oxfordshire alongside a local running club, Banbury Harriers Athletics Club.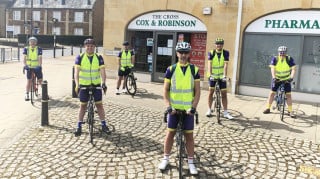 Paul asked a GP in his club if the pharmacy his practice is attached to needed help – which indeed they did. Paul then enlisted the help of 35 volunteers to cover six pharmacies, and the club was soon delivering six or seven days a week.
When we last caught up with Paul in late April, his group had delivered 185 prescriptions, clocking up over 636 miles and 29,802 feet of climbing – higher than Everest.
Molly Weaver's epic back garden adventure
When you've been putting in the hours for an event and it gets cancelled, what do you do? Find another way to ride it, of course!
Cyclists everywhere have had to endure the disappointment of cancelled events this year and it can be easy to feel disheartened. But when former professional rider Molly Weaver heard that the long-distance gravel event The Dirty Reiver in Northumberland was cancelled, she decided to hold her own solo event – all 130km of it – in her parents' back garden. Riding more than 1,000 laps of a short off-road circuit for 12 hours, Molly raised almost £14,000 for the Women's Aid Federation of England, which works to end domestic violence.
Clocking up the miles for a good cause
Five-year-old Betty-Leigh Allinson raised more than £28,000 for Letchworth-based Garden House Hospice this summer, after cycling 100 miles over 100 days.
Betty-Leigh is five years old and had just earned to ride her bike without stabilisers during lockdown. Her Grandma works at the Garden House Hospice, which had to cancel all fundraising events and close charity shops during the lockdown, meaning they were set to lose around £25,000 each week.
Starting off the fundraising with the £7 she had saved for a cancelled Disneyland trip, the football-mad budding cyclist wore her Arsenal kit for her Grandad and wore a different football kit for each and every one of the 99 days which followed!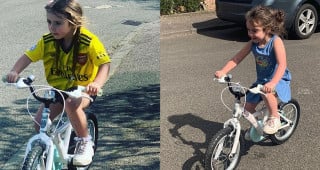 Image source - Faye Allinson/JustGiving
Sue and her 'love of scrubs'
Like so many of our volunteers during the first lockdown, Sue, a HSBC UK Breeze Champion and ride leader in Doncaster and North Lincolnshire, couldn't lead her usual group rides. With some spare time on her hands and a quick internet search later, Sue turned her hand to making medical scrubs and face masks to support the Covid-19 response.
You can find out more about Sue's amazing work in this video.