Over the past few weeks we've been overwhelmed by stories of how the cycling community has stepped up to support good causes and help those most in need.
Today we're sharing a blog from Paul Dean, President of Banbury Star Cyclists' Club, who have set up their own prescription delivery service in Oxfordshire alongside a local running club, Banbury Harriers Athletics Club.
Here Paul explains how the scheme got started, how the scheme has been received in the local community and what you need to do to get things up and running – which covers what you need from your council, how many volunteers you'll need and how things work on a day-to-day basis.
How it started
I first heard of a scheme like this in late-March, run by Royal Leamington Spa CC. One of their members is married to a pharmacist who was struggling to get prescriptions out to the public so his club stepped in unofficially to help one particular pharmacy, continuing to this day.
After first seeing this idea put into practice I thought we could do something similar in Banbury, so I asked a GP in my own club if the pharmacy his practice is attached to needed help which indeed they did. We also became aware that the Local Pharmaceutical Committee (LCP) had just approved a scheme for local sports clubs to work with Cherwell District Council on the delivery of prescriptions.
Each cycling club will need a scheme co-ordinator, someone who can act as the focal point for their council, be the driving force for their cycling club and can spare the time to run the scheme day-in, day-out. For Banbury Star that was me, not just as President but also because I am, to use the parlance, "between jobs" having been laid off last year and so have plenty of time on my hands right now.
Here's what else you'll need to get a scheme off the ground.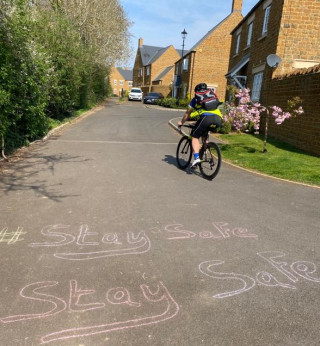 A good relationship with the council
I think the first key point for cycling clubs wishing to copy this is finding a contact within the relevant department of their District or County Council (often likely to be the community services department) to work with and keep the procedure transparent, GDPR-compliant and above board as opposed to going it alone.
Our contact at Cherwell Council is also a member of Banbury Harriers Athletics Club and is the co-ordinator for all Banbury pharmacies. He and I worked on which of the town's pharmacies were best suited for runners and which were better for cyclists. For example, the pharmacies located inside supermarkets or shopping centre are more accessible for runners on foot as there is nowhere nearby to securely lock bikes, while those pharmacies on the outskirts of town or in the outlying villages are better for the cyclists.
Club volunteers
As well as working with the council, the other key activity for the co-ordinator is to engage with the club's membership and see who would be willing to join the scheme as a volunteer. I put a post on our club's Facebook group and also sent an email to the entire 150 membership to announce the scheme and invite people to get involved.
The volunteers are all people that I know well, and are a "safe pair of hands" with whom I trust to handle medicines and ride competently in all weathers. Everyone knows they're still expected to pull their weight come rain or shine.
Banbury Star has 35 volunteers covering six pharmacies, and we've found this gives a good spread of volunteers for delivering six or seven days a week. This scheme will last for at least the next 10 weeks (covering the 12-week Shield scheme for the most vulnerable) so this isn't just a flash in the pan.
How the scheme works
I will be contacted by either someone from Cherwell District Council or by the pharmacies directly to say a delivery is required. I receive the patient's contact details and the name of the pharmacy and I then assess which volunteer is best suited for the delivery.
I'll usually group prescriptions into areas of the town and also ask the volunteer team to do one pick-up late-morning and another late-afternoon. It takes quite a bit of mental juggling!
Two important points - we don't accept requests from general members of the public directly, they must be either 'shielded' or considered vulnerable by the pharmacist. Also, no money must change hands – all prescriptions must be either exempt or pre-paid.
I ask the cyclists to phone the prescription recipient in advance of the delivery to ensure there is somebody at home, otherwise undelivered prescriptions must go back to the pharmacy.
To date we've delivered 185 prescriptions, clocking up over 636 miles and 29,802 feet of climbing – higher than Everest!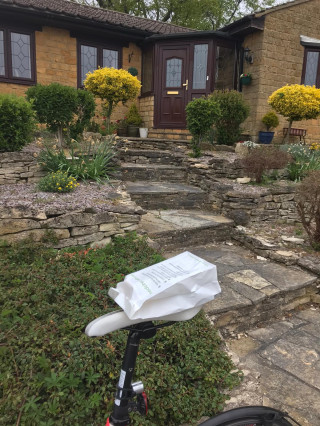 Benefits of the scheme
Most importantly, the scheme helps those vulnerable members of the community who are self-isolating or unable to travel to still receive their prescriptions, which can cause a great deal of worry and anguish.
The pharmacies have seen a huge demand for prescriptions to be delivered and they are struggling to cope with their existing delivery mechanisms, and our delivery service also reduces pharmacy waiting time for those who are having to queue for their prescriptions
An added benefit is that the volunteer can check on the wellbeing of the recipient and enquire as to how they are coping with the isolation and if any additional help (e.g. food parcels) is needed.
We as a club were all incredibly keen to play our part in helping the community and improving the image of cycling in the area. It's also a great way for us all to get some miles in on our bikes!
Feedback
Every one of the volunteers has come back with stories and feedback of the people they've delivered prescriptions to. We've met ex-Banbury Star members, enrolled one new member and have had some great conversations with people who are surprised to get their prescriptions delivered by someone on a bike. Some of the recipients live alone and have little contact with the outside world so having someone turn up on their doorstep with their prescription gives them the opportunity to have a real conversation.