As Volunteers' Week 2018 gets underway, British Cycling chief executive Julie Harrington joined some of Britain's most successful cyclists to praise the thousands of people who devote their time to help cycling grow and thrive.
British Cycling's work is supported by an army of volunteers in a broad scope of vital positions across the sport, including commissaires, event organisers, ride leaders, coaches and club welfare officers.
Julie Harrington said: "Volunteers are the backbone of cycling. Our sport is booming in this country thanks to the thousands of people who dedicate their free time to it.
"During this Volunteers' Week, we'd like to take the opportunity to celebrate their work and express our thanks to them for their fantastic contribution."
Olympic, world and Commonwealth champion, Katie Archibald, said: "I put in the work to race and I see the same effort levels from volunteers. Without them – the commissaires and event organisers, the tea servers and sign-on stewards - we wouldn't have the opportunities to race domestically or on the world stage - it's a journey for us all.
"Volunteers are vital to cycling's success and I want to thank every one of them."
British Cycling head coach, Iain Dyer, said: "The role British Cycling's volunteers play in the success of the Great Britain Cycling Team should not be underestimated.
"Without their support, our riders would have fewer opportunities to race and therefore fewer opportunities to develop into the world-class athletes that we have seen on our programme over the years.
"On behalf of the Great Britain Cycling Team, I'd like to thank all the volunteers who give up their time to help progress our sport – your services are appreciated by the team."
Paralympian and Commonwealth champion, Neil Fachie, said: "Great things have been achieved in recent years in making sure that cycling is as inclusive as possible, and that there are opportunities available for anyone who wants to ride a bike.
"British Cycling's disability hubs play a massive part in this, but they just wouldn't exist without the volunteers who give up so much time and effort to help others. Their work really is invaluable, and everyone within the cycling community is truly appreciative of the contribution they make."
Double Olympic champion Steven Burke, added: "Like many of the riders on the Great Britain Cycling Team, I simply wouldn't be where I am today without the selfless dedication of volunteers at my Go-Ride club, Cycle Sport Pendle.
"Their endless enthusiasm and support is vital for the continued health of our sport, and I'd like to thank each and every one of them for their contribution."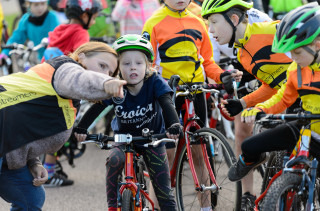 HSBC UK Go-Ride is British Cycling's development programme for young people. The programme provides a fun and safe way to introduce young riders to the world of cycle sport and provides a platform to improve bike handling skills.
At a recreational level, the number of active volunteer ride leaders supporting HSBC UK Breeze, HSBC UK Guided Rides and HSBC UK Ride Social is between 2,500 and 3,000. British Cycling offers free Ride Leadership Award Level training to all levels of cyclists in partnership with local authorities across the UK.
Head of programmes design, Jill Puttnam, said: "It's so appropriate that this year's theme is 'volunteering for all'. Volunteers can come from all communities and walks of life and come together to carry out a range of roles.
"And that is exactly the case for volunteers who get involved in our initiatives. To use HSBC UK Breeze as an example, we are now seeing women who joined the programme in its infancy go on to become ride leaders – 'Breeze Champions' - and using their own experiences to inspire and empower other women."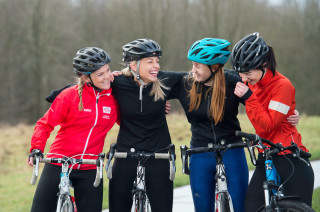 Volunteers' Week is an annual celebration of the contribution that millions of volunteers make across the UK. Over 14 million people volunteer in the UK each year, and their contribution adds an estimated £22.6bn to the nation's economy.
#cyclingsaysthanks
The contribution of volunteers to our sport is invaluable, and to show our gratitude we'll be staging a full week of activity to reward those who give their time to cycling. Keep an eye on our social media channels and website for details of how to get involved as #cyclingsaysthanks.
Get involved?
Find out how you can get involved in volunteering within cycling.