British Cycling has helped to cut the ribbon on the newly-refurbished cycle track at Palmer Park Sports Stadium in Reading.
A ceremony to mark completion of the improvement work to the track, fencing and lighting took place on Saturday.
The work was jointly funded by British Cycling and Reading Borough Council, while the council has also entered into a ten-year agreement to ensure track cycling continues at Palmer Park velodrome.
In addition to improving the environment for cycling, the stadium now offers a better quality facility for all users. The new fence is part of a wider series of improvements recently made, including new energy-saving stadium floodlights which provide far better lighting with bespoke levels of light for different sports and activities.
John Mills, British Cycling's head of facility development, said:
"It's fantastic to see these works complete and for Palmer Park to be up and running as a cycling facility again. Traffic-free facilities such as this one are integral to our aim to ensure that everyone in the country has a safe, accessible place at which to develop their skills and confidence on a bike.
"We know how vital Palmer Park is to the local community, and we'd like to thank Reading Borough Council for their work to safeguard the future of the track. We, like them, look forward to seeing it used by thousands of local cyclists over the coming years."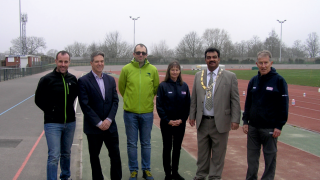 Paul Gittings, Reading's lead councillor for Sport, said:
"I'm delighted that the improvements to Palmer Park Sports Stadium, including the fantastic new track fence, are now complete. I'd like to thank British Cycling for their generous financial contribution and to acknowledge the hard work from council officers and contractors that has brought this series of improvements to completion."
Funding facilities such as Palmer Park, at which cyclists of any age and ability are able to participate, train and compete is a critical part of British Cycling's vision to turn Britain into a true cycling nation.
Since 2009, when Exchequer-sourced funding was first awarded to British Cycling to support the development of purpose-built cycle sport facilities across England, the national governing body has invested over £10m in new or re-developed facilities.