British Cycling's membership has surpassed 125,000 for the first time in the organisation's history - with 75,000 people adding their support and signing up since London 2012.
The milestone is a significant step for British Cycling, cementing its standing as the largest organisation representing cyclists in Britain.
The achievement has been labelled as evidence that '"cycling is truly booming" by Britain's most successful Olympian and British Cycling member Sir Chris Hoy, with the success of the Great Britain Cycling Team helping to inspire thousands of people to get on their bikes for fun, fitness or competition:
"The fact that 75,000 people have joined British Cycling since 2012 shows that cycling is truly booming.
"I know the inspiration from Rio will compel thousands more to join us. The great thing about cycling is that it offers something for everyone, however you want to ride."
British Cycling's membership has grown dramatically since 2005, when it stood at just over 15,000 people. Continuous double-digit growth every year since has contributed to the remarkable figure of 125,000.
British Cycling's president Bob Howden, said: "This fantastic endorsement from cyclists countrywide is testament to the high quality of service that we aspire to provide our members on a daily basis.
"What an incredible achievement in the week when Britain's track cyclists are delivering inspirational, world-class performances. To gain 75,000 members in just four years is phenomenal and cycling is truly on an upward curve.
"With help from our principal partner Sky, UK Sport and Sport England, we have had two British Tour de France winners plus an array of Olympic and Paralympic medals and massive growth in participation at all levels.
"In reaching 125,000 members, we have once again highlighted our ability to achieve ambitious targets. With our members' backing, we will continue to strive for further elite success and more people cycling more often as we continue to make cycling appealing to all.
"I want to thank everyone involved in cycling for their work to get us here today, particularly those who volunteer in the sport. We couldn't have achieved this milestone without them."
Celebrating success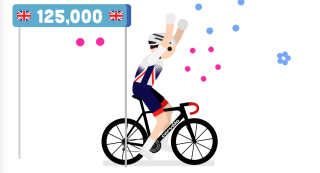 More cyclists are participating in more events - there are now over 4,000 cycling events taking place each year with over 300,000 entrants.
Clubs are booming - British Cycling now has over 2,200 registered cycling clubs, double the number since Beijing 2008.
The number of members who race has more than doubled since London 2012, increasing from 29.500 to more than 62,000.
Two thirds of Great Britain's cyclists in Rio started cycling through Go-Ride – British Cycling's development programme for young people.
We have delivered a host of major international events for our members to ensure that fans of cycling in Britain have regular opportunities to see the best riders in the world battle it out on British shores.
Since 2009, in partnership with Sky, British Cycling has inspired over 1.7 million people to cycle regularly. That's enough to fill almost 20 Wembley Stadiums.
British Cycling members won 16 gold medals (eight in the Olympics, eight in the Paralympics) at London 2012. The tally so far at Rio 2016 is four gold medals.
British Cycling members Sir Bradley Wiggins and Chris Froome have won the Tour de France four times between them.