Oliver Dawson and Izzy Mayes claimed Youth A victories in the fifth round of the National Youth Circuit Series over the weekend in Fife, while Harry Speak and Melanie Rowe were crowned winners in the Youth B races.
Youth A Girls
Izzy Mayes (JRC-INTERFLON Race Team) put down dominant performances across the weekend to win the Youth A Girls category. Mayes kicked off the weekend with the fastest time over three laps of the 1.6km time trial course, clocking 3:16.3 – five seconds ahead of second placed Abigail Miller (Clifton CC). Iceni Velo's Mia Rutterford claimed third in 3:23.2.
The afternoon's criterium race on Saturday saw Mayes take another victory after an exciting race. Just 15 minutes in, Carys Blowers (JRC-INTERFLON Race Team) and Jess Pickavance (Team RL360 Isle of Man) managed to get away from the bunch, with Mayes capitalising on it and joining soon after.
Erin Boothman (East Kilbride Road Club) managed to bridge over to make it a four, but the 40-minute mark saw Pickavance briefly drop out of the breakaway before re-joining onto the finish, while the gap to the group was up to 36 seconds. It was a sprint to the line, with Mayes taking the win ahead of Boothman and Blowers, leaving Pickavance to take fourth.
Sunday's third stage came down to a bunch sprint, with Miller taking the win in the 20 minute race, just edging out Mayes in second and Boothman in third.
The final stage saw Mayes get back on top with a win from a sprint, while Boothman took second and a great finish for Sophie Smith (Team RL360 Isle of Man) saw her take third.
Mayes took the overall win with her impressive results over the weekend showcasing her talent and skill, while Boothman claimed second for her gutsy rides, and Blowers took third.
Youth A Boys
Oliver Dawson (RTD-JsCycleShack) took the overall Youth A Boys win in Fife with a series of consistent performances. Finlay Tarling (FlandersColor Galloo) won the opening time trial in 2:54.6 – two seconds ahead of Dawson - while Elliot Rowe (Deeside Thistle CC) took third in 2:58.8 in windy conditions.
The afternoon session saw some strung out racing, with Sam Fisher (Evolution Racing Academy) suffering a snapped chain to end his chances of a podium after finishing fifth in the time trial. Oliver Moss (Clifton CC) attacked off the front just over 20 minutes in, but it came to nothing, and it was all back together for a bunch sprint. Rory Gravelle (Velo Myrddin CC powered by Y Beic) claimed the win ahead of Denholm Edwards (Harrogate Nova CC) and Dawson in third.
Aggressive racing on Sunday's stage three race saw Tarling attack just 13 minutes in, with the bunch unable to respond. Tarling was eventually joined by Max Bufton (Cero - Cycle Division Racing Team) and Joe Cosgrove (PH-MAS - Paul Milnes Cycles), but all were then caught. A bunch sprint saw Henry Barker-Pine (Beeston Cycling Club) take the win ahead of Joshua Jackson (Team Ohten Aveas) and Ahron Dick (Edinburgh RC), while Dawson finished down in 27th with the bunch.
The final stage saw some last-gasp efforts from the riders, with Dick off the front with a 12 second gap early on, before being caught. Flurries of attacks continued throughout the early part of the race, but Moss put in a big attack 25 minutes in and managed to get a good gap of 17 seconds before being caught by the bunch. A last lap attack from Jackson saw him clinch a solo win three seconds ahead of Edwards in second and Gravelle in third, while Dawson finished 10th.
Dawson took the overall win by 0.01 seconds ahead of Gravelle, while Edwards came third.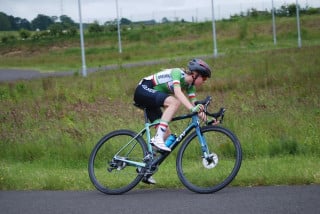 Youth B Girls
Melanie Rowe (Deeside Thistle CC) claimed victory in the Youth B Girls' event as she won all four stages over the weekend.
Rowe won the opening time trial in 3:29.3 – two seconds ahead of Rose Lewis (Halesowen A & CC) and Megan Cherry (Origin Race Team), who both clocked 3:31.0.
The second stage ended with the same podium, as Rowe took another win from a sprint against Lewis, while Cherry took a solo finish for third ahead of the bunch.
The third stage on Sunday ended in a bunch sprint, with Rowe just claiming the victory ahead of Phoebe Taylor (Eastlands Velo) and Niamh Waters (Edinburgh RC).
The fourth stage further showcased Rowe's dominance, taking another win ahead of Taylor and Lewis. The final standings saw Rowe crowned the Youth B Girls' winner, while Lewis took second, and Cherry third.
Youth B Boys
Harry Speak (Clifton CC) won the Youth B Boys' event over the weekend, while Joshua Jewitt (Stockton Wheelers CC) took second after winning three out of four stages.
The time trial saw Jewitt take the win in 3:07.4, while Aaron Cocker (RTD-JsCycleShack) claimed second place and Alex Coles (Evolution Racing Academy) finished third, while Speak took fourth.
The criterium in the afternoon saw Jewitt claim another victory from a bunch sprint, with Coles in second and Speak in third as all crossed the line in the same time.
Jewitt took a third win on Sunday morning in another sprint finish, edging ahead of Oliver Tregear (Evolution Racing Academy) and Speak.
Daniel Thompson (Cleveland Wheelers CC) won the final stage, almost four seconds ahead of Speak in second, and Jewitt in third, but it wasn't enough to beat Speak as the overall victor.
Speak finished five seconds ahead of Coles to claim the overall win, while Jewitt took third to round off the weekend's brilliant racing.