Alison volunteers as a CSAS marshal at road races in Wales throughout the year.
By day she works as part of the events team at Chepstow Race Course, and at the weekend she dons her hi-vis to support road racing in Wales. She shares her volunteer story with Welsh Cycling, and would love to see more women take up volunteering roles in cycling.
"I became interested in cycling in the last ten years, as I could not run any longer, so I am relatively new to the sport. Cycling has less impact on your body but has provided me with many challenges both on and off the bike; I recently completed Ride the Night in London, and have had many years of enjoyment as a CSAS marshal.
A few years ago, a colleague wanted to run a stage race in Wales for amateur riders, and asked me to help out with organising. I was working in Event Services at the University of Wales in Newport and we used the facilities there, so riders could stay in on-site accommodation which gave the feeling of a 'race village'.
It was through my involvement in the Ras De Cymru that I heard about CSAS and volunteered to take part. That was ten years ago, and what fun I have had along the way! I came into the sport with little knowledge of racing, but I have learnt so much about road racing and made some great friends in my fellow CSAS colleagues.
I volunteer for as many races as I am able to, which is usually about 12 a year and they range from multi-stage races over a number of days to one day national events. The role is busy, we have to stop and redirect motorists, moving along the course to make sure the riders taking part in the race are safe. Being out in the fresh air is one of the best parts of being a CSAS marshal, but not when it is raining!"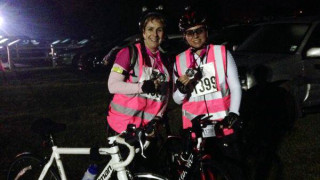 Welsh Cycling and Gwent Police provide free training for CSAS marshals each year in North and South Wales, and marshals are supplied with kit to use at events and are offered regular training and support. CSAS marshals are invaluable to keeping racing on the road in Wales.
"Being a CSAS marshal is fun and rewarding. You need to have your wits about you and know where you are going! Occasionally you can get a bit of hassle from motorists, but nothing we cannot handle. We are trained to deal with verbal abuse!
Predominantly it is a positive experience, our aim is to ensure that riders and the general public are safe during road races. We desperately need more CSAS marshals on the roads, and it would be great to see more women involved in Wales!"
Welsh Cycling appreciates the support given by volunteers and officials at cycle events week in week out. If you want to find out more about becoming a CSAS marshal, click here for more information. #BehindEveryRace