Location: Newcastle Track, Lyme Valley Stadium
Event: 28 & 29 July 2012
---
Sprinting is a foundation to all bike racing. Whether it is in the final metres of a 280km classic, the last 500m of the MTB world championships or the deciding ride in the match sprint final at the Olympics, you will have to beat someone else to the finish line to take that win. In order to do this, what all athletes need is the technical, tactical and physical attributes to give them the chance to win that race.
With this in mind, on the 28 and 29 of July, Newcastle Under Lyme track will be hosting Swinno's Sprintfest II "The Revenge" Sponsored by local bike shop Swinnerton Cycles.
FORMAT
Day 1 (10am to 5pm) of the event will follow the format of Sprintfest 1 and will have a sprint ladder concluding in minor finals and match sprint conclusions for 1st 2nd 3rd and 4th places.
Day 2 (10am to 5pm) will have the added extras of a day of handicaps and a Keirin ladder
As with Sprintfest I, the format will centre around full-on racing with development of all participants as the key aim. As a bike racer, you will frequently be in an environment where you will be asked to organise yourself in every aspect from the kit you bring, to doing a effective warm up as well as good time time keeping! We will have designated areas where riders will be based as well as a parent/spectator area. There will be coach assistance and feedback via camera armed sprint riders past and present as well as coaches.
This is an event aimed at riders with RSR levels of development, maturity and performance. The places are strictly limited to 30 youth boys and 21 youth and junior girls. This is an increase from Sprintfest I but places are still limited due to the format of the event and associated time restrictions. The organiser and panel will select the field if oversubscribed. Priority will be given to Youth A boys and Junior and Youth A girls however, exceptional B riders will also be considered. Participants will receive all event information after entries close two weeks prior to the event. Junior girls wil be asked to ride no more than the Youth A gear restriction (please note, gears will be measured on the day).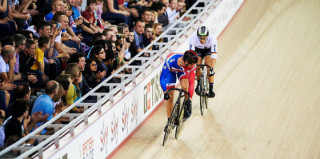 PREPARATION
If you want to get stuck into some sprint racing prior to the session then why not try the sprinters' track league every Thursday night at Newcsatle track? The format at these Sprint events rotates between, a 500m Handicap League on one week, with a Keirin Competition the week after. As well as these events alternating each week, sprinters can also ride individual sprint races, team sprints and other 'sprint type' events. Follow this link for more details www.newcastletrack.co.uk/
To enter Swinno's Sprintfest The Revenge, please click here