---
Wendy Houvenaghel has added silver to yesterday's gold for Great Britain in the individual pursuit at round two of the UCI Track World Cup in Cali, Colombia.
Team Pursuit World Champion Houvenaghel (left) took individual silver in Cali
Houvenaghel, who was part of Thursday's winning team pursuit lineup, returned to the boards for another attempt at gold and backed up her qualification ride with a near identical time in the final. Alison Shanks had something extra in the tank however, besting her first time by nearly three seconds to take gold.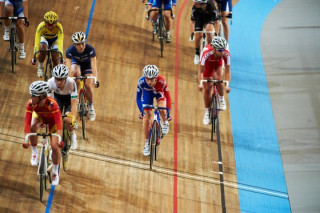 And Laura Trott completed day one of omnium competition in fifth position, just one point off of third place.
After qualifying comfortably, the team pursuit World Champion made fifth in the flying lap, before committing to a points race and taking a lap with many of the race favourites.
Both Tara Whitten and Sarah Hammer - regarded as favourites - have dominated the competition in the early stages, but behind a collection of riders, including Trott, are in the hunt for a final podium place.
At the halfway point of the six-leg race, Trott still has the individual pursuit, scratch and 500m time trial to complete.
Result
Women's Individual Pursuit
1. Alison Shanks 3.28.994
2. Wendy Houvenaghel 3.33.698

Women's Omnium

Qualification:
1. Maki Tabata
2. Jolien d'Hoore
3. Li Huang
4. Laura Trott
Flying Lap:
1. Sarah Hammer 14.279
2. Li Huang 14.361
3. Tara Whitten 14.455
5. Laura Trott 14.583
Points:
1. Tara Whitten
2. Sarah Hammer
3. Malgorzata Wojtyra
4. Laura Trott
Elimination
1. Joanne Kiesonowski
2. Tara Whitten
3. Pascale Jeuland
11. Laura Trott
Final Standings
1. Tara Whitten 6
2. Sarah Hammer 7
3. Ausrine Trebaite 19
5. Laura Trott 20