She likes her cakes with cream, buys her weekly shop in pink and dislikes road racing – despite being under-23 British champion. Laura Trott isn't your model athlete, but at nineteen she is a world champion. Luke Webber takes a look inside the chaotic mind of a self-confessed Essex girl.
"It's mad how things change." In five words, Laura Trott switches from a giggly, compulsive personality, to a reflective state.
As the halls of British Cycling stop reverberating from a stream of laughter, the Team Pursuit World Champion on the long list for the Olympic Games bubbles over again with excitement for a home event, centred on returning to her beloved corner of southern England.
"It's crazy thinking about it, that I could be going into town on the train, having slept in my own bed, to ride in the World's biggest bike race and it's less than a year away. This time last year I wouldn't have imagined I would have even been close to going to 2012."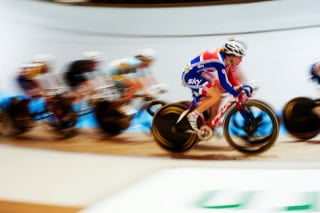 Last year Trott wasn't even on the long list for the Olympics. Today, she's a serious consideration for both Team Pursuit and Ominum duties.
ONE YEAR ON
But as the 2011 European Championships approach, a lot has changed since Trott's last outing at the same event last season, where she claimed:
"If the first race I win is in 18 months, then I'd rather it come then and I win an Olympic title, rather than worry about winning the European seniors when I am only 18."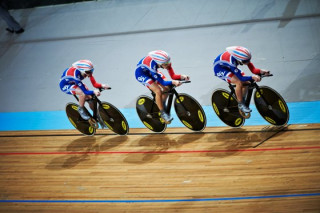 Trott hits the front at the World Championships, with King and Houvenaghel on the wheel.
Since then Trott has become the lynchpin of the British Pursuit Team, producing individual performances leading many to tip her for a place in the Omnium; all of which has prompted a re-evaluation of her ambitions – a list almost as extrovert as her personality.
First on the agenda is the World Record – "it's only a nineteen" – she nonchalantly says, before going on to detail the perfect way to take Olympic gold.
"I hope to be at the Olympics as defending world champion. We've said we're going to the 2012 worlds so we're going there to win. Then, to be called onto the home track with the home fans, as world champions, that would be mad. And obviously, the worlds are in Australia so it would mean we'd beaten them on their home turf and to go on to beat them on our home track as well, that would be good. I'd like to think we can do it again."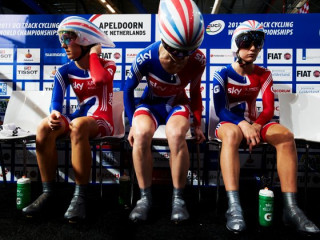 Trott - far right - in focussed mood prior to the start of her World Championship final.
TEAM AIMS, INDIVIDUAL SACRIFICE
Despite huge ambition Trott recognises the responsibility that comes with it and it's not something she's shy of.
Remembering her winning rides and time bonding with the team for the world championship – something she describes as "quite good" – Trott knows that the strength of the team, trust and belief in each other is essential to winning.
"I don't think I have ever tried so hard in a team pursuit as I did then. I was just so committed to the team, everyone was giving their all and it just made me want to push myself that much more and pull closer to the line.
"When I was there I really just wanted us to win, everything seemed to be going right, everything seemed to be coming together as a team so it was almost like it was going to happen whatever, as long as we stuck together.
"Obviously, personalities clash, but we got ourselves together before worlds and we all got on really well. I think it does matter loads, because if you've got somebody in your team that you don't really get along with or is just there to spite you, you won't work well, you won't want to try your best for them. Whereas with Dani (King) and Wendy (Houvenaghel) I was happy to give my all because I knew how much it meant to them, and I knew if I gave my all they'd do the same back for me."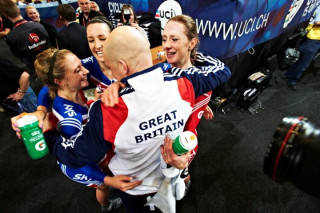 The winning team get the seal of approval from Performance Director Dave Brailsford.
And with collective sacrifice, comes individual sacrifice and pain, which is Trott's self-confessed specialist subject.
"I'm pretty much sick all the time after racing – the worst time was when we qualified at the Worlds, I had to go in the bin and then give interviews!"
Trott's coarse description gets no less heroic when describing the second element; overcoming pain.
"I fight for that pain, I like that pain. You push yourself and you can't push yourself any more and you've given it your all – I like that feeling.
"A lot of people crack, you know when something gets that hard and your legs are hurting that much, it's getting your head around that pain. I definitely do think it's something I have over people; knowing that barrier to get past the pain. You can still pedal, it doesn't matter, just because you can feel pain you can still fight through pain; it's just getting your head round that that people struggle to understand."
The next thing Trott will be confronted with getting her head round will be returning to Apeldoorn, six months on from the scene of her World Championship win – and things have changed since the trio recorded a 3.23.41 – fated bin notwithstanding.
A team without Houvenhagel, the introduction of Sarah Storey and the pressure of the rainbow jersey will all be contributing factors. But if Trott is to realise her ambition of defending the world title in April, before going on to make Olympic Gold in London, the disappointment of 2010s European championships have to be 2011s inevitability.