| | | | | | | | |
| --- | --- | --- | --- | --- | --- | --- | --- |
| | Follow britishcycling.org.uk on | | | | | | |


Report: Revolution 30
Event: 20th November 2010, Manchester Velodrome
Report: Eddie Allen | Images: Larry Hickmott
At Revolution, it's not often we can say that the singing was just as good as the racing. However, Revolution 30 saw a number of surprises, with the three-man Madison making its first appearance, along with Future Stars sprinting and a surprise rendition of Robbie Williams' 'Angels' by Argentine Six Day star Sebastian Donadio... However, there were some things that you could rely upon - Emily Kay and Sam Lowe showed their usual class in the Future Stars competition, joined by a third young rider, Matt Rotherham, who arrived on the scene with a bang, winning both Future Stars sprint events. Here's a full event-by-event roundup of the action.
DEVIL-SCRATCH 24 LAPS
The Devil Scratch Race opened proceedings and there were surprises from the word go with all the visiting superstars like Franco Marvulli and Alex Rasmussen being shelled out in the opening throes. Other notable casualties included Steven Burke and Alex Dowsett who were amongst the 14 riders eliminated before Devil turned to Scratch. In the end it was Ben Swift who took the win, assisted by Peter Kennaugh who took a fall and valiantly rejoined to help his Sky teammate to victory, overhauling an early dig for home by Bavarian rider Christian Grossman.
1. Ben Swift
2. Simon Yates
3. Sebastian Donadio
4. Leif Lampeter
FUTURE SPRINT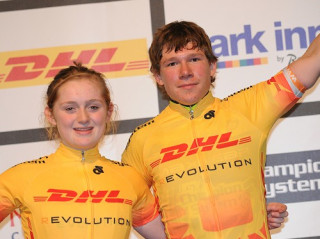 Matt Rotherham emerged onto the Revolution stage to convincingly win the first ever Future Sprint competition. Rotherham was clearly head and shoulders above the opposition all night, comfortably seeding fastest in the 200m TT and easily dispatching his rivals to face Alex Minting in the final. Minting had no choice but to use his guile to try and overwhelm powerhouse Rotherham, but in the end Matt was too strong and imprinted his name on the consciousness of the packed Revolution crowd, with an impressive win.
200m Qualification
1. Matt Rotherham 11.292
2. Alex Minting 11.521
3. Rob Westwood 11.921
4. Sassan Emadi 12.068
5. Cameron Swarbrick 12.181
6. Jacob Scott 12.198
7. Ryan Whatmough 12.307
8. Jack Hoyle 12.739
Round 1
Heat 1: Matt Rotherham beat Jack Hoyle
Heat 2: Alex Minting beat Ryan Whatmough
Heat 3: Jacob Scott beat Robbie Westwood
Heat 4: Sassan Emadi beat Cameron Swarbrick
Semi Final
Semi Final 1: Matt Rotherham beat Sassan Emadi
Semi Final 2: Alex Minting beat Jacob Scott
Final:
Matt Rotherham beat Alex Minting
Minor Final (6 lap dash)
1. Robbie Westwood
2. Ryan Whatmough
3. Jacob Scott
4. Cameron Swarbrick
DHL FUTURE STARS BOYS - 5KM SCRATCH RACE 20 LAPS
Harry Tanfield edged the opening DHL Future Stars event in a close finish, narrowly besting series leader Sam Lowe. Chris Lawless made the early running stretching out the field with an early attack in the company of Jacob Ragan. There followed a lull in the pace with riders bunching up and looking around then, with five laps to go, Owen James stretched things out again and the race was back on. However, with a lap to go, series leader Sam Lowe unloaded, chased by Harry Tanfield who just pipped Lowe on the line.
1. Harry Tanfield
2. Sam Lowe
3. Jake Ragan
4. Olver Wood
DHL FUTURE STARS GIRLS - ELIMINATION
DHL Girls leader Emily Kay showed her savvy and speed in equal measure, riding a clever devil race, avoiding the sift and then pipping Amy Roberts on the line in the first Future Stars Girls event of the evening.
1. Emily Kay
2. Amy Roberts
3. Melissa Bury
4. Amy Hill
1KM MADISON TIME TRIAL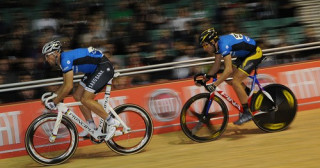 The pairing of Andy Fenn and Franco Marvulli took top honours in the Madison 1km Time Trial. Riding in the first half of the competition, Fenn and Marvulli were challenged by Alex Dowsett and Alex Rasmussen, who came within two tenths of a second of their time. Team Sky's Ben Swift and Geraint Thomas rode last, and looked to be odds on to topple Fenn and Marvulli, but could only manage a 59.062, perhaps suffering from the huge efforts they put in during the earlier points race.
1. Andy Fenn and Franco Marvulli - Le Col - 58.336
2. Alex Dowsett and Alex Rasmussen - CHEP - 58.515
3. Andreas Muller and Steven Burke - Motorpoint - 58.830
4. Claudio Imhof and Sebastian Donadio - Manchester City Council - 58.952
5. Ben Swift and Geriant Thomas - Team Sky - 59.062
6. Simon Yates and Leif Lampeter - Maxgear Racing - 59.621
7. Luke Rowe and Michael Morkov - Revolution All Stars - 59.668
8. Dean Downing and Christian Grassman - Rapha Condor Sharp - 1:03.408
DHL FUTURE STARS BOYS - 6 LAP DASH 6 LAPS
Sam Lowe exacted revenge on earlier winner Harry Tanfield by narrowly pipping the rangy CHEP rider to win the six lap dash. Best of the rest was Matt Cross of Le Col.
1. Sam Lowe
2. Harry Tanfield
3. Matt Cross
4. Adam Lewis
15KM POINTS RACE 60 LAPS
Following his earlier musical interlude, Sebatian Donadio proved he was no slouch on the track either, with an entertaining victory in the points race.
Starting as he meant to go on, the charismatic Donadio took the opening sprint ahead of Christian Grassman, with Thomas and Lampeter taking the minor points. Sprint two came and Sky hit the front, with Kennaugh leading out Swift - the latter claiming top points, with Franco Marvulli, Luke Rowe and Claudio Imhof following.
There followed a seven rider breakaway which was quickly reeled back in. Sprint three loomed and once again Sky whipped up the pace with Geriant Thomas leading out Swift, who just pipped a late charging Donadio, the latter rider keen to keep a grip on the race. Then came the sucker punch, with five men going away - including Sam Harrison, Michael Morkov and Dan Maclay. Five were whittled down to three who fragmented as sprint 4 approached. Morkov stayed away to take top points ahead of Christian, Grassman and Burke.
Kennaugh, perhaps suffering after his earlier crash, took an early exit leaving leadout duties to Geraint Thomas. The penultimate sprint came ever closer and the pace increased once again. Marvulli hit the front with Argentine Donadio in his wake taking second. So with one sprint to go, Donadio edged ahead of Swift in the overall classification, with 11 points to Swift's 10.
It looked as if the crowd were going to be treated to a grandstand finish. However, to spoil the party, a seven man group got away, none of whom were in contention for overall victory. Dowsett headed the breakaway group to take top points in the final sprint, but overall victory belonged to the musical Mr Donadio.
1. Sebastian Donadio 11 pts
2. Ben Swift 10 pts
3. Franco Marvulli 8 pts
DHL FUTURE STARS GIRLS - 5KM SCRATCH RACE 20 LAPS
The unstoppable Emily Kay made it two out of two, once again timing her move to perfection to win a cagey scratch race. It looked like Alice Barnes was about to upset the party, giving the bunch the slip with about one lap to go. However Barnes was overwhelmed in the final cavalry charge, Kay reading the race to perfection, timing her move with precision and overhauling Roberts on the line.
1. Emily Kay
2. Amy Roberts
3. Lucy Garner
4. Jess Crampton
DHL FUTURE STARS BOYS - ELIMINATION
The Lowe and Tanfield Show continued in the Future Stars Devil race, with the night's major young protagonists surviving the devil's sift to contest the final sprint.
In the end, Lowe was the stronger of the pairing, retaining his series leader's jersey. However, one thing was clear, Lowe won't be able to rest on his laurels with Tanfield around.
1. Sam Lowe
2. Harry Tanfield
3. Ryan Mullen
4. Oliver Wood
DHL FUTURE STARS GIRLS - 6 LAP DASH 6 LAPS
Jess Crampton became the one rider to show series leader Emily Kay a clean pair of heels, narrowly beating the Halesowen rider to tidy up the DHL Future Stars Girls competition. However, Kay, finishing second, had done more than enough to secure her leaders jersey going into Revolution 31.
1. Jess Crampton
2. Emily Kay
3. Lucy Garner
4. Amy Roberts
REVOLUTION TEAM MADISON 80 LAPS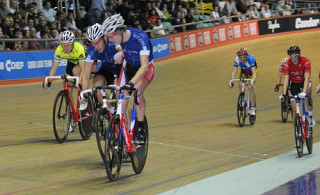 Top of the bill at Revolution 30 was the Championship Madision, an epic 80 lapper with three-man teams fighting it out for the points. It was the Le Col trio of Franco Marvulli, Andy Fenn and Jon Mould who took top honours, with a massive effort from Marvulli just before the final sprint catapulting them clear of their nearest rivals Maxgear Racing. The three man Madison was a new experience for the Revolution crowd but is a staple of the European Six Day scene; Swiss rider Marvulli using his immense Six Day experience to good effect to lead his British teammates to victory.
1. Le Col 11pts
2. Maxgear Racing 9pts
3. Revolution All Stars 7pts
4. Motorpoint Marshalls Pasta 6pts
5. Manchester City Council 5pts
6. Chep UK 4pts
7. Rapha Condor Sharp 2pts
FUTURE KEIRIN 8 LAPS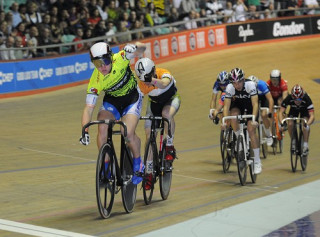 Matt Rotherham confirmed himself as one to watch, winning the second of the two sprinter's contests of Revolution 30, bossing the Future Keirin.
The powerfully built Rotherham took first wheel behind the derny, clearly in confident mood. His opponent in the earlier sprint final, Alex Minting, tried to challenge Rotherham for first wheel, but Rotherham wouldn't budge, leaving Minting to mount his challenge from the back.
The derny left the track and Rotherham stayed at the front gradually raising the pace. Minting came over the top and the chase was on. However, Rotherham had a few extra mph in his locker, finally unloading in last 250 metres to set the seal on a great night of racing on the Manchester boards.
1. Matt Rotherham
2. Ryan Whatmough
3. Alex Minting
4. Sassan Emadi
5. Robbie Westwood
6. Jack Hoyle
7. Jacob Scott
8. Cameron Swarbrick