2010 National Track Championships - Day 4 (Morning)

24th September 2010 - Manchester Velodrome | Reports Homepage
Day 4 Track Champs - Session 1

Men's Sprinting and Pursuiting dominated the first session on day 4. Sir Chris Hoy was the star of the sprint show, cruising through qualifying and the early rounds of the Sprint competition but with times closer than ever, the finals in the evening session are expected to be very exciting battles indeed. In the Pursuit qualifying, Peter Kennaugh was by far the fastest rider, over 4 seconds quickest than his nearest rival, George Atkins, who he faces in the final for Gold, also in the evening session.

Men's Open Sprint
Open Sprint Quarter Final

Heat 1: Chris Hoy beat Lewis Oliva 2:0
Match A: Chris Hoy led Oliva off the line but Oliva took the lead as the bell sounded and but Hoy blasted past again on the back straight and cruised to the line.

Match B: 10.667
It was Oliva's turn to lead away from the start with Chris Hoy staying close to the Welsh junior as they circled the bottom of the track and whilst Oliva increased the pace and opened up the sprint, Hot had the last word and came past Oliva in the back straight to cruise to a two nil victory.
Youngster Lewis Oliva is unfazed as crowds the Knight in Team Sky kit, Sir Chris Hoy.

Heat 2: Matt Crampton beat Callum Skinner 2:0
Match A: Skinner led away from the line with Matt Crampton close to the Scottish rider as they got faster and faster. With Crampton riding high on the track, he left it as late as possible before sprinting past Skinner and winning the first match.

Match B: Crampton led away from the start and after half a lap, they both moved up the track and slowed things down. Crampton continued to lead despite Skinner using all the track to force a mistake from Crampton as the pace rose. No mistake was forthcoming though and Crampton opened up his lungs to sprint away from Skinner and take the second heat from the front.

Heat 3: David Daniell beat Peter Mitchell 2:1
Match A: Mitchell led Daniell on the first lap, keeping low on the track but on the second lap, Daniell tried to go past Mitchell who resisted the attack and shoulder to shoulder, they battled all the way round the final bend before Mitchell pulled away to win a great battle.

Match B: Daniell led away and they edged their way around the track at not much above walking pace. As Jan van Eijden was telling his rider to slow things down, David Daniell stayed high on the track and opened up the sprint leaving Mitchell a big gap to close but it was too big for Mitchell and Daniell cruised to the line the winner in 10.693
Match C: Daniel led away riding down the bottom of the track at walking pace a few lengths ahead of Mitchell. A lap gone and the pace was still very slow but as halfway approached the riders were raising the tempo. Mitchell had a go at Daniell but he was too quick and resisted the move. While Mitchell went high on the track and started to apply the pressure, Daniell held his ground in the middle of the track before opening up the sprint and whilst Mitchell came back and closed Danniell down in the home straight, Mitchell didn't have enough to the beat his academy teammate crossing the line in a 200 metre time of 10.688

Heat 4: Jason Kenny beat Ross Edgar 10.438 2:0
Match A: Not for the first time, these riders came up against each other again and it was the more experienced Edgar who led away from the line from his Sky teammate. First lap and there were no fireworks with Edgar watching Kenny like a hawk. As the bell approached, they were both high on the track with Kenny making his move blasting past Edgar in the home straight before dipping into the sprinter lane as they came into the back straight. Whilst Edgar tried to come back at him, Kenny was blisteringly quick and too fast for his teammate.

Match B: Kenny led away from the start and it was quite a straight forward battle with Kenny and Edgar leaving it as long as possible before giving it full gas and with Kenny leading the way, Edgar came back at him but not enough to deny Kenny a place in the semi final.
Ross Edgar goes close to beating Kenny but not close enough and the Olympic Silver medallist in the Sprint, Kenny, goes through to the semi finals.

B Sprint Quarter Final
Heat 1: Kevin Stewart beat Miles Annon 11.497, 11.544 2:0
Heat 2: Dave Readle beats Tom Powell 11.376, 11.442 2:0
Heat 3: Bruce Croall beats Tom Baker 11.424, 11.445 2:0
Heat 4: Adam Welch beat Andrew Kelly 11.557, 11.383 11.593 2:1
ROUND 1 - Open Sprint
Heat 1: Chris Hoy beats Callum Skinner.
Skinner led Hoy off the line with the Olympic champion following him and then diving under Skinner as the bell rang. Skinner threw everything at Hoy tactically but the Olympic champion was far too quick.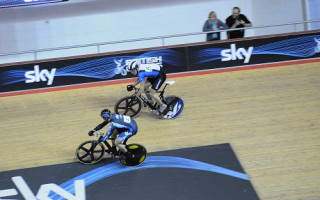 Heat 2: Matt Crampton beat John Paul. 11.205
John Paul led on the first lap and Crampton was happy to follow him but when Crampton needed to, he jumped round the Scottish rider and cruised to the line.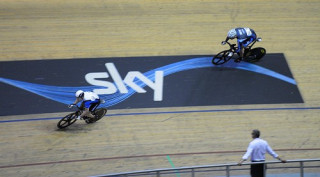 Heat 3: Peter Mitchell beat Miles Stovold. 11.012
Mitchell led Stovold away with Stovold pinned to Mitchell's rear wheel for the first two laps and at the bell the burners had yet to be lit. Then, in the back straight the race was on and Mitchell cruised to the finish line to take the win.

Heat 4: Jason Kenny beat Kian Emadi. 10.951
Emadi led Kenny away from the start and as the pace increased lap by lap, Kenny turned the gas on full at the bell to fly past Emadi and cruise to the line.

Heat 5: Ross Edgar beat Lewis Oliva. 10.877
Edgar led Oliva way and this was how it stayed with Edgar stamping on the pedals on the final lap to leave Oliva trailing all the way to the line.

Heat 6: David Daniell beat Chris Pritchard. 11.205
Daniell, who had knee surgery this year and is on his way back to full fitness, led off the line but Pritchard jumped under him with two laps to go. As the speed increased, Daniel stayed high and used this to gain the speed he needed to come along side Pritchard and hold Pritchard in the sprinters lane all the way to the line with Pritchard not giving up and pushing the Middlesborough rider all the way.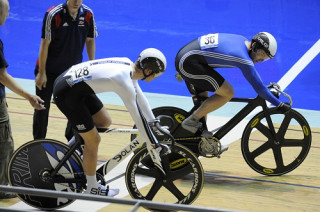 Other Results

Repechages
Open Sprint Repechage
Heat 1: Callum Skinner beta Kian Emdai and Chris Pritchard 11.318
Heat 2: Lewis Oliva beat Miles Stovald and John Paul 11.309

B Sprint Repechage
Heat 1: Tom Powell beat Michael Partridge and Anthony Gill. 11.756
Heat 2: Miles Annon beat Ken Ayres and Ieuan Williams 11.650
B Sprint First Round (13th-24th in qualification)
Heat 1: Kevin Stewart beat Michael Partridge
Heat 2: Dave Readle beat Ieuan Williams 11.573
Heat 3: Bruce Croall beat Miles Annon in a photo finish 11.686
Heat 4: Andrew Kelly beat Tom Powell 11.397
Heat 5: Adam Welch beat Kenneth Ayre 11.834
Heat 6: Tom Baker beat Anthony Gill 11.668
Qualifying Flying 200 metres
Chris Hoy 10.233
Matt Crampton 10.270
Peter Mitchell 10.337
Jason Kenny 10.339
Ross Edgar 10.381
David Daniell 10.391
Chris Pritchard 10.687
Lewis Oliva 10.688
Kian Emadi 10.744
Miles Stovold 10.867
John Paul 10.886
Callum Skinner 10.942
Kevin Stewart 10.969
Dave Readle 10.983
Bruce Croall 11.077
Andrew Kelly 11.179
Adam Welch 11.296
Anthony Gill 11.304
Tom Baker 11.310
Kenneth Ayre 11.340
Tom Powell 11.470
Miles Anon 11.490
Iewan Williams 11.514
Michael Partridge 11.551
Rowan Elliott 11.588
John McClelland 11.595
Maher Al-Ausi 11.619
John Coolahan 11.701
Ivor Reid 11.714
Steve Cronshaw 11.778
John Bagnall 11.792
James Carlsson 11.815
Jack Webb 12.072
Andy Stewart 12.082
Jonathon Cosh 12.128
Neil Withington 12.238
Joseph Wood 12.479
Men's Pursuit 4,000 metres
Provisional Qualifying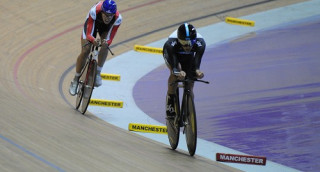 Peter Kennaugh during qualifying catches Jon Mould. Kennaugh meets George Atkins in the final for Gold in the evening session.
RESULTS
Qualifying

Peter Kennaugh 4.25.215
George Atkins 4.30.817
Sam Harrison 4.33.369
Mark Christian 4.37.503
Owen Doull 4.38.411
Jon Mould 4.38.695
Mark Holton 4.39.601
Adam Duggleby 4.41.470
Eric Rowsell 4.42.995
Tim Kennaugh 4.44.176
Arthur Doyle 4.44.444
Nino Piccoli 4.47.257
Alistair Rutherford 4.48.192
Richard Lambert 4.48.585
Nicholas English 4.49.845
Xavier Disley 4.50.588
John Brearley 4.51.849
Matt Gittings 4.51.944
Jack Green 4.52.681
Joshua Papworth 4.54.383
Alistair Taylor 4.55.850
Matthew Hamilton 4.57.060
James Hawkins 4.59.768
Bryce Dyer 5.01.357
Andy Stuart 5.02
Derek Timmins 5.06.032
Joshua Yetman 5.09.034
David Brearley 5.09.900
Mark Brown 5.16.123