2010 National Track Championships - Day 1
21st September 2010 - Manchester Velodrome | Reports Homepage

Men's Team Sprint, Women's 500m TT, Women's Madison
Above: Day 1 image gallery
MEN'S TEAM SPRINT
Above: Sky Track Cycling on their way to the national title
Video: Sky Track Cycling catch their opponents in Semi Final
Video: Chris Hoy: Post-race interview
The Sky Track Cycling team of Sir Chris Hoy, Jason Kenny, Ross Edgar and Matt Crampton took gold and the national title with a winning time of 44.563, beating City of Edinburgh in a thrilling climax to the opening day of the 2010 championships. The Sky team clocked the quickest time in qualifying (44.810), 2 ½ seconds faster than their nearest rivals. Sky easily dispensed with their rivals in the semis, catching their quarry, the North West Region team, before bettering their qualifying time in the Gold Medal final to beat a strong and consistent City of Edinburgh team. The bronze medal was taken by Scienceinsport.com in a nail-biting contest with Team Terminator, with only two-tenths separating the teams.
Results (Full Results)
Gold - Sky Track Cycling
Silver - City of Edinburgh RC
Bronze - Scienceinsport.com
Qualification
1. Sky Track Cycling 44.810
2. City of Edinburgh RC 47.245
3. Scienceinsport.com 48.218
4. Team Terminator 48.520
5. CC Cardiff 'A' 49.744
6. VC St. Raphael 'A' 50.134
7. VC St. Raphael 'B' 52.671
8. North West Region 52.728
Semi Finals
Semi Final 1
1. Team Terminator 48.385
2. CC Cardiff 49.820
Semi Final 2
1. Scienceinsport.com 47.767
2. VC St. Raphael 'A' 49.529
Semi Final 3
1. City of Edinburgh RC 46.933
2. VC St. Raphael 'B' 52.152
Semi Final 4
1. Sky Track Cycling 44.713
2. North West Region 52.493
Progressing to Gold Medal Ride
Sky Track Cycling
City of Edinburgh RC
Progressing to Bronze Medal Ride
Scienceinsport.com
Team Terminator
Finals
Bronze Medal Final
1. Scienceinsport. 47.752
2. Team Terminator 47.974
Gold Medal Final
1. Sky Track Cycling 44.563
2. City of Edinburgh 47.072
WOMEN'S 500M TT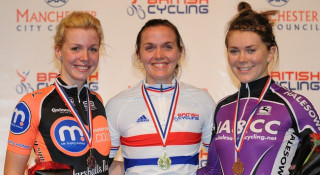 Above: The 500m TT podium - left to right: Becki James, Victoria Pendleton and Jess Varnish.
Video: Pendleton's Gold Medal ride

Victoria Pendleton retained her national 500m TT title in a time of 34.636, the only rider to go under the 35 second mark. She was joined on the podium by Becky James who took silver, just ahead of Jess Varnish, both posting sub 36 second rides. The out-and-out sprinters were joined by two notable names from the endurance events; Wendy Houvenaghel posting a very respectable 38.320, placing her in ninth overall, while paracyclist Sarah Storey of Horizon Fitness posted a 39.091 to take 11th overall.
Results (Full Results)
1. Victoria Pendleton Sky Track Cycling 34.636
2. Rebecca James Motorpoint Marshalls Pasta 35.254
3. Jess Varnish Halesowen A&CC 35.283
4. Anna Blyth 100%ME 36.476
5. Jenny Davis City of Edinburgh RC 37.160
6. Helen Scott Halesowen A&CC 37.261
7. Alison Chisholm ERC 37.630
8. Charlene Joiner City of Edinburgh RC 37.644
9. Wendy Houvenaghel Bikechain-Ricci 38.320
10. Emma Baird City of Edinburgh RC 38.871
11. Sarah Storey Horizon Fitness 39.091
12. Louise Haston City of Edinburgh RC 39.238
13. Cassie Gledhill Team Orbea 39.244
14. Donna Williams Team Terminator 39.728
15. Louise Satherley Team Terminator 40.336
16. Nicci Meadows awcycles.co.uk 40.622
17. Julie Dominguez West Lothian Clarion 41.420
18. Cheryl Owens GS Metro 41.985
19. Emma Williams Twickenham CC 45.317
WOMEN'S MADISON 20KM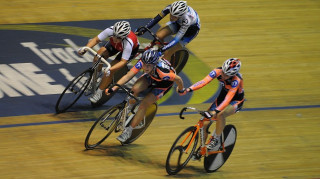 Above: Barnes and Walker (in orange and black) on their way to victory in the Madison.

Video: Women's Madison final sprint
Video: Women's Madison crash
The Motorpoint Marshalls Pasta pairing of Hannah Barnes and Hannah Walker took gold and the national title in the women's Madison, in a tense battle with the pairing of Dani King and Ella Hopkins. The two pairs traded-blows throughout the race, with King and Hopkins taking top points in sprint one ahead of the two Hannahs. However, King and Hopkins could only manage fourth place in sprint two, giving Barnes and Walker the edge at the halfway stage. Sprint three came and the King/Hopkins duo responded to level the points on 11 apiece. So it came down to the final sprint and it was Barnes and Walker who had the legs, coming over the top at the bell and holding the lead to the line. King and Hopkins could only manage third in the final sprint, meaning that they'd have to settle for silver. Laura Trott and Harriet Owen took bronze after consistent point scoring in all four sprints.
Result (Full Results)
1. Hannah Barnes/Hannah Walker 16pts
2. Dani King/Ella Hopkins 13pts
3. Harriet Owens/Laura Trott 8pts
RIDER REACTIONS
Victoria Pendleton: "I don't have a lot of speed at the moment because I'm working on my strength in the gym which has been really good. I gave it my all tonight and I feel shocking! I haven't worked at that speed and intensity yet because that work is yet to come."
"This is the first major hit out for me since the Track Worlds. I had quite a big break after the Worlds and the Ash Cloud chaos was partly to do with that because I had to delay my holiday. I think that was good for me though as it gave me a lot of time to relax and really get the hunger back for what I was doing."
"I am quite keen to start this season at a steady pace because last year I hit out quite early on and had a fantastic nationals but then had an injury which took me out of the gym for three months which was a bad time. I learnt that as you mature, you need to keep things steady, pace yourself better and I am really pleased with my gains."
"I was in the gym yesterday morning and had a PB so I am still doing plenty of gym work before the Euros and intend to train right through it doing two sessions a week because I feel for 2012, it is really important that I use this year well. I have pretty much dedicated this year to putting myself on a good platform for next year."
Becky James: "I'm really happy with the ride. I came clean out of the gate and I did quite a good lap for the gear I was on as well as recording a personal best. So I'm really happy with the form right now. Hopefully I can progress more in time for the Commonwealth Games. It's all building up nicely."
Jess Varnish: "I'm happy with it and it's good for the training form I have right now. I am just training through these championships so I am really happy with that ride. It's not so much a hit out for me but a chance to get some practice in and race experience ready for the Europeans which are still six weeks away."
Hannah Barnes: "We have never ridden a Madison together so we were a bit unsure but it worked out well. Hannah Walker did most of the sprints because that's how they fell during the race. It was quite a fast race as there were quite a few girls who wanted to attack and we had to chase them down. Because there were not that many teams though, we were able to keep track of where we were in the race."
Hannah Walker: "I'm absolutely so happy to have won this title! Hannah Barnes has won 16 or more and this is my first one and on the last sprint it was like, 'I can't let Hannah down'! I really tried my hardest and am so happy to have won it".
"I have had a very good year and that's all down to the hard work I've done to get some results and some wins. I'm older this year and stronger too. I did a Madison at Track League last week which refreshed my memory for the event which was really good. The hardest thing in a Madison is judging the laps and when to come in for the changes especially for the sprints."
"It is good way to end the year though, a good result to take to Australia with me and one I can show my family." Hannah Walker now leaves for a holiday in Australia with her family.