Follow britishcycling.org.uk on
Report: 2010 UCI Track World Championships - Day 2
25th March 2010, Copenhagen, Denmark
Report: Eddie Allen | Images: Larry Hickmott
Evening Session
The evening session saw the climax of the Women's Team Pursuit, Men's Individual Pursuit and Men's Keirin, plus the Women's Team Sprint and Men's Scratch Race.
MEN'S INDIVIDUAL PURSUIT
Above: The awesome young talent of Taylor Phinney atop the Pursuit podium

The USA road and track sensation Taylor Phinney took the world title after qualifying second fastest behind New Zealander (and Livestrong team-mate) Jesse Sargent. Phinney was in control throughout and was the picture of composure on the bike. At the 1km split he'd already gained 0.7 of a second and continued to press home his advantage, eventually posting a 4:16 time and with it the title.
Taylor spoke to Eurosport after his gold medal ride and indicated that he was not content with world titles, it was Boardman's elusive world-record that he was after:
"My main goal is that world record - I'll carry on pursuiting until I get there. It's an event that I love to do. It's so hard but really rewarding. But I need to go faster."

In the Bronze Medal race, the hotly-tipped Aussie Jack Bobridge showed the class that eluded him in qualifying, easily outstripping Russian rider Serov. Bobridge started fast and despite a mid-race resurgence from the Russian, the Aussie had enough to respond and Serov eventually blew a gasket, handing Bronze to Bobridge.
1 PHINNEY Taylor USA 4:16.600
2 SERGENT Jesse NZL 4:18.459
3 BOBRIDGE Jack AUS 4:18.066
4 SEROV Alexander RUS 4:21.263
MEN'S KEIRIN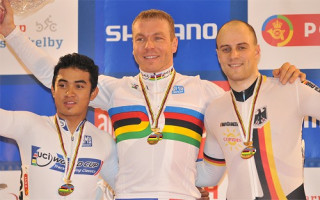 Above: Chris Hoy delighted with Gold after a difficult journey to the top step of the podium.

Chris Hoy put the ghosts of his last visit to Copenhagen to bed, reclaiming his Keirin title and in doing so, chalking up GB's first world title. It was an up-and-down route to the final; decked in the first round, commanding in the the second and then facing an epic challenge in the final. After a restart caused by riders jostling to get a good position behind the derny, Hoy took second wheel behind German Levy. Sir Chris laid-off the German's wheel and then went for it with two laps to go. In a Herculean effort, Hoy went the long way around Levy, and hit the front, dragging Malaysian Awang along in his wake. Awang pressed all the way, hoping the big Scot would fade. However, Hoy's legendary long sprint held, and Hoy took the title, with Awang wheelie-ing across the line to take silver in his own inimitable way.
Chris caught up with Eurosport after his tough day in the office and, still sweating (and breathing) hard, talked viewers through his Gold medal winning ride:
"I couldn't just blast it from the front for 2 ½ laps. There were some really strong Kilo riders in there like Pervis and Mulder so I needed to use my head a lot more, which doesn't often happen! So I timed it right, just at the right spot, over the top of Levy, hauled past Pervis and then black lined it to the finishing line."

Matt Crampton had foul luck in the second round, boxed-in and pushed around, eventually finishing an uncharacteristic last place. However, in the Minor Final, Crampton showed that his rightful place should have been in the Gold Medal final, winning with apparent ease from the front, his 10.3 final 200 indicating his world-class pace.
Final
1 HOY Chris GBR
2 AWANG Azizulhasni MAS
3 LEVY Maximilian GER
4 MULDER Teun NED
5 PERVIS François FRA
6 WEBSTER Sam NZL
Minor Final
7 CRAMPTON Matthew GBR
8 SEIDENBECHER Michael GER
9 VAN VELTHOOVEN Simon NZL
10 PERKINS Shane AUS
11 NIBLETT Jason AUS
DSQ ASAI Kota JPN
WOMEN'S TEAM PURSUIT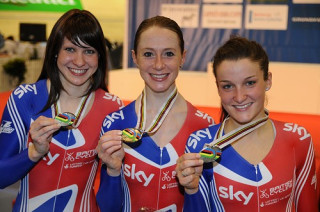 Above: GB's Team Pursuit squad of Rowsell, Houvenaghel and Armitstead show off their Silver medals.
Australia took the world title in an extraordinary competition which saw the world record tumble twice and the bizarre situation of the bronze medallists coming away with the record-breaking ride. GB's trio of Armitstead, Rowsell and Houvenaghel put in an impressive ride, but in this exalted company, it was only good enough for silver.
In the Gold Medal final, GB started brightly and were up on the opening lap. However from then on in, the Australians began to ramp it up took the title. However, some of the lustre was taken off the Australian's ride by their arch rivals, the Kiwis, who put in a massive ride to claim a new world record on their way to bronze.
1 AUS Australia 3:21.748
ANKUDINOFF Ashlee
KENT Sarah
TOMIC Josephine
2 GBR Great Britain 3:22.287
ARMITSTEAD Elizabeth
HOUVENAGHEL Wendy
ROWSELL Joanna
3 NZL New Zealand 3:21.552 WR
BUCHANAN Rushlee
ELLIS Lauren
SHANKS Alison
4 USA United States 3:24.571
BAUSCH Dotsie
HAMMER Sarah
TAMAYO Lauren
WOMEN'S TEAM SPRINT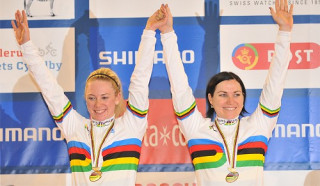 Above: The Australian pairing of McCullogh and Meares swap yellow and green bands for rainbow bands, winning the world title and setting a new world record (twice).

Anna Meares took her second world title in as many days, this time with her partner in crime, Kaarlee McCullogh, in the Women's Team Sprint, beating China in the final and breaking the world record twice in the process. The developing partnership of Vicky Pendleton and Jess Varnish finished just outside of the medals in fourth place, behind the impressive Lithuanian pairing of Gaivenyte and Krupeckaite.
Speaking to Eurosport after the event, Anna Meares, celebrating her second gold of the championships, was modest and full of praise for her Team Sprint partner:
"I've really got to give it up for my team-mate Kaarle - that was all her tonight! Fantastic second lap. World title and the world record so I'm really proud."

1 AUS Australia 32.923 WR
MCCULLOCH Kaarle
MEARES Anna
2 CHN China 33.192
GONG Jinjie
LIN Junhong
3 LTU Lithuania 33.109
GAIVENYTE Gintare
KRUPECKAITE Simona
4 GBR Great Britain 33.593
PENDLETON Victoria
VARNISH Jessica
MEN'S SCRATCH RACE
The Danish hosts got their first gold medal of the competition with an impressive ride from Alex Rasmussen, following a decisive lap gain mid-race and a well-timed lunge for the line. The Dane was joined in his lap gain by Colombian Arango and then later by Japanese rider Kazuhiro Mori.
Great Britain's Chris Newton, smarting from his near-miss in Wednesday's Points Race, was in combative mood, attacking repeatedly throughout. However, Newton was a marked man and was unable to break away, meaning it was essentially a three-man race from the halfway point onwards. Newton will no doubt be frustrated, as he attempted to orchestrate a chase to catch the breakaway Dane, but indecision in the bunch put paid to his medal chances, with Chris eventually finishing fifth.
1 RASMUSSEN Alex DEN
2 ARANGO CARVAJAL Juan Esteban COL
3 MORI Kazuhiro JPN
4 BLAHA Martin CZE 1
5 NEWTON Chris GBR 1
6 RADIONOV Mykhaylo UKR 1
7 SCULLY Thomas NZL 1
8 KWOK Ho Ting HKG 1
9 KNEISKY Morgan FRA 1
10 MOHS Erik GER 1
---
Qualifying Session
Day two of the 2010 Track Worlds and the afternoon qualifying session saw strong performances from Great Britain's riders, with the Women's Team Pursuit trio of Lizzie Armitstead, Joanna Rowsell and Wendy Houvenagel qualifying for the Gold Medal final. The GB team qualified second behind the Australian team of Ashlee Ankudinoff, Sarah Kent and Josephine Tomic, with a 2/10th second margin separating the two teams. New Zealand the US qualified for the Bronze medal ride.
Images from the afternoon session
It was a similar show of strength in the Men's Keirin, with both Matt Crampton and Chris Hoy winning their heats and progressing to the next round. Hoy didn't have an easy ride in the first round, taken out by Malaysia's Josiah Ng Onn Lam, who was disqualified. The rock solid Hoy put his Copenhagen bogeyman to the back of his mind and won the restarted heat.
No GB contenders in the Men's Individual Pursuit, which saw New Zealand's Jesse Sergent qualifying fastest, closely followed by US sensation Taylor Phinney. Australia's Jack Bobridge and Russia's Alexander Serov qualified for the Bronze Medal ride-off.