Day 4 - National Senior Track Championships

23 October, 2009 | Return to Event Homepage
| Men's Results | Women's Results |
EVENING SESSION

Larry Hickmott's Photo Album:
Luke Webber's Photo Album:
WOMEN'S TEAM SPRINT
L-R: City of Edinburgh (Charlotte Joiner & Jenny Davies), Halesowen (Helen Scott and Jess Varnish) and Elmy Cycles (Cassie Gledhill - Janet Birkmyre).
Halesowen A&CC took the Gold medal in convincing style, nearly a second and a half ahead of City of Edinburgh. XRT - elmcycles.co.uk took bronze from DNA cycles.
Gold Medal Final
1 Halesowen A&CC 34.946
2 City of Edinburgh 36.174
Bronze Medal Final
3 XRT - elmcycles.co.uk 37.908
4 DNA Cycles 39.440
Semi Finals
Halesowen A&CC comfortably beat the DNA Cycles pairing to earn a place in the Women's Team Sprint Final. They were joined by City of Edinburgh who had a much closer match against elmcycles.co.uk.
Semi Final 1
1 Halesowen A&CC - Helen Scott - Jess Varnish 35.222
2 DNA Cycles - Grant and Meadows 40.160
Semi Final 2
1 City of Edinburgh - Jenny Davies - Charlotte Joiner 36.325
2 XRT - elmcycles.co.uk Cassie Gledhill - Janet Birkmyre 38.056
MEN'S TEAM SPRINT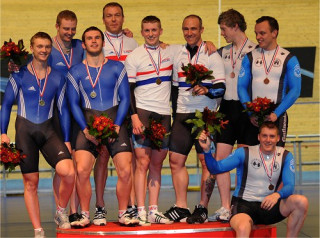 Team SKY+HD showed their awesome pre-Worlds form with a stunning sub 44 second ride to take the gold medal ahead of North West Region A who also posted an awesome time of 45.170. Bronze was taken by City of Edinburgh in a tight contest with SIS.com.
Gold Medal Final
1 SKY+HD 43.759
2 North West Region A 45.170
Bronze Medal Final
3 City of Edinburgh 47.462
4 SIS.com 47.963
Semi Finals
Team Sky+HD showed their awesome form with a 44.255 time, dispatching the SIS trio of Jody Cundy, Chris Pritchard and Dave Readle. They were joined in the final by the North West Region A trio of Lyte, Daniell and Crampton who recorded a 45.132.
Semi Final 1
1 SKY+HD - Jamie Staff, Chris Hoy, Ross Edgar 44.255
2 SIS.com Cundy, Pritchard, Readle 48.272
Semi Final 2
1 North West Region A - Christian Lyte, Dave Daniell, Matt Crampton 45.132
2 City of Edinburgh A - Stewart, Matt Haynes, Robert Croall 47.785
WOMEN'S POINTS FINAL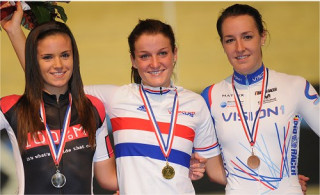 Hannah Mayho, Lizzie Armitstead and Dani King

Lizzie Armistead took the National Points jersey in commanding style stamping her authority on the race from beginning to end. Behind her it was an enthralling scrap for Silver and Bronze, with Hannah Mayho and Dani King slogging it out for 120 laps. Here's how the race unfolded:
Armitstead took top points in the first sprint. Edwards dropped away after scoring in the first sprint and retired with 101 laps to go.
Sprint 2 and Armitstead once again powered off the front to take maximum points. The effort of the second sprint spat out another rider, Katie Fernehough.
Sprint 3 saw Hannah Mayho take top points with Armistead slotting in behind, taking three points and taking a commanding lead of 7 points over Sarah Reynolds.
Ella Sadler Andrews went on a lone attack off the front and took top points with Armitstead picking up 3 points and protecting her lead
Just after the sprint defending champion Greenfield punctured but rejoined within the permitted 5 laps, the field sportingly easing off. Mayho attacked on the whistle but was overwhelmed by a storming Armistead who once again took maximum points, extended her lead to 14 points from Mayho.
Sprint 6 and half distance, once again Armitstead led it out and took maximum points, seemingly unassailable, with an 18 point lead. The pace spat out Eileen Roe, leaving just 9 to contest the latter half of this 120 lap grueller.
Two riders went off the front, Laura Trott and Hannah Barnes. Greenfield and Corrine Hall bridged and were followed by the rest of the field, led, somewhat predictably by Armitstead. Mayho lead out for Sprint 7 and took maximum points, but Armitstead was in close attendance, limiting her losses.
At 42 laps to go Sadler Andrews went off the front and took maximum points again, with Armitstead leading the field and consolidating her lead at 20 points. Hannah Barnes was blown out by the pace of the sprint and retired leaving just 8 riders left in the race.
Sprint 9 was once again taken by Armitstead who looked totally unstoppable. Andrews went on the attack straight after the sprint, her favoured tactic it would seem to blow off the front. However, this time she backed off, perhaps feeling the pinch after her two previous solo efforts. Then Greenfield went off the front like a firecracker, clearly not ready to lie down and relinquish her title. Greenfield took the 5 points in S10 with Armitstead leading the pack to take three. Greenfield then sat up as Armitstead chased down with Laura Trott. Once again, it was all together. At this point Armitstead was a whopping 25 points ahead of her nearest rival Hannah Mayho, with Danny King just a point behind on 14 points.
The penultimate sprint came and King battle it out with Mayho and took 5 points, overtaking Mayho and moving into 2nd position ahead of the final sprint. Just one point separated King and Mayho. Then Armistead broke away at the front with Alex Greenfield. Within seconds they had half a lap. They carried on motoring and soon had the pack in their sights. The field responded and Greenfield's chance of a podium finish slipped away. Meanwhile the race was on for Silver between King and Mayho, the two shoulder to shoulder. However, Mayho took the 3 points and with it the Silver medal.
Result
1 Lizzie Armitstead 47
2 Hannah Mayho 20
3 Dani King 20
4 Alex Greenfield 15
5 E Sadler-Andrews 10
6 Corinne Hall 10
7 Sarah Reynolds 6
MEN'S POINTS - 40KM (160 LAPS)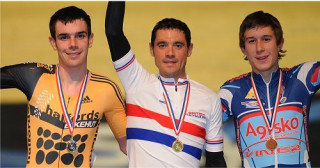 Chris Newton, Andy Tennant and Jon Mould

Chris Newton is once again National Points champion, a jersey he's made his own, with another masterful performance combining speed, guile and sportsmanship that's unsurpassed in the discipline.
Newton's velvet glove was clasped around the Gold medal from the off and despite lone breaks and splits in the field, he was always in the right place to take control. Andy Tennant had a battle royale with Jon Mould and Evan Oliphant for Silver, eventually settling the argument in the penultimate sprint, with Jon Mould leaving it until the final sprint to claim bronze. Here's how the race unfolded, sprint by sprint:
Just a few laps into the 160 lap epic, David Lines went clear and was immediately joined by Chris Newton, with the Rapha Condor rider coming over the top to claim the 5 points. Dan Maclay counter-attacked straight after the sprint and went away alone, the Hargroves Cycles rider getting his sponsor some great exposure and staying away.
Sprint 2 came and Dan Maclay claimed five points with Newton taking 3 points and the overall lead. Another Newton masterclass looked to be on the cards.
Sprint 3 and David Hines was on the attack again. However, Newton sensed the danger and closed Hines down with ruthless efficiency. Alex Dowsett counterattacked and split the field. Tennant, Newton and four other riders bridged before it all came together again, albeit in a strung out line. The pace began to shell out riders.
Sprint 4 came and Newton hit the front and took a further 5 points with Tennant in close attendance. Newton's overall lead was 10 points over Dan Maclay at this point.
Sprint 5 loomed and John Mould took 5 points ahead of James McCallum. Newton was content to take 1 point, not sensing danger from the riders in front, saving his energies for later. Newton was now 11 points ahead of second placed McLay.
Then Planet X's Andrew Magnier attacked and like a shot Newton blew off the front in hot pursuit. Newton flew past Magnier to claim five ahead of Magnier. The field were all over the place trying to close down. Magnier and Newton sat up and fell back into the field. Newton was now 16 points ahead of Maclay and in total control.
Sprint 7 and Tennant strung the field out and no-one could respond. Tennant took 5 points, while the irrepressible Newton claimed 3. Tennant now leapfrogged into Silver medal position, 17 points behind Newton. Straight after the sprint Tim Kennaugh went clear momentarily, but the man in black was there once again to close the young Manxman down.
Sprint 8 came and once again Newton came over the top like a bad dream to claim 5 more points ahead of Evan Oliphant. Newton was now on 31 points, ahead of Tennant on 9
Overall placings at the halfway stage:
Newton 31
Tennant 9
Mould 8
McLay 8
Oliphant 7
Yates 3
McCallum 3
George Atkins went clear and was joined by Newton and Dan McLay - a dangerous combination of youth and experience. The trio stayed away and Newton got the five points with McLay taking three. Suddenly 9 riders were clear including Newton, Tennant, Atkins, Fenn, Harrison and Mclay. The next sprint came and once again Newton took maximum points ahead of John Mould.
The leading group of nine riders continued to press, and took a lap, giving the lap scorers one hell of an arithmetic test.
Kennaugh and Magnier then got away with the Manxman taking 5 points. The leaderboard now looked like this:
Newton 63
Mould 32
Tennant 31
Oliphant 28
Atkins 25
The next sprint came and Newton once again went off the front like a missile. 5 more points for Newton... Newton had now doubled the score of his nearest rival.
With Newton practically unassailable it was all about the silver medal, and Tennant took the next sprint, 5 points in the bag and back in Silver medal position.
Tennant scored again in the next sprint but Oliphant clawed back points, just 3 points behind Tennant with 2 sprints remaining. The penultimate sprint came and Tennant took 5 points and secured the Silver medal. Newton slotted in behind in gentlemanly fashion and took 3 points, his medal secure. Dan Maclay went away but Newton closed him down, determined to end the race the way he started - in command. Behind him Jon Mould went on a charge and took enough points to overhaul Oliphant for Bronze.
Final Result
1 Chris Newton 80
2 Andy Tennant 44
3 Jon Mould 39
4 Evan Oliphant 36
5 George Atkins 26