National Youth Track Omnium Final

8th August 2009; Manchester Velodrome
Report & photos Nick Rosenthal

The national final of the Youth Omnium track race series saw the best riders from previous heats race against each other in the age-related finals at Manchester Velodrome. The Omnium aims to identify the most consistent riders over a series of events that were made up of a 1 km time trial (or 500 meters for the younger riders), a Scratch race, a Keirin, and a Points race. The standard of racing in all the age categories was very high, with close and exciting racing from riders who may well be the stars of Future Olympiads.

1 km time trial action for Youth A Boys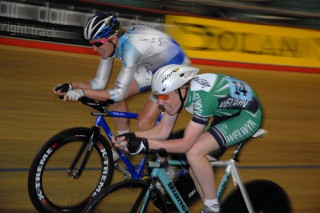 A rider is caught in the 1 km time trial, with both riders working hard, one to stop being caught the other to make the catch !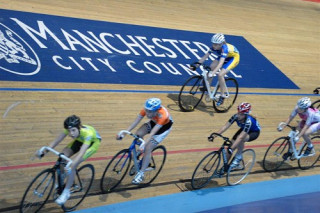 The category B girls in their scratch race on the Manchester velodrome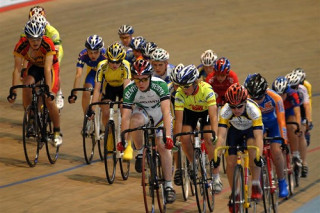 Bunch race action from the category B boys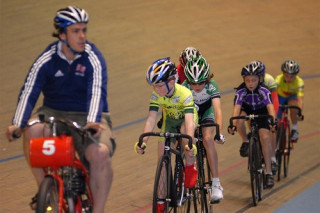 The Derny driver, Talent Team coach Phil West, leads out the youngest category C youths in the Keirin race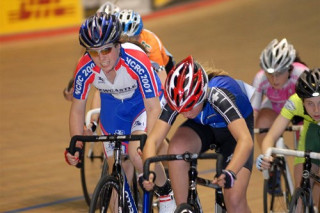 The girls head towards the finish line in the Keirin race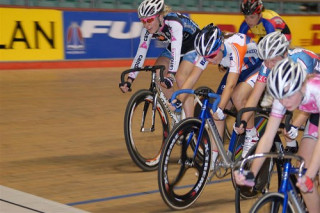 A sprint effort in the category A girl's Points race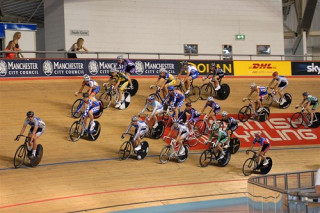 The category A boys on the banking of the Manchester velodrome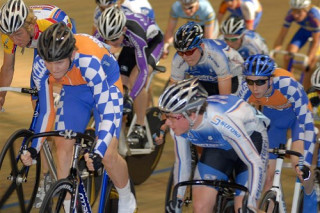 In the thick of it: In the heart of the bunch getting to launch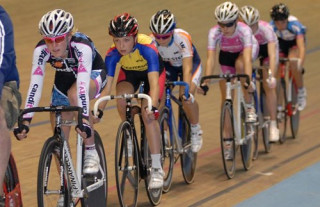 The top riders in the Youth A Girls during the final of the Keirin.

RESULTS (Overall in each omnium)

Youth A Girls
1. Harriet Owen Bicester Millennium CC
2. Hannah Barnes Candi TV-Marshalls Pasta
3. Lucy Garner Leicestershire RC
4. Jessica Crampton Sportcity Velo
5. Melissa Bury Sportcity Velo
6. Amy Roberts Cardiff Ajax CC
7. Jessica Anderson Sportcity Velo
8. Laura Allen BC Private Member
9. Lisa Daly Sportcity Velo
10. Eleanor Corkhill Discovery Juniors CC
11. Sarah Crowley Cardiff Ajax CC
12. Manon Morgans Cardiff Ajax CC
13. Natalie Hill Hillingdon Slipstreamers
14. Bryony Darbon VC Londres
15. Hannah Shenton Paul Milnes

Youth A Boys
1 Matthew Rotherham Sportcity Velo
2 Robert Lambton Brooks Cycles
3 Tom Baker Halesowen A+CC
4 Jonathan Dibben DHCyclesport.co.uk
5 Oliver Rossi Team Corridori
6 Jordan Hargreaves Planet X
7 Declan Byrne Brooks Cycles
8 Josh Papworth Wyre Forest CRC
9 Charlie Heffernan VC Jubilee
10 Patrick Galbraith Velo Ecosse
11 Jack Penrice Sportcity Velo
12 Alex Minting Planet X
13 James Berryman Sportcity Velo
14 Greg Brown Glasgow Nightingale
15 Jim Lewis Glendene CC/Bike Trax
16 Stephen Bradbury Palmer Park Velo
17 Liam Brennan New Brighton CC
18 Daniel Snow Welwyn Wheelers
19 James Locker Halesowen A+CC
20 Luke Boulton Sportcity Velo
21 Jess Wieckowski Halesowen A+CC
22 Tom Gallacher Welwyn Wheelers
23 Edward Bird East London Velo
24 Benjamin Bailey Welwyn Wheelers

Youth B Girls
1 Emily Kay Halesowen A&CC
2 Amy Hill Newport Velo
3 Angela Eggleton Halesowen A&CC
4 Kimberley English Palmer Park Velo
5 Rebecca Hunt Newport Velo
6 Amy Jacobs VC Jubilee
7 Emily Barnes Palmer Park Velo
8 Alice Barnes Palmer Park Velo
9 Clare Gore Sportcity Velo
10 Leone Davis NCRC 2001
11 Ellie Gilham Bournemouth Arrow
12 Sara Gent Ingear Development Squad
13 Zoe Lewis VC Londres
14 Imogen Crooks Lyme Racing
15 Flora Gillies Peebles CC
16 Rebecca Leith Discovery Junior Cycling Club
17 Emily Trimble VC Lincoln
18 India Penrice Sportcity Velo
19 Katie Metalli Palmer Park Velo


Youth B Boys
1 Jacob Ragan Sportcity Velo
2 Matthew Cross Newport Velo CC
3 Daniel Maslin Hillingdon Slipstreamers
4 Rob Westwood Cwmcarn Paragon RC
5 Chris Lawless Eastlands Velo
6 Adam Lewis Wolverhampton Wheelers
7 Ashley Dennis VC Jubilee
8 Jacob Scott Holme Valley Wheelers
9 Max Nethell Towy Riders
10 George Withers Palmer Park Velo
11 Ryan Whatmough Shepherds Cycles
12 Alan Trolove West Suffolk Wheelers
13 Jason Pitt Palmer Park Velo
14 Callum Rogers Scunthorpe Poly CC
15 Cameron Howard Welwyn Wheelers CC
16 Charlie Tanfield Cleveland Wheelers
17 Geraint Manley Maindy Flyers
18 Samuel Birchall Lyme Racing Club
19 Kieran Laurie VC Londres
20 Robbie Spence Discovery Junior CC
21 Alex Taylor Eastlands Velo

Youth C
1 Joel Partington Eastlands Velo
2 Emily Haycox Maindy Flyers
3 Megan Barker Maindy Flyers
4 Dylan Cordukes Newport Velo Youth Club
5 Joseph Fry Welwyn Wheelers CC
6 Archie Wishart Welwyn Wheelers CC
7 David Couch Palmer Park Velo
8 Matthew Walls Eastlands Velo
9 Joseph Linehan Palmer Park Velo
10 David Barnes Palmer Park Velo
11 Harrison Palmer Baker Halesowen A+CC
12 Thomas Rotherham Eastlands Velo
13 Reg Pay Palmer Park Velo
14 Adam Stobbart Edinburgh Racers
15 Rory Mellis Carnegie Cyclones
16 Alistar Merry Discovery Juniors