Day 4 - National Senior Track Championships

23 October, 2009
Return to Event Homepage
AFTERNOON SESSION
Photo Album of the Qualifying for Men's and Women's Team Sprint
---
OPEN TEAM SPRINT - QUALIFYING

Sky + HD's Jamie Staff, Ross Edgar and Jason Kenny were half a second clear of the powerful NW trio of Peter Mitchell, Matt crmapton and David Daniell in the qualifying for the men's Team Sprint. The Sky + HD team are likely to give Chris Hoy a run out in the evening finals and should have too much firepower for the younger and less experienced NW team.
In a quality session, which saw 5 teams go under 50 seconds, City of Edinburgh A and Science in Sport.com also went through to the semi-finals.
Sky + HD (Staff, Edgar, Kenny) 44.647S
NW Region A (Mitchell, Crampton, Daniell) 45.118
City of Edinburgh A (Croall, Haynes, Stewart) 47.445
Science in Sport.com (Pritchard, Cundy, Readle) 47.813
VC St Rapael A 48.534
City of Edinburgh B 51.319
VC St Raphael B 52.068
NW Region B 54.065
WOMEN'S TEAM SPRINT - QUALIFYING
Halesowen duo Jess Varnish and Helen Scott look odds-on gold-medal favourites for the evening's finals in the Women's Team Sprint after putting in a very solid qualifying time of 35.015 seconds. Their nearest challengers, City of Edinburgh RC, were over a second and a half down.
Halesowen A & CC - Jess Varnish & Helen Scott 35.015
City of Edinburgh RC - Jenny Davis & Charline Joiner 36.582
XRT - elmycycles.co.uk Janet Birkmyre & Emile Fisher 38.227
DNA Emma Grant DNA Cycles & TBC 40.179
Jamie Staff peels off as Ross Edgar and Jason Kenny set off on their second lap as the Sky + HD team go fastest in Team Sprint qualifying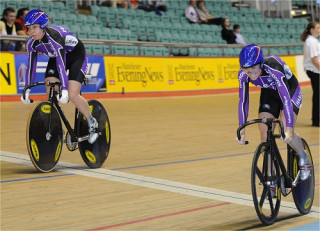 Jess Varnish (right) and Helen Scott get off the line