Follow britishcycling.org.uk on
Rebecca Romero MBE joins Orbea-For Goodness Shakes!

Story posted January 31, 2010

Men's and Women's squads for British Team
The Men's and Women's teams line up together for the official photographs with the striking Orbea bikes.
The British team, Orbea-For Goodness Shakes!, held their team launch on Sunday where they unveiled their 2010 Men's and Women's squads including the Olympic (2008) Individual Pursuit Gold Medallist Rebecca Romero MBE.
Team Press Release
Orbea-For Goodness Shakes! is excited to be supporting both a Men's and a Women's Squad in 2010, a commitment that sets them apart from other domestic teams. With Olympic Champions, World Champions, experienced riders and young up and coming athletes, Orbea-For Goodness Shakes! is looking to the future and aiming for the very top.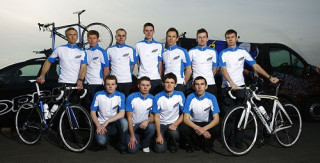 Above: The men's team -- L-R: Back Row: James Whatling, Kristian Downs, Andy Lyons, Matt Ewings, Ben Thompson, Marcel Six, Dean Shannon. Front Row: Adam Norris, Lewis Atkins, Steven Griffiths and Dan Kogan.
The Men's Squad brings together a talented mix of youth and experience, captained by the former GB rider Andy Lyons. With the experience of Lyons, Dean Shannon and Ben Thompson to guide them, expectations are high for the talented youngsters, Dan Kogan, Marcel Six, Steven Griffiths, Lewis Atkins and Kristian Downs to come through and shine in the mixture of Domestic and Continental racing the team will undertake in 2010.

With Olympic Gold Medallist Rebecca Romero MBE heading the Women's Squad alongside Multiple National and World Masters Champion Janet Birkmyre, Cassie Gledhill, Caroline Wojcik-Gammell and Emilie Fisher, there is a wealth of talent and experience designed to deliver results on the road, in time trials and on the track.

Men's team manager, Steve Charles can't wait to get the season started said, "I couldn't be working with a better bunch of riders. The guys have really clicked and already there's a real team spirit, both on and off the bikes. We've got a training camp in Mallorca in late February to fine tune the form before we kick off the season in France at Paris-Evreux. Then it's back to the UK for some early season local classics before the Premier Calendar starts. This is a big season for us but we've been training hard this winter, the fitness is good and we'll be looking to get off to a flying start come March."

Renny Stirling, head of Orbea UK, is very positive about the launch of both of the squads, "To be able to launch both a Men's and Women's Squad for 2010 is fantastic and a natural progression for Orbea-For Goodness Shakes! The Men's Road Calendar is becoming more and more exciting with the introduction of The Tour Series and the fierce competition between all of the teams involved in the domestic scene. Women's racing has faced some difficult times of late and Orbea wanted to show that we are backing Women's racing and are proud to be supporting some of the finest Women athletes in the country."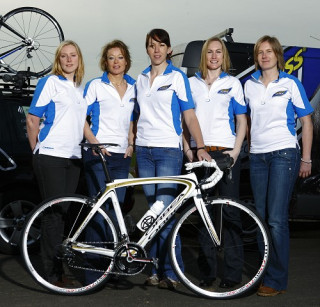 Rebecca Romero, centre, lines up with the Women's team. Left-Right: Caroline Wojcik-Gammell, Janet Birkmyre, Rebecca Romero MBE, Emilie Fisher and Cassie Gledhill
Orbea are proud to announce that Rebecca has joined forces with them as part of Orbea's "I'm Gold" exclusive and unique squad of Olympic Champions alongside Samuel Sanchez (Road Race Gold Medal) and Julien Absalon (MTB Gold Medal) and will ride with Orbea-For Goodness Shakes! as she focuses first on the World Time Trial Championships in Melbourne in September and ultimately the Olympic title in London 2012.

"Orbea are very fortunate to have Rebecca Romero connected with our "I'm Gold" campaign alongside Samuel Sanchez and Julien Absalon. Rebecca is a remarkable athlete and has long since proven how adaptable she is, and Orbea will be doing all we can to support her in her quest for Gold Medals in the Worlds and Olympics during the next years," added Stirling.

Jodie Shann, Athlete Sponsorship Manager at For Goodness Shakes! is looking forward to seeing the team in action in 2010, "Cycling has always been at the heart of For Goodness Shakes, and after sponsoring Olympic Gold medallist Bradley Wiggins in 2008, we are now extremely excited about taking this to the next level, with the addition of two top cycling squads. Both the men's and women's teams carry the same ethos as our brand, and we are looking forward to seeing them both challenging for honours in some of the UK's most prestigious cycle races."

Other Team Sponsors:
Phoenix Metabolic http://www.phxmet.com
Green Jersey Web Design: http://www.greenjersey.com/
American Classic: http://www.amclassic.com/
Mulebar: http://www.mulebar.com/
Sport Beans: http://www.sportbeans.co.uk/
Vittoria: http://www.vittoria.com
Human Performance Unit: http://www.humanperformanceunit.co.uk/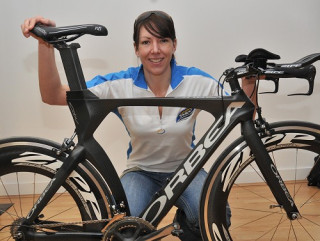 Fit for an Olympic champion, the Orbea TT bike was in constant demand at the launch as riders constantly approached it for a closer look. For Rebecca Romero, the bike will be her weapon in a challenge to be selected for the Great Britain team for the World Time Trial championships . That challenge will see her competing in Time Trials here in Britain as well as selected UCI ones in Europe. To get fit for such events, Rebecca will also ride bunch races like circuit races and so on through the year. We'll have an interview with the Olympic champion shortly here on BritishCycling.org.uk

2010 Rider Biographies
Lewis Atkins.
National Junior Road Race Bronze Medallist in 2005, Lewis has since been troubled with injuries and has faced many false dawns as he fought to solve his re-occuring knee problems. After completing a full racing season in 2009, where got back to winning ways with six victories, Lewis is looking to make the progression that his talent deserves in 2010.


Janet Birkmyre
Jan took up cycling in 2002 and began racing in 2004. By 2006 she was a five times World Masters Track Champion, holds the World Masters record for the 500TT and the National record for tandem 5K. She has medalled at every National Track Championships from 2005 to 2009 and, to date, she has won over 100 races. These include an elite National Championship title, eight European Masters titles, 20 National Masters titles and five consecutive wins of the national women's omnium series.

In addition to the track racing, Jan has had some memorable wins on the road, including the Tour de France support race on The Mall (2007), Tour of Britain support race (2006 and 2007), Hillingdon GP (2009), and has been unbeaten at Darley Moor in the Team Series race for the past four years.

Kristian Downs
A talented Junior with success on the road in both the UK and Belgium, and some notable track results as one the Revolution future stars. Kristian took time out of the sport to study Sports Massage and returned in 2009 with a renewed passion for the sport. Rewarded with a victory in his first season back on the road, Kristian will be looking for more wins with Orbea-For Goodness Shakes!

Matt Ewings
Imported from Exeter, Matt clicked with the team from his very first ride on the roads of Essex. A product of the hard roads of Devon, Matt is a tenacious rider and a strong climber, and aims to make his mark in the Premier Calendar in 2010.


Emilie Fisher
Emilie took up cycling from a triathlon background in 2007. With her focus centering on time trialling she won the WCRA Time Trial Championship, and finished 7th in the RTTC Rudy Project Time Trial Series. She has won the Eastern District Time Trial Championships at 10,15,25, and 30 miles, as well as the Eastern District Sporting Courses Competition for three consecutive years.
Emilie has broken 5 course records in 2009 and has had numerous local victories. In her 2009 season she has claimed three top 15 places in both the National Time Trial and British Time Trial Championships, as well as winning both the Florence Ranson and Pat Pepper Memorial trophies.

As well as time trials, Emilie has also competed successfully in Grass and Hard Track racing, finishing 6th in 2008, and 8th in 2009 in the 3k Individual Pursuit at the National Track Championships. She has also competed both Internationally and Nationally in Road Racing, including the Ras na mBan International 3 day stage race and the Bedford International 2 Day Stage Race.

Caroline Wojcik-Gammell
Caroline's passion in cycling lies in track racing and grasstrack racing in particular. Caroline is the Eastern Region Grasstrack Champion and has been a silver medalist in the National 800m, something she is aiming to improve on in the 2010 season. Caroline has competed at National Senior and Master's level on the track, winning three Bronze medals in the 2009 National Masters Track Championships.

Cassie Gledhill
Cassie came to cycling from hockey where she played in the English Premier League. In her first season she experimented with different road and track events before going on to focus on track sprinting in 2009. During her first season specialising on the track she won her first medal at the National Track Championships and finished second in the National Women's Omnium Series. For 2010 Cassie plans to continue her development on the track which will involve racing some International events. She will also be targetting the Hillingdon Grand Prix, aiming to improve on her 10th place from 2009.


Steven Griffiths (right)
2009 was to be Steven Griffiths breakthrough season until he broke his collarbone on a February training camp in Majorca. That set back meant that he didn't perform as he would have wished in the Tour Series, but didn't stop him winning the 2009 London Criterium Championship later in the season. Stronger and more motivated than ever for the 2010 season, Steven will be ready for the big stage this year.

Dan Kogan
In 2009 Dan Kogan was banging on the door of a big result in the Premier Calendar. In good positions at both the East Yorkshire Classic and the Richmond GP, Dan suffered from bad luck and missed out on both occasions. One of the most professional young riders in the UK, Dan's dedication and work ethic will undoubtedly pay dividends in 2010.


Andy Lyons (right)
Men's Team Captain Andy leads from the front, whether training or racing, and will use his wealth of experience to guide and mentor the younger riders on the team. Still as passionate about racing as he was in the three years he competed for Great Britain, Andy won't miss a chance to add to his tally of 40+ Elite road race victories.
British Cycling will soon have an interview with the rider who in the 90's was giving the likes of Rob Hayles a tough time in Premier Calendar races and these two riders plus others like Ben Luckwell are among the few riders remaining from that era who will be challenging the young guns coming up through the ranks as well as the riders from overseas brought in by many of the other teams.

Adam Norris
A proven sprinter and a strong team mate, Adam has racked up some impressive results in his short career. A former National Junior and Regional Champion, Adam has been training hard over the winter to prove himself in the Premier Calendar in 2010.

Rebecca Romero MBE
An Olympic silver medallist and World Champion in the sport of rowing, Rebecca took up cycling in April 2006 with the aim of achieving the same elite standard by Beijing 2008. She rapidly improved in her chosen discipline, the 300m Individual Pursuit, and at the 2007 World Track Championships she shattered the national record on her way to silver. After becoming World Champion in 2008 in both the Individual and Team Pursuit, Rebecca then went on to achieve her long term goal by winning the Individual Pursuit Gold Medal at the Beijing Olympic Games.

Dean Shannon
The Southend Sniper, Dean showed just a fraction of what he was capable of with some strong performances in the Tour Series in 2009. With a solid season under his belt, with good performances both at home and on the Continent, Dean is fully committed to succeed at the highest level in 2010.


Marcel Six (right)
Coming to the team from Belgium via Spain, Marcel brings with him the experience of riding major races with the Kelme U23 and Comunidad Valenciana teams. An explosive rider with a strong finish, Marcel is looking forward to success in the UK's biggest races with Orbea-For Goodness Shakes!

Ben Thompson
Ben can be summed up in two words: Pure Horsepower. After a season disrupted by re-occuring illness, Ben's competitive spirit is stronger than ever and the team are looking forward to seeing him back at the front of the bunch, fulfilling his potential in 2010.

James Whatling
James relishes the epic races, the wet, windy and tough days that demand strength and determination. Very focused on success in 2010, James is aiming for some strong results in the Premier Calendar.