The British riders wrapped up a sensational final night of the UCI Track Champions League, with Neah Evans winning the women's scratch and a British 1-2 for Mark Stewart and Will Perrett in the men's scratch, before Katie Archibald was crowned the queen of endurance at Lee Valley VeloPark.
Women's endurance
Katie Archibald took the overall women's endurance title for a second time after incredible performances across the five rounds, while Neah Evans capped her UCI Track Champions League debut in fantastic style in the women's scratch race.
Archibald took control of the scratch race early on, ramping up the pace to split the bunch in two. The group came back together with 12 laps remaining, before Archibald pushed on the pace once again to keep up the speed. Evans managed to get off the front with Olivija Baleisyte, and looked the stronger of the two to spearhead the lead. Irish rider Lara Gillespie bridged over with two laps to go, and the trio watched each other in a tense face off in the bend. Evans dropped down the straight into the bell lap and showed pure power to take the win by a huge margin. Sophie Lewis finished ninth, Kate Richardson 10th and Danni Khan in 11th.
Speaking after her win, Evans said:
"[The support] was mega! It's a cliche about the home crowd cheering you on, but it really does help. I knew I didn't have the sharpest legs for the sprint, but then the crowd started roaring and I had to give it everything."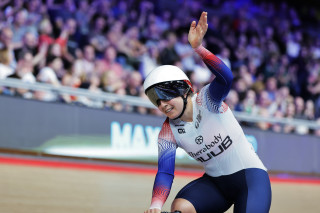 A tense women's elimination race saw Evans lead from the front, while Archibald sat in the bunch biding her time. Archibald began to be more assertive in the later stages of the race, taking to the front, before Evans found herself eliminated in seventh place. With just five riders remaining, Archibald looked like she was in trouble, but put in a big push to remain in contention. In a brilliant fight, the Scottish rider came away in third place, while Gillespie finished in first. Richardson finished 14th, Khan finished 11th, and Lewis 10th.
Archibald finished up her UCI Track Champions League with the overall lead, while Khan came seventh, Evans ninth, Lewis 11th, and Richardson finished 12th.
Archibald said:
"Overall, it's been incredible. It makes me so happy to see track cycling on this big stage. Every single round the atmosphere has been incredible and it's been a joy to race in."
Men's endurance
Mark Stewart and Will Perrett showed British dominance in the men's scratch race to take first and second place after a fantastic team effort. World champion Will Tidball strung out the bunch early on with a hard turn on the front with 15 laps to go but was unable to get away. German rider Theo Reinhardt managed to form a break with two others, as Perrett led the group behind and brought it back together. Perrett and Stewart immediately broke away with two others to gain over half a lap on the bunch, who were slow to chase. On the final lap, they dropped to three, with Stewart spearheading the front like a bullet. Stewart crossed the line a bike length in front of Perrett to take first and second place, as Tidball came home in 11th in the bunch finish.
Speaking after his win, Stewart said:
"I came second in Mallorca, so it was great to win this one. I had so much fun here last year and the prestige that this racing brings is massive. It's a great opportunity to get your name out there. I knew with four laps to go we had a big enough gap and I love that bit where you can start to think tactically and have a plan. With Will [Perrett] up there as well, it felt that we were a team."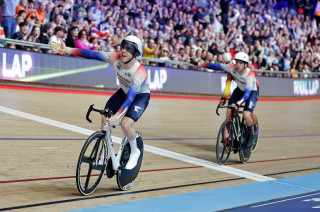 In the men's elimination, Stewart continued to keep the excitement high and finished in fourth place. The Scotsman made sneaky moves from the start to just stay in contention, edging on the border of elimination in sprint laps to keep the crowd entertained. In the closing stages, Stewart had the crowd on their feet, continuing to ride from the back and taking it to the line to stay in. Tidball was eliminated in fifth, before Stewart sat up and settled for fourth with a round of applause from the crowd. Perrett had tired legs from his earlier efforts and finished 17th.
Tidball finished second in the overall UCI Track Champions League men's endurance standings behind Canada's Dylan Bibic, while Stewart finished in fourth and Perrett in 12th.
Women's sprint
Emma Finucane finished third in the women's keirin and fourth overall after a great second season in the UCI Track Champions League, while Katy Marchant finished seventh, Sophie Capewell came 11th, Lowri Thomas 12th, and Ellie Stone finished 17th.
With Finucane and Capewell in the same opening keirin heat, the sprint world champion followed the wheel of Canada's Kelsey Mitchell with two laps to go and shot around her on the final back straight to get through to the final with ease. In the final, Finucane led from the front, looking back to watch the race before sprint leader Ellesse Andrews took control. Finucane fought with Martha Bayona and finished in third place. Marchant finished eighth, Capewell came 11th, Thomas came 15th and Stone finished 18th.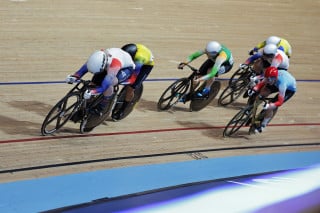 In the sprint races, Thomas had a two-up battle with Nicky Degrendele in the first round, including a tense track stand on the back straight within the first lap, and despite some exciting shock moves, the Welsh rider was unable to progress. A photo-finish in Marchant's opening sprint saw her just edged out by Colombia's Bayona. World champion Finucane, Capewell and Stone also had tough competition in their opening rounds and were unable to progress further.
Finucane said:
"I really enjoyed it this year, it was different coming in with the rainbows and that added pressure and expectation. It's such a good event and place to learn, racing against the same people four weeks on the bounce."
Men's sprint
Joe Truman had a brilliant opening keirin round, biding his time in third position before lunging for second place to qualify for the final. Facing the best sprinters in the world, Truman was in a close fight for third place as Harrie Lavreysen and Matt Richardson took first and second, but he was unable to find a way through with the Brit taking fifth to round off an incredible five rounds.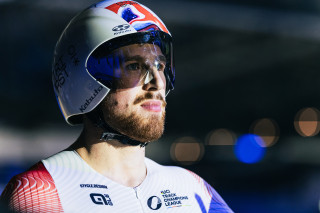 In the earlier sprint race, Tapei's Nien Hsing Hsieh went long, going with three laps to go, as Truman chased behind but was unable to progress, and finished eighth overall. Another close battle in the final against Lavreysen and Richardson saw the Australian take the win.
Truman took seventh overall in the men's sprinters league to close out his weekend on a high, as Lavreysen took back his title from Richardson.