The 2022 National Track Championships saw Welsh talent thrive on their home track as Newport hosted the event for the first time. As the second edition of the national championships at the Geraint Thomas National Velodrome grows near, we look at the up-and-coming talent ready to take Newport by storm for the second year in a row.
Lowri Thomas had a cracker of a season with Team Wales, securing medals at the national championships, UCI Track Nations Cup in Glasgow, and the Birmingham 2022 Commonwealth Games.
Having had a break from the sport as a teenager, Thomas came back fighting to win her first national title in 2022 in the team sprint alongside Emma Finucane and Rhian Edmunds.
Representing Team Wales at the indoor velodrome where she discovered her talent on the track as a 10-year-old, Thomas was overjoyed to come away with the red, white, and blue jersey.
She said: "It was extra special to race the national championships last year in Wales, especially as we had the Commonwealth Games that year and we had such a strong team. It was great preparation for it, and it was amazing to see so many great cyclists compete.
"It was my first national title as well. To do it with Emma and Rhian and have it with the rest of the Welsh team was really fun and a great environment."
Thomas went on to secure third with Finucane and Edmunds in Glasgow's UCI Track Nations Cup, beating Great Britain by under two tenths of a second, before winning bronze at the Commonwealth Games, representing Wales on the world stage. The Welsh contingent beat Australia in the bronze medal ride off, who had won the gold medal back in 2018.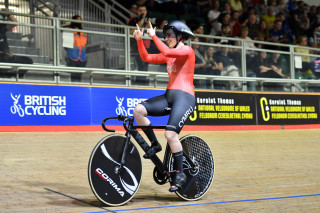 Having grown up racing and riding for Abergavenny Road Club from the age of five, winning three major medals in a year was beyond Thomas' wildest dreams, but a token to the inspirational of Welsh cyclists over recent years.
Thomas said: "Considering how small Wales is as a nation, the number of Welsh sprinters has grown in numbers. There was Becky James and Rachel James, and now us coming through – it shows that having an accessible velodrome is very key in being able to find talented athletes, as well as having those role models who inspire us.
"I remember watching Becky [James] win one of the world championships when I was a youth and it made me want to be a track sprinter."
With the new season up and running, Thomas is hoping to continue her success on the track with another home championships.
She added: "This is only the second national champs at Newport, so you don't often get the opportunity to have a home Welsh crowd. Getting to ride for Team Wales there was amazing so to do it again is a real privilege. I really hope more school children come along because I think it's really important to show kids at a young age that this is a sport that they can do too.
"I will be racing in all the sprint events and I'm looking forward to the whole weekend and seeing how I do compared to the 2022 nationals."
Joining Thomas in Newport will be fellow Team Wales cyclist Rhys Britton.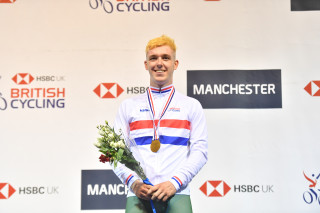 A multiple national medallist, including a back-to-back points champion, Britton knows what it takes to wear the red, white, and blue jersey, but after missing the rescheduled 2022 championships, he is excited to return to race on home soil later this month.
He said: "I was gutted not to ride [national championships] last year. Obviously, Newport is a home track and I'm looking forward to it – it brings back quite a few memories of racing and training there.
"It's a proud moment to win a national medal. It's not something many people get to do – to say you're the best in the country. It's always nice to win, but it's extra special to win a national champs, and I think it will be even more special to win in Newport. Welsh crowds are loud and proud and get behind the home riders and I'm really looking forward to it."
The 2022 season saw Britton take home three medals from the UCI Track Nations Cups, with a scratch gold and Madison silver in Milton, and a team pursuit silver in Glasgow, as well as a European team pursuit bronze for Great Britain.
Britton also went to his second Commonwealth Games – an achievement in itself for the 23-year-old – and finished fourth with his Welsh teammates in the team pursuit.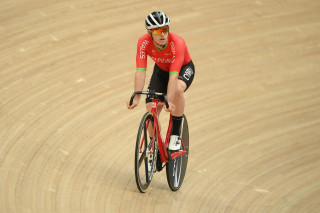 He said: "I always love representing Wales. It was a proud moment to pull on that jersey – more so this time as my family could be there to watch. I think a lot of the Welsh have pride in the jersey. What made us so close-knit at the Commonwealths was that we'd all grown up together and all really good friends. To be part of Will Roberts winning that [scratch bronze] medal was pretty special as well because I've known him since I was 13.
"We just have loads of fun as well – it was the most I've laughed in ages. That translated onto the bikes. Instead of being scared of the moment, we took it in our stride."
To Britton, it all comes down to those first moments riding Newport Velodrome as a nine-year-old where his love for the sport began.
He added: "I started at a Saturday morning taster session, and I was absolutely terrified with how steep the banking was and how big it was. It felt pretty daunting, but the more I did it, my confidence grew.
"I still get that feeling of excitement when I ride the track. I never would have dreamed back then that I'd have come this far.
"I'm looking forward to kicking off the season in a good way and hoping to achieve a nice stripey jumper in the team pursuit in Newport in January."
Tickets to watch Lowri, Rhys and a host of Britain's best riders are on sale now, starting from just £5. Get yours now here.