British Cycling is pleased to announce that London's Lee Valley VeloPark will again host the final two rounds of this year's UCI Track Champions League series, on Friday 2nd and Saturday 3rd December.
London hosted the final two rounds of the inaugural series in December last year, where Katie Archibald was crowned Women's Endurance champion in front of a sold-out home crowd, as fans in the stands and across the world were treated to a unique new competition format, unrivalled fan experience and two nights of scintillating racing.
British Cycling members will again receive priority access to tickets, starting from 16:00 Friday 17 June and ending at 23:59 on Wednesday 22 June. Tickets will then go on general sale from Friday 1 July, and with sell-out crowds expected for both rounds fans are encouraged to secure their seats early to avoid disappointment.

Login as a member to view how to redeem exclusive priority ticket access to the event. If you are not a member yet, you can unlock perks like this and many more by joining from as little as £26.
British Cycling CEO, Brian Facer, said:
"We are delighted to be welcoming the UCI Track Champions League back to London this winter. Last December we were delighted to host the final two rounds of the inaugural series and London showed once again why it is regarded as the best city in the world to watch track cycling, with capacity crowds and a fantastic atmosphere.
"Having been at both of those evenings I know first-hand how the UCI Track Champions League has taken track cycling to new heights in terms of a sporting spectacle and fan experience, and we're excited by the plans which the UCI, Discovery and Eurosport Events have for 2022.
"To be invited to host two rounds once again in the Lee Valley VeloPark velodrome is testament to our status as a leading track cycling nation, our ability to host the sport's flagship events, and our legacy of providing showpiece occasions for the best riders in the sport to shine."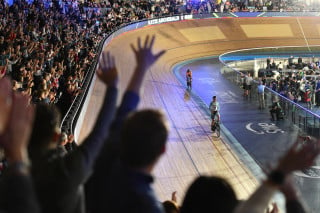 The 2022 calendar will also see debut events in Paris and Berlin, while Mallorca will once again open the series on Saturday 12 November.
The 36 male and 36 female riders competing for victory in the League's sprint and Endurance categories will receive a prize pot totalling more than €500,000, which will once again be equal for both male and female riders as part of the League's commitment to gender equality in the sport.
As in 2021, the event will consist of just four race types: elimination and scratch races for the endurance riders, and keirin and sprint competitions for the sprinters. Each round of the series will follow the same race programme.
President of the Union Cycliste Internationale (UCI), David Lappartient, said:
"Last year, the UCI Track Champions League provided a spectacular show that put the Olympic discipline of track cycling and its athletes in the spotlight they deserve. The fast-paced, short-format racing proved popular with the fans and the riders, who will be delighted to compete at two prestigious new venues in 2022.
"With five rounds over four consecutive weekends, there will be little time to draw breath as the best track specialists in the world chase one of the four overall titles at stake in this second edition of the UCI Track Champions League."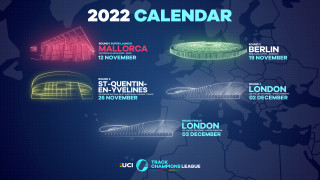 Head of Discovery Sports Events, François Ribeiro, said:
"Building on the success of the inaugural season, it was a priority of ours to engage key audiences in France and Germany. Following the postponement of the Paris round last year, we are delighted to finally be able to bring the excitement of the UCI Track Champions League to the French National Velodrome along with the Velodrom Berlin.
"This is the most intense schedule yet with back-to-back racing restoring the excitement the league was set up to harness. Concluding in the world-famous Lee Valley Park to an audience of dedicated fans, the grand finale is set to be spectacular!"
2022 UCI Track Cycling Champions League:
Round 1: Palma de Mallorca (Spain), 12 November
Round 2: Berlin (Germany), 19 November
Round 3: Saint-Quentin-en-Yvelines (France), 26 November
Round 4: London (Great Britain), 2 December
Round 5: London (Great Britain), 3 December