An exciting and powerful performance saw Dame Laura Kenny and Neah Evans ride to victory on the first day of the National Madison and Omnium Championships in Derby, taking the Women's National Madison title. To the delight of a home crowd, William Perrett was crowned Men's National Madison Champion alongside Mark Stewart, with the pair bursting away from on the final sprint to fill the arena with cheers.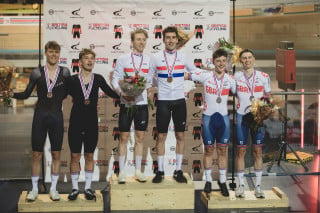 Kenny's victory marked the first time the Team GB rider had raced on the track since last summer's Olympic Games in Tokyo, where she and Katie Archibald dominated in the Madison. In Derby Arena on Friday evening, though, the women's 120-lap race was played out with a nail-biting finish.
Sophie Lewis and Maddie Leech battled it out with the winning pair, only losing their lead in the final 20 laps. With nine laps to go, there were only three points between the two pairs, with Kenny and Evans taking their marginal lead and ramping it up with a resounding win in the final sprint. Ella Barnwell and Jessica Roberts placed third, shortly behind Lewis and Leech.
After the race, Kenny said:
"For me, it's the first time I've been back on the track since the Olympics, so it's been quite a long time. It was a bit of a shock to the system but I did really enjoy it."
Evans added:
"I've done a little bit more racing since the Olympics, which I'm grateful of, but it was good fun. It's always nice to race in front of a home crowd. We had a lot of fun out there."
"We kind of blew it with a plan. We just wanted to go out and have a bit of fun, see what the form was at. We've got the Nations Cup coming in Glasgow and we've been training, so we wanted to have a bit of fun today and see how the legs were. And I'd say, they weren't bad: room for improvement, but not bad."
The men's madison was fast and furious from the start, with a bold attack taken by Velo Club Londres' Alex Franks and Anthony Morris, who scooped up the first of the points on offer. They soon sat up after the first sprint lap and were back in the pack.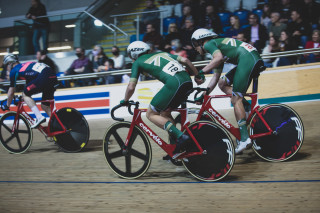 After around 83 laps, Jack Brough and Oscar Nilsson Julien were in the lead, but soon William Perrett and Mark Stewart had gathered points and were neck and neck with the pair. By the time it was 100 laps to go, there were only eight points separating the top four teams.
While, Brough and Nilsson Julien rode strongly, holding onto their lead for a while, as the lap board approached 50 laps to go, William Perrett and Mark Stewart stepped it up a gear. With Perrett being a local, a boost from the home crowd was on the cards and as the pair opened up the lead with 48 laps to go, the crowd went wild. Finishing with 55 points, Perrett and Stewart were crowned 2022's Men's Madison Champions, with Brough and Nilsson Julien and Jack Rootkin Gray and Robert Donaldson, taking second and third place respectively (both at 41 points).\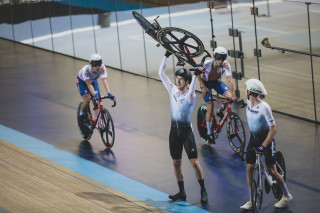 Speaking after the podium, Perrett said:
"It was our first race together, so [we were] a bit rusty to start with but then got into it and by the end we were looking pretty good…pretty strong. I'm looking forward to tomorrow now, that'll be good fun."
Stewart added:
"I think for us it was preferential that it was 200 laps, because the first 50 laps was basically just us getting to know each other, and we knew that hopefully in the latter stages we would ride into it. And yeah, we did. So, [it was] a pretty successful day out."
Speaking on the subject of the competitive field in their race, Stewart said:
"We definitely didn't want to underestimate the young guys. This next crop of riders coming through are like almost a level above what we've seen before, so we really didn't want to underestimate them and I'm really glad we didn't. They gave us such a tough time out there."
On the topic of the support from his home crowd, Perrett said: "It was amazing. You heard a lot of 'Wills' every time we sprinted for the line. They were all cheering us on, and when Mark was nipping round the outside. It was so nice, because I've grown up riding this track. There were so many faces out there to just support me and Mark."
Stewart also found the cheering helpful, adding: "I think it actually made a massive difference. Fair play to Derby for coming out and watching. I couldn't believe the crowds, compared to say, National Champs we've done at other velodromes. They love cycling in Derby. It's really cool to see."
The championships continue tomorrow in Derby Arena with racing in the women's and men's omniums.