More records were broken on the final day of racing when Josh Charlton (MTS Cycle Sport) produced a new national record of 2.14.351 in qualification of the Male U16 Pursuit.

Charlton was unable to match his earlier time in the afternoons' Pursuit final but still managed to win the gold medal beating Daniel Kain (Squadra Scozzese) in the final by more than 2 seconds.
Joe Kiely (Welwyn Whlrs CC) took bronze in a closely fought battle for the final podium spot beating Joshua Giddings (MI Racing Academy) by a mere six tenths of a second.
And after withdrawals and injuries in the Scratch, the reduced field went straight to a one off final in the last race of the morning's session.
Oscar Nilsson-Julien (VC Londres) and Zach Bridges (Team Ribble) made a break with five laps to go, both taking big turns on the front.
Unable to maintain the workload, and starting to feel the effects of the long week, Bridges was dropped as Nilsson-Julien forged ahead.
Alfred George (Discovery Junior CC) then picked up the chase from front of the chasing group looking for his fourth national title of the week.
However Nilsson-Julien was too strong and had saved enough to carry him across the line to claim his fifth medal of the Championships and his first national title of the week.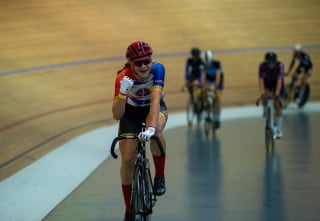 Meanwhile Zoe Backstedt (Storey Racing), dominated the U16 Girls Points Trophy scoring maximum points and claiming her fourth national Jersey of the week.
Backstedt controlled the race from the gun, winning every sprint and crossing the line in first place. Grace Lister (Wolverhampton Whls) led the peloton for four laps only to be closed down by Backstedt in the sprint.
Imani Pereira-James (East Kilbride RD) finished a creditable second, 21 points adrift of her GB team mate with Madelaine Leech (RFDA) taking the bronze.
And Ella Stone took her second national title of the week in the Keirin Championship, out-sprinting Elizabeth Winton, (Stirling BC) and Sophie Lewis (Cycle Team OnForm) on the final straight to add to her earlier win in the 500m time trial race.
Results Day 5