Mark Stewart's silver double lit up the opening night of the TISSOT UCI Track Cycling World Cup season as Great Britain picked up two medals in Saint-Quentin-en-Yvelines.
World medallist Stewart starred alongside British teammates in the team pursuit but it was the points race where the Scot really shone on the opening night of the Track World Cup season.
In the event that saw the 23-year-old strike Commonwealth gold earlier this year, he showed his form had not dipped since – three years since first becoming a Track World Cup champion.
But he was not the only Brit celebrating a place on the podium with Ed Clancy, Steven Burke, Kian Emadi and Ollie Wood helping make up the silver medal-winning team pursuit squad in France.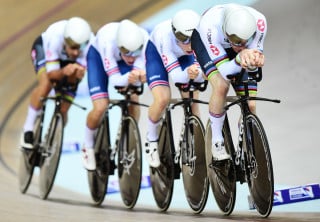 Stewart on point once again
Stewart made a name for himself on the Gold Coast back in April, his gold medal in the points race marking a maiden senior title after bronze medals at world and European level.
He has since become one to watch and he certainly showed why, a rapid start to his race seeing him set the early pace in Saint-Quentin-en-Yvelines.
Indeed four of the first six intermediate sprints went his way and, as he joined two fellow riders in taking a lap, 40 points were his by the time the halfway stage came around.
That intensity was always going to be a hard one to maintain as Stewart remained content to stay in the pack as the race headed to its conclusion.
Victory in the tenth sprint further helped his cause as he moved to 45 points, a tally that proved enough for second place behind Germany's Moritz Malcharek.
Silver lining for Britain despite imperfect final
The points race silver was Britain's second of the evening, team pursuit honours coming the team's way just an hour previous on the French track.
A big PB of 3:53.8 in the rounds with a far from perfect ride, and just losing out to European champs Italy in the bronze final. We've got a lot more to give! An exciting start to the season #TissotUCITrackWC #RealAeroLike @kbschlee pic.twitter.com/qPYI0ro9GC

— Dan Bigham (@DanBiggles22) October 19, 2018
That was despite the race far from going the ideal way for Clancy, Emadi, Wood and Stewart, with a technical issue and then a false start halting their gold-medal ride against Denmark.
The team were subsequently unable to hit their potential, with Denmark making the catch to end the race – though silver was far from something to complain about in the season opener.
But that was not all, with the HUUB-Wattbike Test Team of Dan Bigham, John Archibald, Harry Tanfield and Jonathan Wale just missing out on the Track World Cup podium in fourth place behind Italy.
Their time of 2:57.602 was enough to qualify for the bronze final and beat hosts France, and with more still to come from the promising team, thoughts are already heading towards next week's event in Canada.
Raybould impresses in points race
The smile adorned the face of Rebecca Raybould as she completed the points race and it was easy to see why, a strong showing seeing her finish in seventh place.
Raybould ended with 20 points in the event, all thanks to taking a lap, with a superb 300 TISSOT UCI Track World Cup points coming her way.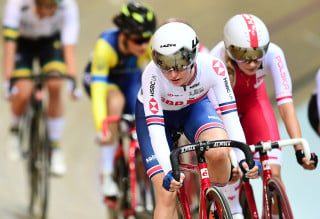 Also in action on the opening day in France were Katy Marchant and Lauren Bate, narrowly missing out to Australia in the team sprint first round.
While the team pursuit squad also took to the boards, with Raybould, Megan Barker, Neah Evans and Emily Kay not able to reach the medal races.
The men's team sprint squad were not able to take their place on the podium with their disappointment more agonising, with Ryan Owens, Joe Truman and Jack Carlin finishing in fourth place.
What's next?
Saturday's second day of action will see Evans and Kay return for the Madison, while Bate and Marchant will compete separately in the sprints.
Carlin is in keirin action while a busy day is in store for Wood as he faces the four-event omnium. Jacob Tipper completes the line-up for HUUB-Wattbike Test Team in the scratch race.