Ethan Vernon continued his winning streak whilst Ellie Russell takes pursuit gold at day four of the HSBC UK | National Youth and Junior Track Championships.
Vernon (Team KGF) won the 100m Time Trial a time of 1.01.576, a massive two and a half seconds ahead Team Backstedt-Hotchillee riders, Charley Calvert in second and Matthew Burke in third.
Averaging 36.540mph, Vernon secured his third gold medal of the week in Newport.
In the other men's junior competition, the points race was won by Samuel Watson (PH-MAS-Paul Milnes Cycles), a close two points ahead of Zach Bridges (Ribble Cycling) who despite winning the final sprint could not jump into the lead.
Ellie Russell won the female junior 3000m pursuit in a close final with Team Backstedt teammate, Elynor Backstedt.
Ella Barnwell (TRCC) came third after beating Georgia Ashworth (Team 22) in the bronze medal ride.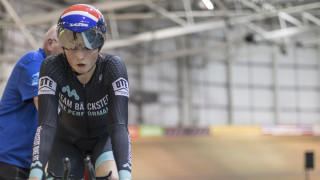 Dominance in the female under-16's competition continued through Emma Finucane, winning two more gold medals, taking her haul from Newport to four.
Finucane (Towy Riders) won the 500m time trial by one second ahead of Serena Natt (Cadence Cycle Racing) in second, Sophie Lewis (CT OnForm) was third.
Sophie Lewis won the Madison alongside Finucane in the Madison, six points ahead of Imani Pereira-James and Eva Young in second.
Oscar NIilsson-Julien and Jack Rootkin-Gray won the male under-16 madison after a consistent performance gaining points throughout the race. They beat Robert Donalson and Oliver Stockwell by seven points in second.
Rhys Thomas (Fusion-Gearclub-WORX) narrowly beat Joshua Giddings (MI Racing Academy) by only two hundredths of a second to win the male under-16's 500m time trial.