Elinor Barker secured her first gold medal of Gold Coast 2018 as England, Scotland and Wales all celebrated Commonwealth titles on day two at the Anna Meares Velodrome.
Barker stormed to the points race title in a race dominated by the home nations, with Katie Archibald and Neah Evans riding to silver and bronze respectively for Scotland.
But Scotland had their own golden reasons to celebrate as Neil Fachie completed the double-double of Commonwealth honours, adding another world record to his and Matt Rotherham's names.
England's Sophie Thornhill and Helen Scott were also flying high with their second gold this week – with another world record to boot in the B&VI competition.
That wasn't all with a plethora of silver and bronze medals for the Brits, with James Ball and Peter Mitchell, Jack Carlin and Chris Latham among those standing on the podium.
Brilliant Barker back to her best
By her own admission Barker hadn't been at her potent best at the recent UCI Track World Championships but the Welsh star emphatically put that to one side in Australia.
The 25km points race was her first outing of this Games but there were no signs of rustiness as she both went for and picked up a vital lap with the race still in its relative early stages.
From there the lead was held assuredly, taking points in the sprint laps though the win was not a foregone conclusion until the very closing moments of the contest.
But Barker – who secured Wales' second gold medal of the Games and first on the track for 28 years – finished off in style, hitting the 40-point mark by claiming the last sprint.
About to sing the welsh national anthem on the podium for the first time in my career! What primary school assembly dreams are made of #gwlad #GWLAAAAAAAD

— Elinor Barker (@elinorbarker) April 7, 2018
That was more than double the haul of any of her nearest challengers, with individual pursuit Commonwealth champion Archibald back on 20 points in second place.
And the all-British top three was secured thanks to Evans, taking points in six of the sprints including six in the last to secure her place on the podium.
Barker told the BBC: "It's really special. I've never been able to sing the Welsh national anthem on the podium before. You don't get many opportunities to do it so I'm so, so grateful.
"I'd been getting a little twitchy sat in the hotel watching everyone racing, watching everyone getting records. It really spurred me on.
"I was questioning my decision to sit out of the other races but this is what I consider to be one of my best events so I thought, 'why go and hope to do reasonably well in an event I'm not so good at when I can try and win my best event? Gladly it paid off."
Gold rush continues for Thornhill and Fachie
Nobody has quite celebrated gold medals and world records like Thornhill and Fachie this Games and the two were at it again in the B&VI competitions.
Fachie, piloted by Matt Rotherham, prevailed in the time trial on day one but it was the sprint where they were at their potent bests this time around.
Qualification had shown exactly why Gold Coast has been an enjoyable experience, breaking the world record by more than 0.2 seconds, stopping the clock in 9.568s.
GOLD! After two victories at Glasgow 2014 @neilfachie does the double double as he and @MattRotherham add the Para-Sport B&VI Sprint title to the Time Trial at #GC2018

That's three gold in the velodrome for #TeamScot2018 pic.twitter.com/npAKcsB4HA

— Team Scotland (@Team_Scotland) April 7, 2018
And they carried that form into the final, Fachie securing the Commonwealth double-double after edging out Ball and Mitchell in the head-to-head battle.
"We haven't been on the bike together for long - only since about December - but we gel together and we're way ahead of where we thought we would be," said Fachie, who won his fourth Commonwealth gold after defending his two titles from Glasgow 2014.
"I used to be a runner so I fell into cycling by pure chance. It's good to try different things and I encourage everyone to get out and take opportunities to find their sport or their career."
Thornhill and Scott celebrated the first world record of the Games and the two were back up to their own tricks to top the pile, this time in the time trial.
From the blocks the two were undoubtedly the quickest, with Jessica Gallagher and Madison Janssen in second while Scotland's Aileen McGlynn and Louise Haston were third fastest.
But the English pair had other thoughts in their mind too, breaking the world record they had set barely two weeks ago at the World Championships – 1:04.623 the eventual time on the board.
"To come away with four gold and four world records is just insane. Everyone kept saying we were going to break it, we're over the moon, we can't believe it," said Thornhill.
"The trust I have in Helen definitely came out in the second sprint match. For me I trust her 100 per cent.
"The way we're going to go quick is to trust her and let her do her thing. I just have to sit there and pedal hard."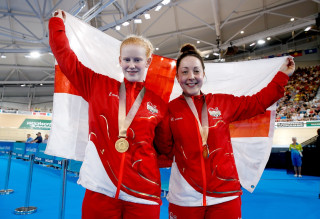 Medals keep on coming on the track
Adding to the trio of golds and Ball's silver, the medals didn't stop there for the home nations.
They were to come in dramatic style too, notably for Carlin in the sprint final – with just centimetres separating him from a deciding race against New Zealand's Sam Webster.
That meant a 2-0 defeat came his way but not without the consolation prize of a super silver medal, a pleasing way to end his sprint outing having qualified second in a time of 9.650s.
From a Scotland silver came an England bronze – in one of the most dramatic finishes the Games will see.
That came in the scratch race as the final 20 metres proved chaotic, with everyone needing to draw breath as Sam Welsford crossed the line first for Australia.
But there was still time for Latham to make a late move, manoeuvring his way to bronze ahead of teammates Oliver Wood and Ethan Hayter.