Three-time British track champion Dan Bigham says recent experience training with the Great Britain Cycling Team will give him a boost as he looks to build on his phenomenal 2017.
Bigham, who rose to prominence by winning the kilo, individual pursuit and team pursuit titles at January's HSBC UK | National Track Championships, has gone on to enjoy further success at international level with his Team KGF team-mates – the highlight of which coming when they secured fourth place in the team pursuit at November's Tissot UCI Track Cycling World Cup in Manchester.
Following those performances, Bigham and teammate Charlie Tanfield were invited to train with the national track squad at the HSBC UK National Cycling Centre, and the 26 year-old believes that he is already benefiting from the experience.
"It's been really good – really positive," he said. "We had a few conversations with British Cycling at the world cup in Poland, then a few more conversations here in Manchester which led to Iain (Dyer, Great Britain Cycling Team head coach) inviting me and Charlie here for a few training blocks, which is amazingly helpful.
"You don't appreciate the facilities until you get here and realise all the little things that go on, such as the instantaneous lap feedback, the video analysis and things like that. It's world class, which you'd expect.
"To be able to come here has been really cool and Iain's been really open to it – to seeing where we fit into the squad, where our strengths and weaknesses lie and even just giving us feedback on what we're doing and what he thinks we should be doing."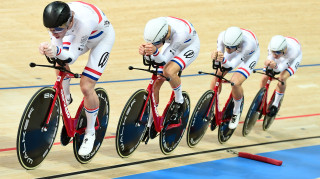 Bigham, who currently balances training with running his aerodynamic testing, development and consultancy business, is now targeting the final world cup of the track season – in Minsk, Belarus – and defending his three national track titles when the HSBC UK | National Track Championships return to Manchester from January 26 to 28.
He continued: "As a team, we have targets we want to achieve, one of those being winning the team pursuit at a world cup. We showed what we can do in Manchester, so now we want to go to Minsk and try to win it.
"Nationals are still at the forefront of my mind, though – I want to go there and defend those titles, to shine and show what I can do. There are challenges coming from every direction – I know I'm a lot quicker than last year but it's about balancing my training to make sure I hit all the events."
The HSBC UK | National Track Championships will represent a major step on the road towards preparations for the UCI Track World Championships (February 28-March 4) and April's Gold Coast Commonwealth Games for many of Britain's most established track stars, and Bigham is no different.
Talking about his aims for a busy next few months, Bigham added: "I want to go to the world championships and I want to go to the Commonwealth Games, and to win a medal at them both. If I was to sit here in 12 months having won a medal in the kilo, the individual pursuit or the team pursuit at any of those events I'd be pretty happy.
"I want to go to the HSBC UK | National Road Championships as well and put in a good battle for a podium spot in the time trial. I was probably a bit naive not to enter this year as I didn't think the course suited me – I figured out a bit late that I should have done it, and that was a bit of a missed opportunity.
"However, my main focus is still the track. I want to go to Tokyo in 2020 but there are lots of things on the way that I'd like to achieve as well."
The HSBC UK | National Track Championships take place at the HSBC UK National Cycling Centre, Manchester between January 26 and 28.