Great Britain Cycling Team's Lauren Bate continued her excellent form at the 2017 UCI Junior Track World Championships by qualifying for the women's sprint semi-finals in Montichiari, Italy.
Bate set the second fastest time in the flying 200m qualifying round in 11.262 seconds, behind junior world record holder Mathilde Gros of France.
Georgia Hilleard set the seventh fastest qualifying time in 11.730 seconds and also booked herself a spot in the 1/8 finals.
Finishing in the top eight saw Bate progress directly to the 1/8 finals, where she defeated Emma Gotz of Germany by a significant margin.
Hilleard led in her 1/8 final but lost out in a photo finish to Seolhwa Jeong of Korea.
Bate looked superb in her quarter-final, easing past Jeong in the back straight of the final lap and not wasting any energy as she eased down to cross the line in the first heat and leading out her opponent and holding her off in the second.
Keirin
Lewis Stewart and Hamish Turnbull contested the men's keirin but, with only one rider progressing from each heat, it was a tough start to the morning for the British duo.
Stewart rode superbly in his repechage to progress to the second round, coming from the back of the pack in the final lap to beat Denmark's Jakob Joensen to the line.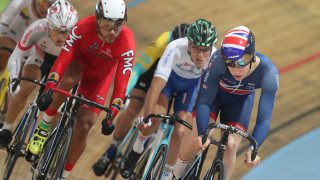 Turnbull was pipped into second in both his first round effort and his repechage and was unfortunate to miss out on a spot in the semi-finals.
In the semi-final Stewart finished in fourth place, agonisingly just one place away from the world championship final. The young rider couldn't find the right gap, as he got boxed on the inside, coming off the final bend.
Stewart rode strongly in the 7-12 final to ensure himself an eighth place finish.
So close again, but unfortunately haven't made the world championship final. Still the B final for 7-12 later this evening. https://t.co/6ggrElWV7w

— Lewis Stewart (@Lewis_R_Stewart) August 24, 2017