Great Britain Cycling Team's Chris Latham won a brilliant bronze medal in the scratch race on day two of the UCI Track Cycling World Championships in Hong Kong.
The 23-year-old timed his finish to perfection to win a bunch sprint to cross the line in third place and to win Great Britain Cycling Team's second medal of the championships.
The men's team pursuit squad finished fourth, with the women taking fifth place, with Joe Truman and Lewis Oliva missing out on the keirin final, while Katy Marchant was unable to progress from the 1/16 finals in the women's sprint.
Brilliant bronze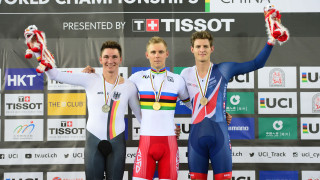 The 60 lap scratch race boasted an impressive field, with Chris Latham rested from the final team pursuit line up to boost his medal prospects.
It was a cagey race, with a number of attempts to breakaway quickly closed down as Latham bided his time, ensuring he remained in the hunt for the closing stages.
With less than ten laps remaining, Poland's Adrian Teklinski attacked, pulling half a lap clear of the field, with Switzerland's Gael Suter his closest rival.
At the bell, Teklinski, visibly tiring, found extra strength to stay clear of the hunting pack to become world champion, with Germany's Lucas Liss overcoming Suter to take silver.
The Swiss rider was struggling to hold on, and that presented Latham with his chance to reach the podium - finishing strongly in a packed field to claim his first world championships medal, a result he was delighted with.
"I'm really happy with that. The lads were unlucky in the team pursuit. I'm happy to come away with a medal, finally!
I've still got legs in the basket for the omnium. I want to get a jersey!
"First world senior medal, buzzing!
Team pursuit
The Great Britain Cycling Team's men's team pursuit squad had to settle for fourth after being pipped in the latter stages by the Italian quartet.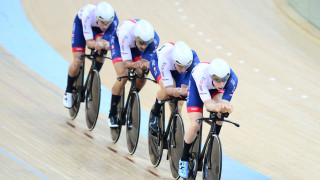 Kian Emadi and Steven Burke joined Mark Stewart and Ollie Wood, with Andy Tennant and Chris Latham focusing on individual efforts.
The foursome started well, leading the Italians by more than half a second at the first kilometre, and maintaining that gap for much of the race.
But in the final kilometre, Italy recovered and powered away, winning by over a second and a half to claim bronze with Australia defeating New Zealand in the gold medal final.
Ollie Wood said: "We're pretty disappointed to come fourth, the Italians were the better team. It's onwards and upwards, we've got three years to get it right.
Mark Stewart added: "We came not knowing what to expect. To get a chance for bronze, we're all excited, but now, it's all disappointment. There's three years to the Olympics, but this is the world championships, it's disappointing."
With a strong performance to qualify for fifth on day one, the women's team pursuit line-up made one change for their first round clash with Poland, with Elinor Barker replacing Emily Kay.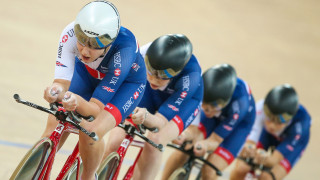 Barker, alongside Ellie Dickinson, Manon Lloyd and Emily Nelson, caught the Poles within 3km, posting a time of 4:21.681, over 12 seconds faster than their European rivals but placing them in fifth place overall as the United States retained their title.
Barker said there was plenty of encouragement from the performances.
"We've done some pretty good rides, we can be pretty happy with that.
"As a very young team, the level is so much higher than we ever expected it to be in terms of technically and physically."
Sprinters
Joe Truman got off to the perfect start in the keirin, qualifying behind New Zealand's Sam Webster in the first round.
In a strong semi-final, including Ed Dawkins and Francois Pervis, Truman took on the field having started the race at the back, leading for several laps in a gutsy performance.
But his early efforts proved too much, as he ran out of steam in the closing stages, finishing sixth.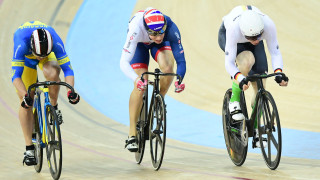 In the minor final, Truman was up against it again, with the New Zealand pair of Dawkins and Webster, Pervis and Joachim Eilers of Germany among the riders.
But Truman finished his keirin efforts strongly, crossing the line second behind Eilers to take eighth place overall.
That was a performance that he thoroughly enjoyed.
"Of course, pretty stacked final, world champions, Olympic finalists. Happy to mix it up with those guys.
"I'm not one to sit in and go for the gaps, it's another step up from junior, I can't always boss races, I've got to find sneaky ways to get through which I did (in the minor final)."
"A huge learning curve!"@JoeTruman97 assess his rollercoaster day riding his first senior world championships keirin#TWC2017 pic.twitter.com/afEIdR873s

— British Cycling (@BritishCycling) April 13, 2017
Lewis Oliva bowed out of the keirin competition in the repechages. The Welshman finished third in the opening heat, behind Matthew Glaetzer of Australia and France's Francois Pervis before finishing fourth in his repechages heat.
A bitterly disappointed Oliva struggled to contain his frustrations.
"Pretty sad to come out this way and go out in the first round. That's international keirin racing for you. You can feel good and you can be going well but you can make some wrong decisions and end up on a early plane home.
"You could say that 95% of that race was executed well but it's just that last five percent unfortunately lets you down. It's world championships, these are the best keirin riders in the world."
The gold went to Malaysia's Azizulhasni Awang, who celebrated his win with a trademark wheelie.
In the women's sprint, Katy Marchant qualified 16th fastest, posting a time of 11.151 seconds.
That set up a 1/16 finals clash with China's Junhong Lin, with the OIympic bronze medallist pipped on the line, missing out on a 1/8 finals place by just 0.028 seconds.
Marchant said: "Obviously, I'm really disappointed. I came knowing I wasn't in the shape I was when I went to Rio. I've had four months of preparations as opposed to three or four years.
"It's hard to comprehend, but that's bike racing. This world championships for us is a process on the way to Tokyo."
Gallery