The British Paralympic Association (BPA) today announced the 11 riders and four pilots who will compete for medals at the Rio 2016 Paralympic Games.
The team includes Dame Sarah Storey – already Britain's most decorated female Paralympian - who will compete at her seventh Paralympic Games in up to four events.
Storey won four gold medals at London 2012 which took her to a total of 11 gold, eight silver and three bronze Paralympic medals to her name.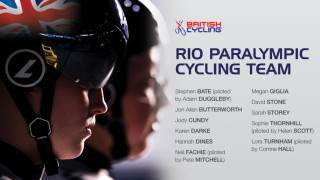 Storey said: "I'm delighted to be picked for my seventh Paralympic Games.
"It's just as exciting to be named in the team today as it was for my first Games in Barcelona back in 1992.
"London 2012 was incredible; to win four gold medals at a home Games was a once in a lifetime experience but I can't wait to get to Rio and hopefully enjoy some more success alongside my ParalympicsGB team mates."
Veterans of multiple Games, Jody Cundy (Atlanta 96, Sydney 00, Athens 04, Beijing 08 and London 12), David Stone (Sydney 00, Beijing 08 and London 12) and Neil Fachie (Beijing 08 and London 12) also join the line-up.
Cundy said: "It's a huge honour to be selected for Paralympics GB once again.
"I've got unfinished business from London 2012 and I'll be giving everything I've got over the next couple of months to make sure I'm in the best possible shape when I get to the start line."
Jon-Allan Butterworth, former RAF technician who came through the BPA and Help For Heroes joint programme Front Line to Start Line to win three silver medals at London 2012, also returns to the team.
He is joined by Karen Darke, who has spent the four years since winning silver at London 2012 mixing her cycling with triathlons, ironman competitions and as well as high profile expeditions such as handcycling across Cuba.
Newcomers to the Paralympic fold include Megan Giglia, a former sports coach who suffered a stroke in January 2013 and won two gold medals at the 2016 Para-cycling Track World Championships, and trike rider Hannah Dines.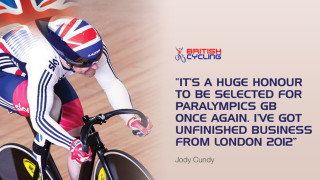 ParalympicsGB will be well represented in the tandem events for VI riders, as two female and two male riders plus pilots will compete for Britain: Stephen Bate and pilot Adam Duggleby, Neil Fachie and pilot Pete Mitchell, Sophie Thornhill and pilot Helen Scott, Lora Turnham and pilot Corrine Hall.
Penny Briscoe, chef de mission for ParalympicsGB said: "It is fantastic to be able to announce such a strong cycling team for ParalympicsGB for Rio 2016.
"These riders have won plenty of medals on the international stage since London 2012 and I have confidence that they will do the same this summer.
"I look forward to an exciting and competitive 10 days of competition on the track and road in Rio."
Jon Pett, British Cycling para-cycling programme manager and ParalympicsGB team leader, said: "We are really pleased to be able to name such a strong cycling team for Paralympics GB today.
"The riders have all earned their place in the squad with some excellent performances on the track and the road over the last couple of years.
"We have a great blend of riders in the team, from some with significant Paralympic Games experience to those who will be competing at a Games for the first time.
"We're very confident that the team that has been selected will be ready to give everything they've got to deliver success in Rio for ParalympicsGB."
A second team announcement for cycling will be held later in the year which will confirm the athletes to take up the final places on the cycling team.
Athletes selected for the ParalympicsGB cycling team for Rio Paralympic Games
Jon Allan Butterworth
Stephen Bate (piloted by Adam Duggleby)
Jody Cundy
Karen Darke
Hannah Dines
Megan Giglia
Neil Fachie (piloted by Pete Mitchell)
David Stone
Dame Sarah Storey
Sophie Thornhill (piloted by Helen Scott)
Lora Turnham (piloted by Corrine Hall)