Mark Cavendish and Sir Bradley Wiggins took the world Madison title in a thrilling finale to the UCI Track Cycling World Championships on Sunday after Laura Trott regained her omnium world title.
In front of a raucous sell-out crowd, Cavendish and Wiggins amassed an impressive points tally in the early part of the race but early lap gains from France, Switzerland and Colombia meant that the Great Britain duo lay tantalisingly outside of medal contention.
But after 168 laps of the 200-lap event Wiggins launched a searing attack with Spain and the 2008 champions dug deep for an agonising lap gain.
France, Switzerland and Colombia lifted the pace in concert to attempt to break British hearts but Cavendish and Wiggins wrung everything out for 16 long laps, when Cavendish made contact with just one sprint left.
"8 years on, we've conquered the world."

New Madison world champions @OfficialWIGGINS & @MarkCavendish #TWC2016https://t.co/Af7mXKyNXq

— British Cycling (@BritishCycling) March 6, 2016
The drama wasn't over thought, Cavendish falling hard on turn one. But the Manxman quickly re-joined and any final doubts were gone. The British pair had rolled back the clock eight years, winning gold to the delight of the capacity crowd.
Sir Bradley Wiggins said becoming world champions again was an incredible feeling.
"That was a tough race. We had a plan and once we got half-a-lap out, I thought the lap was never in doubt, it was just a case of when we got it.
"It was like The Smiths getting back for one last time, and to do a gig like that… It was like the Stone Roses in 2012 in Heaton Park, just amazing, fantastic."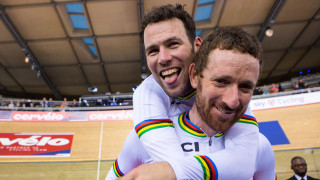 Mark Cavendish – sporting a bandage on his leg after that late crash - said it brought back great memories of 2008.
"We're world champions again, we've done it again, in similar fashion. That was before we'd done anything on the road, so (it's great) to finish it off."
Wiggins added: "Eight years on and we've come back full circle and conquered the world." He also reserved special praise for the capacity crowd at the Lee Valley VeloPark.
"The roar again when it was looking like we were going to get a lap. To send all those people away happy is such a nice feeling, it really is."
Omnium joy for Trott
Laura Trott produced a superb display of consistency to outwit rival Sarah Hammer and reclaim the omnium world title that had eluded her since 2012.
Trott was never out of the top three throughout the six-event-discipline and consolidated her victory with a mature points race performance, reclaiming the title she last won four years ago in Melbourne, just months before claiming the Olympic title.
"It's incredible. It's taken me 4 years to get this jersey back!"@LauraTrott31 on an amazing @trackworlds #TWC2016https://t.co/G3TkbLhM7T

— British Cycling (@BritishCycling) March 6, 2016
"It's taken me four years to get this jersey back in the omnium," said a delighted Trott.
"I cannot thank (coach) Paul Manning enough.The work he's put into this omnium for me this year has just been incredible. Last year I was so disappointed to get silver again and to have such a bad scratch race - it just spurred us on and made us think about it. It's down to him that I'm back in the rainbow jersey."
"It's about executing your plan," Trott continued. "And if one race goes wrong in the omnium, that's it – you're a lot of points down.
"Laurie Berthon and Sarah Hammer were fighting over one point the whole time and I didn't want to be in that position.
"I wanted to have a lead and with 12 points I thought it might be a bit touch-and-go. But once I took that first set of five points I was settled then - I was into that race and I loved every minute of it."
Image Gallery
Trott lay in second place behind Hammer after Saturday's events; third in the scratch followed by a brace of second places in the pursuit and elimination.
The 2012 world and Olympic champion took third place in the 500-metre time trial and flying lap as Hammer's consistency faltered, leaving her with a 12 point advantage over Laurie Berthon of France ahead of the points race.
Trott came out of her corner fighting, taking maximum points in the first sprint and extending her lead over Berthon and Hammer. The Briton scored again in the third sprint, breaking free of her French and American rivals who marked her closely.
The cat and mouse continued, the halfway sprint seeing Trott, Hammer and Berthon taking a 1-2-3. But the Essex-born rider was slowly edging away and despite Hammer winning the following sprint, the American was 20 points behind her rival with four sprints remaining.
Trott nudged her tally over the 200 point mark with two sprints to go and began to close in on gold. The final two sprints saw Hammer and Berthon gain points but their target was now silver or bronze, knowing that it was too late to prevent Trott taking a second gold medal at the championships and a seventh world title.
Keirin disappointment for Kenny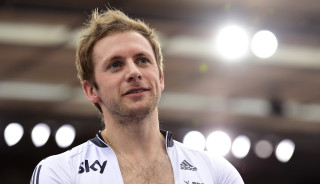 Jason Kenny looked to be heading towards the medals in the keirin final before dropping back on the last lap to finish sixth.
Kenny survived a close call in the first round to finish second behind Levy, avoiding a crash that took out Matthijs Buchli of the Netherlands and Rafal Sarnecki of Poland.
The 2013 keirin champion measured his effort wisely in the second round, taking third place behind Joachim Eilers of Germany and Edward Dawkins on New Zealand to make the final.
Come the final and the Briton looked poised to compete for a second medal after winning sprint gold on Saturday but sat up suddenly on the final bend, leaving Eilers, Dawkins and Awang of Malaysia fight it out for the win, the German adding to his kilo world title earlier in the competition.
Great Britain Cycling Team top the medal table @trackworlds!

What a five days @LeeValleyVP!#TWC2016 pic.twitter.com/nK1ZmZegae

— British Cycling (@BritishCycling) March 6, 2016
"I didn't feel I had the legs to take it on from the front so I was gambling and gambling, trying to get a wheel," the Bolton rider told BBC Sport.
"I ran out of legs really quickly, which I expected. I was pleased how I got to the final, I got there efficiently, but couldn't quite get down to the black line.
"The main thing for me and the sprint lads is that we're fast enough to be competitive with five months to go to the one we want to win."
Great Britain topped the medal table with nine medals; five gold, one silver and three bronze, ahead of Germany on eight and Australia on five.
Results