Joey Walker struck gold for Great Britain on day three of the UEC Under-23 and Junior European Track Championships in Athens on Thursday, taking the junior men's points race title, the highlight of a gruelling day of racing that saw highs and lows for Great Britain Cycling Team's riders.
Day three saw the medals decided in the under-23 and junior men's and women points races, the junior women's 500-metre time trial as well as the opening phases of the under-23 men's, under-23 women's and junior men's sprint.
Over the moon to have won yesterday. Thanks for all the messages from back at home. Now on to some… https://t.co/EScXJf7XrA

— Joey Walker (@JoeyWack) July 17, 2015
But it was 17-year old Walker that stole the limelight, winning a thrilling junior men's points race, in a contest that went down to the final sprint. After amassing 14 points prior to the crucial final dash to the line, second place at the gun gave Sheffield's Walker three more points, enough for gold ahead of race-long rival Szymon Krawczyk of Poland and Denis Nekrasov of Russia. Teammate Ethan Hayter was eighth on six points.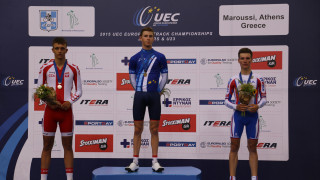 There was disappointment for Great Britain in the under-23 women's points race with both Katie Archibald and Emily Nelson disqualified for collusion during the race. Archibald had amassed 32 points prior to the ruling, one of four riders to gain a lap in the 25-kilometre contest.
Germain Burton battled to fifth in the under-23 men's points race, just 24 hours after taking gold in the team pursuit. Londoner Burton gained two laps and 51 points and was in the hunt for a medal but Raman Ramanau of Belarus and Andrey Sazanov of Russia both managed three laps, the Belarusian taking the title. Burton's teammate Mark Stewart did not finish.
Abigail Dentus finished seventh in the junior women's points race final, with teammate Megan Barker two places back in ninth, the European title going to Rachele Barbieri of Italy, with Poland's Diara Pikulik silver and the Netherland's Tessa Dijksman bronze.
Sophie Capewell produced a 36.065 second ride in the junior women's 500-metre time trial, good enough for fifth place with gold going to Germany's Emma Hinze. Capewell's teammate Rebecca Raybould was 14th with a 37.742 second effort.
Thursday also saw the opening phases of the sprint competitions for under-23 men, women and junior men, with British interest in all three categories.
Victoria Williamson and Katy Marchant both claimed a place in Friday's under-23 sprint semi-finals after winning silver in the team event the previous day.
Williamson and Marchant began their individual campaigns strongly, placing third and fourth in qualifying, Williamson's time of 11.134 besting Marchant's by one-thousandth of a second.
Marchant went on to beat Ukraine's Olena Starikova in the 1/8 finals, while Williamson did likewise with Poland's Urszula Los to reach the quarters, where Williamson beat France's Melisandre Pain in two straight rides.
Marchant sent Lithuania's Migle Marozaite to the minor final in similar fashion and will face fastest qualifier Anastasia Voynova of Russia in the semis, while Williamson will ride against second fastest qualifier Elis Ligtlee of the Netherlands.
Great Britain's Jonathan Mitchell progressed to the 1/8 finals in the under-23 men's sprint but was knocked out by Lithuania's Vasilijus Lendel in the repechage.
Mitchell was seventh fastest in qualifying, in a time of 10.183 seconds, with Germany's Max Niederlag setting the pace with a blistering 9.882.
Mitchell's time set up a 1/16th final match with Jose Sanchez Moreno of Spain, with Mitchell progressing to the 1/8th final.
Britain's John Paul wasn't so lucky, losing out to the Netherland's Nils Van 't Hoenderdaal after qualifying 15th.
Mitchell faced Mateusz Lipa in the 1/8 finals but the Pole got the better of the 18-year-old Briton. Mitchell was pitted against Vasilijus Lendel in the repechage but the Lithuanian put an end to his sprint hopes.
Juniors Joe Truman and Jack Carlin made it to the quarter finals in the men's sprint where they forced their opponents into a three-match battle for a semi-final place.
Mixed bag today but overall happy with how i rode taking the quarter final to 3 rides being beaten in the end by the faster man.5th overall

— Joe Truman (@JoeTCycling) July 16, 2015
Truman and Carlin qualified 8th and 15th respectively, setting up a place in the 1/16th finals, where Truman dispatched Greece's Konstantinos Salpadimos before Carlin beat Mattia Geroli of Italy to earn a place in the 1/8 finals.
There, Carlin beat third fastest qualifier Jiri Janosek of the Czech Republic with a two-lap attack before he was joined in the quarter finals by Truman, who saw off the challenge of Janosek's compatriot Martin Cechman.
But quarterfinal opponent Aleksandr Vasyukhno of Russia proved too strong for Carlin as did Truman's opponent Melvin Landerneau of France.
Racing continues on Friday with the conclusion on the sprinting, the scratch races for all categories and the start of the under-23 and junior men's omniums.