---
British Cycling has today officially unveiled its Hall of Fame at the 'Reg Harris Memorial Day' at the National Cycling Centre.
Above: Reg Harris joins the 50 names inducted into British Cycling's Hall of Fame, which has now been made tangible on the concourse of the National Cycling Centre in Manchester.
The 50 stalwarts of cycling, which include the likes of Chris Boardman MBE, Hugh Porter MBE and Tom Simpson, were inducted into the Hall of Fame at last year's Gala Dinner and have now been honoured with a commemorative plaque on the concourse of the Manchester Velodrome, paying tribute to their contribution to the sport. The occasion was marked by Reg Harris will becoming the latest person to be inducted into the Hall of Fame.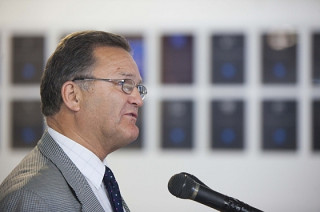 Above: King's speech - British Cycling Executive Director Peter King CBE addresses the assembled guests at the unveiling ceremony.
British Cycling's Executive Director, Peter King CBE, officially opened the Hall of Fame. He said: "I'm delighted to be able to unveil the Hall of Fame, which is a fitting tribute to each of the individual contributions these people have made to British Cycling over the last fifty years. To have them recognised here at Manchester too, the home of British Cycling, is absolutely fantastic."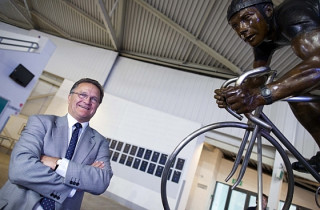 Above: King poses next to the famous statue of Reg Harris, with the Hall of Fame in the background.
The opening of the Hall of Fame and Reg Harris' induction into it was just one aspect of a day at the National Cycling Centre which celebrated the career of Harris, one of Britain's most successful ever track cyclists. Visitors also enjoyed a special heritage 'cycle jumble' whilst there was also a special GB scalextric for sale and cycling author William Fotheringham was also in attendance to sign some of his award winning books.